Duke's New 5 Gallon Journal
---
Hey all,
I went downtown to my favorite pet shop called Menagerie to pick up a Nitrite test kit, and ended up coming home with a new home for my betta, Duke! It's a rimless "waterhome" 5 gallon. Best part about this tank is that it cost me all of $18! I've felt bad for Duke ever since I got him a week or so ago because I've been keeping him in a cramped 1 gallon tank and had been considering picking up a Mr. Aqua or an aquarium kit but I wasn't satisfied with the price and included accessories of any of them. Here is a rundown of all the equipment I will be using for this tank:
Equipment:
5 Gallon Rimless tank
Cobalt aquatics Neo-Therm 25 watt digital heater
Aquatop PFE-1 HOB filter (almost identical to Azoo Mignon 60)
Here are some pics! (the tank on the left is a Zoomed 2 gallon)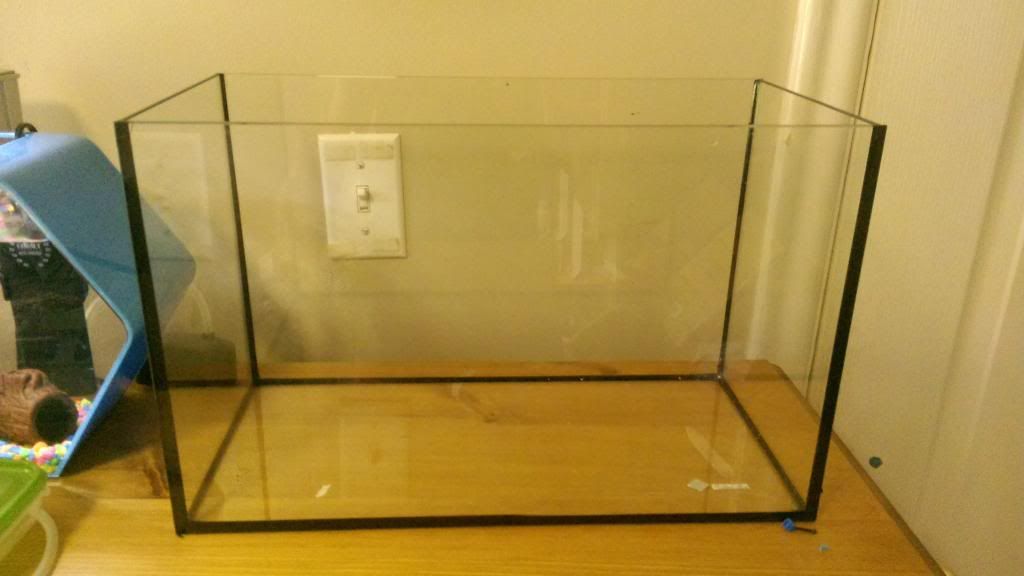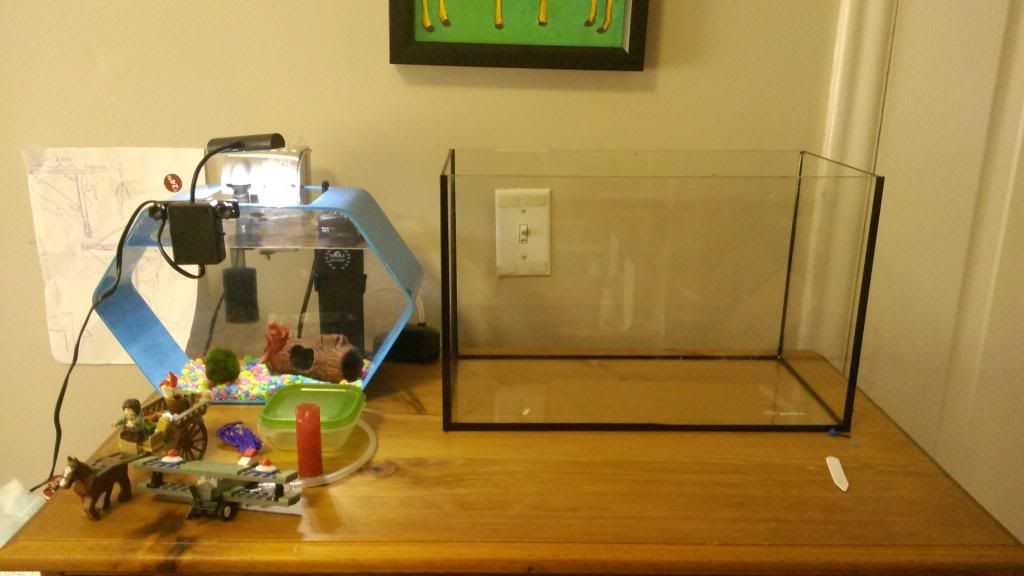 I'm planning on keeping some low light plants in this tank as well which will be a first for me. I haven't decided what plants or substrate I want to use in the tank but when the time comes I'll post an update.
Picked up some supplies two days ago from Bigal's:

Fluval spectra soil
Mopani Driftwood
Nitrite test kit

First thing I did was rinse the substrate out and put it in the tank. I then made the mistake of putting the driftwood directly into the tank instead of soaking the tannins out of it in a separate bucket. By the next day the tank was half filled and the colour of dark tea. I removed the driftwood and have been soaking it in a bucket since then. Today I began feeding the tank with Betta food to kickstart the nitrogen cycle! In the coming days I will be picking up some plants and reintroducing the driftwood into the tank.

More updates to come!
UPDATE: May 29, 2013
Ammonia: 2.0ppm
Nitrite: ~0.1ppm
1 day after starting to feed the tank to start the nitrogen cycle and the ammonia has already spiked to 2ppm! There are definate traces of Nitrites in the system too which means something (either the driftwood, or the substrate) had already been carrying some BB with it. I reintroduced the driftwood into the tank and I also setup the tank's new light array. I'm using a Finnex Fugeray-R gooseneck light which so far appears well suited for this tank.
PICS: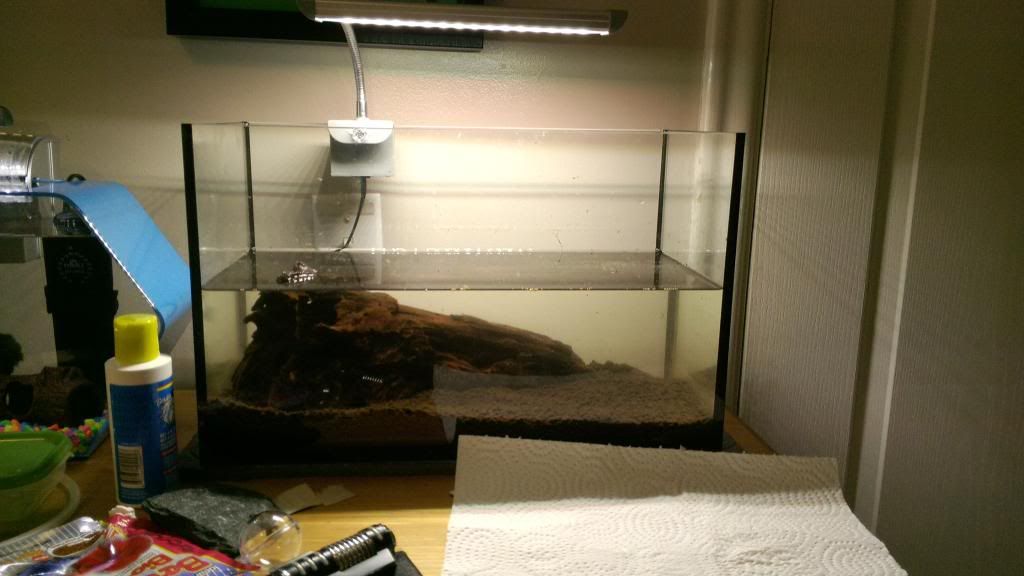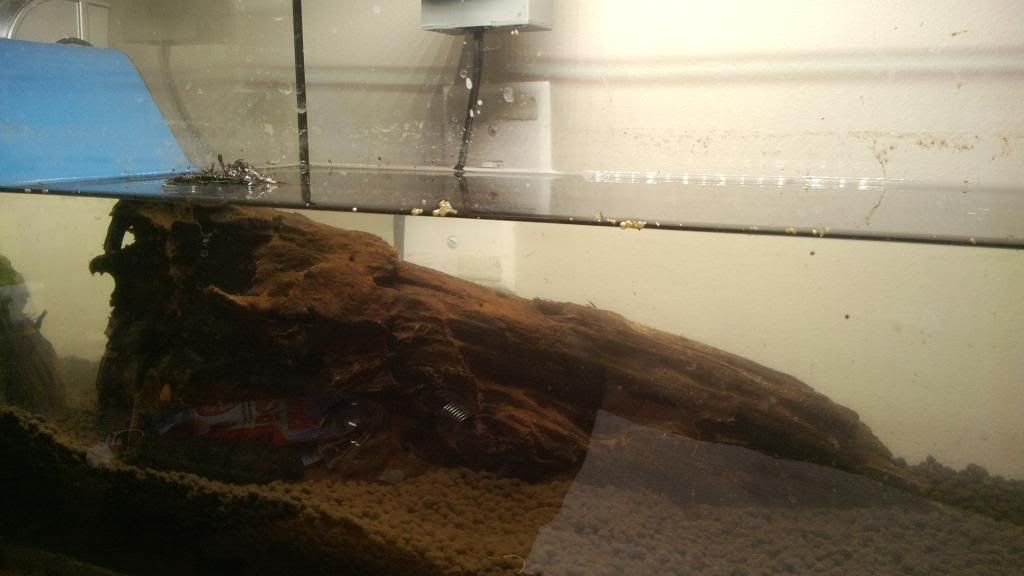 Next step is setting up the plants!
UPDATE: May 30th, 2014
Duke's tank is cycling nicely. I spent the morning filling up the rest of the tank and preping the Aquatop PFE-1 filter. I just installed it and thus far I am very happy with the circulation I am seeing throughout the tank.
Water Params:
Ammonia: 2.0ppm
Nitrite: 1.0ppm
The Nitrites have spiked considerably over the course of the last couple hours, which I am having a difficult time explaining, I think it is due to the fact I am using a soil based substrate instead of gravel.
Now for Pics!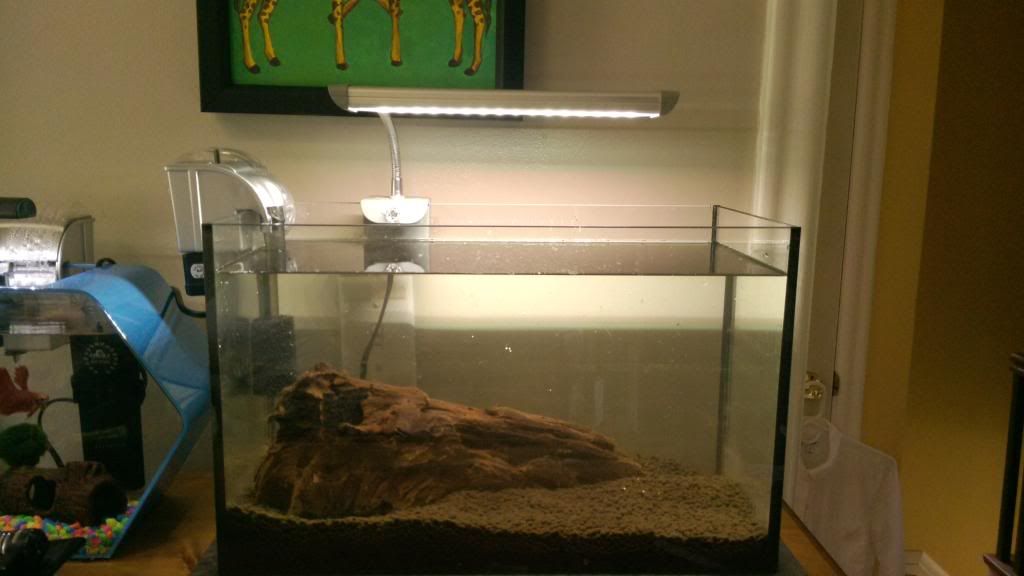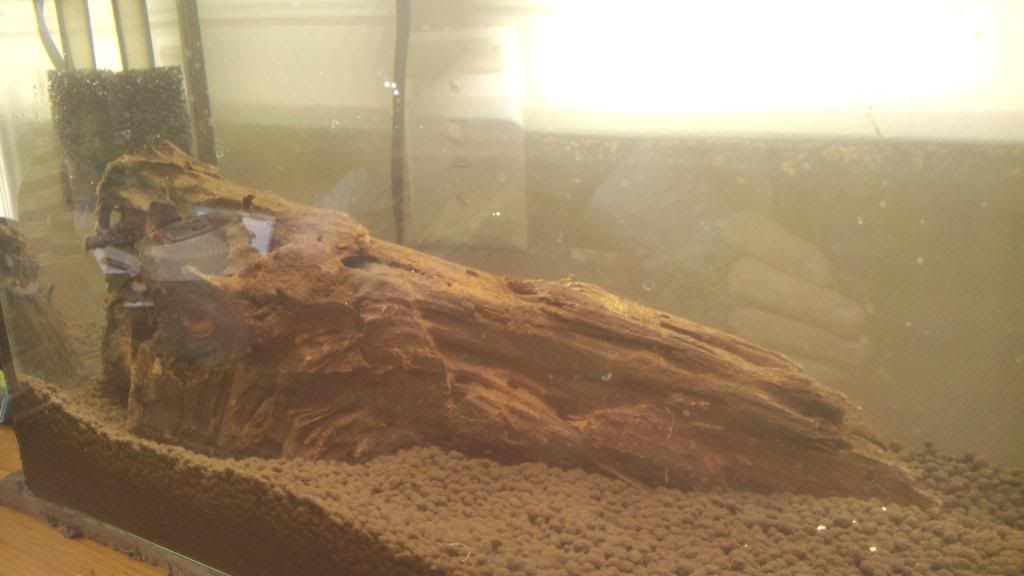 The Aquatop Filter w/water bottle baffle
The Finnex Fugeray-R LED array. The Aluminum body gets warm to the touch, meaning that it does a very nice job displacing the excess heat the LED's generate. Very satisfied thus far!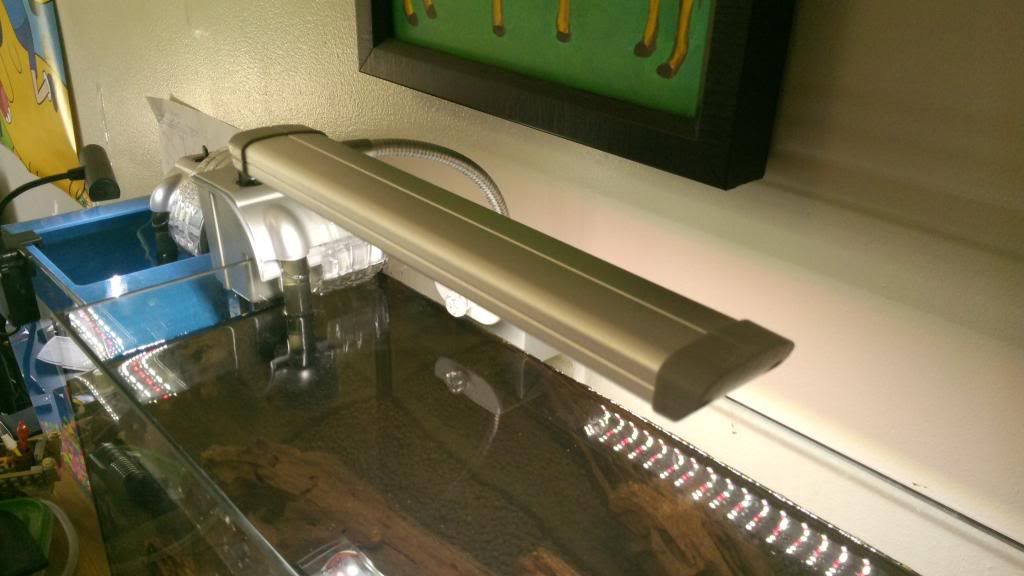 A look at the Fluval substrate's texture and appearance once settled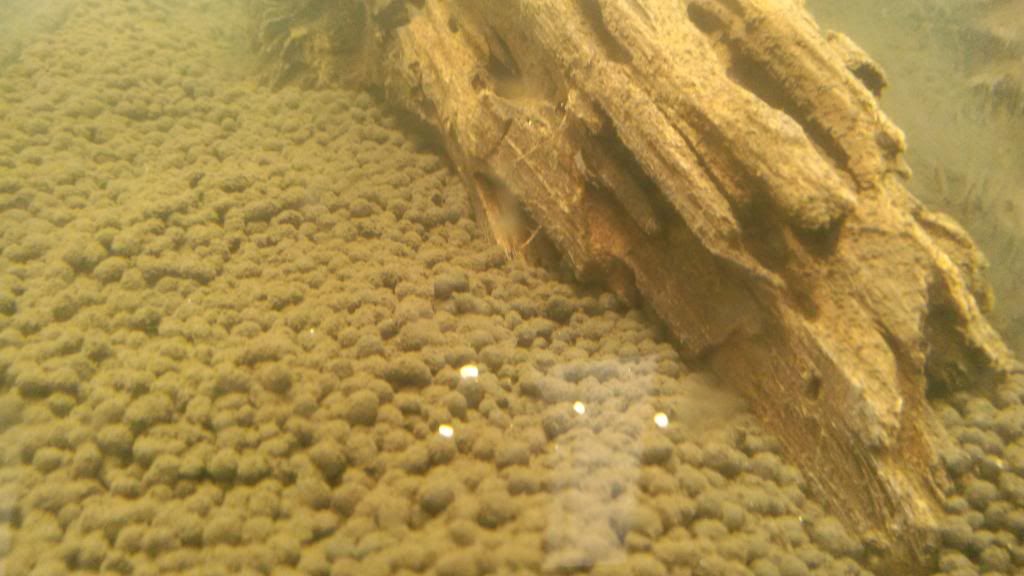 Experiencing serious tank envy over here... I can't believe you only paid $18 for that tank! Something like that would cost at least $50 (on sale, of course) at the places I go to.

It looks great so far. :)
---
Quote:
Experiencing serious tank envy over here... I can't believe you only paid $18 for that tank! Something like that would cost at least $50 (on sale, of course) at the places I go to.

It looks great so far. :)
Haha! Yeah, I think I went to every single LFS in the east end of my city before I finally came across this one downtown. I was tempted to buy a Mr.Aqua rimless online but the shipping and risk of breaking in transit made me shy away. I was lucky enough to find this tank because when I went in to the shop I saw they had some 5 gal rimless that were taller and narrower than normal 5 gallons, and as I was eyeing them the clerk came over and told me that they had a brand new standard sized 16x8x10 rimless 5 gal in their basement overstock room. I was out the door and on my way home with it within the next 2 minutes! I can honestly say I am far more satisfied with the rimless glass tank over another acrylic of the same size. All in all I'm glad I held out and I have now found my favorite LFS in Toronto
UPDATE: May 31, 2014

Not much to report on today except for water params:
Ammonia: 2ppm
Nitrites: 0ppm

I decided to go ahead and crush up the betta pellets that had been sitting on the bottom of the tank in an attempt to encourage them to decompose. Hopefully this will raise the Ammonia Levels a bit and bolster the BB growth a bit.

On a side note, I came into my room tonight to check on my two bettas, Finn and Duke, and was greeted by both of them snoozing inside their matching ceramic betta logs. Its neat how attached they both seem to be to these little hideaways and its pretty darn adorable to see them with the goofy faces poking out the ends of them.
Member
Join Date: Dec 2013
Location: Colorado Rockies, the Land of Skiing, Festivals, and Incredibly Rich
Posts: 1,533
I want your tank
---
Don't blame the dyslexic for bad spelling or grammar.
Horses for Life
Blue Spruce Lacee and her filly Cadue
UPDATE: June 1, 2014

Another day, another battery of tests:
Ammonia: 2.0ppm
Nitrites: 1.0ppm

I found someone locally that privately sells low light aquarium plants and am leaning towards buying some flora off of them. I really want to avoid having snails in my tank as I've not done any research on how they could impact a tank's equilibrium so I am hoping if I get these plants locally I'll lower the risk of bringing home some mystery friends too! I'm hoping to have the tank planted by this upcoming friday.
Similar Threads
Thread
Thread Starter
Forum
Replies
Last Post
Bubbles The Duke of Neptune.

SemioticSleep

Betta Fish Contests

2

03-31-2010

09:03 AM