Oh no, so sorry Aus.
It sounds like it was just bad luck if your shrimp and other fish were still alive. They were old enough when they left my house to not just keel over at the drop of a hat, and if you were using their old water or a mix of old or new I wouldn't expect a massive ammonia spike. And I think the shrimp obviously would have died off first.
Don't worry. I lost six of their brothers and sisters one night when I thought they were still too young to require glad wrap over their tank. That made me feel like a murderer, but in your case I think it was more just (scuse my language) '**** happens'.
RIP little strohi.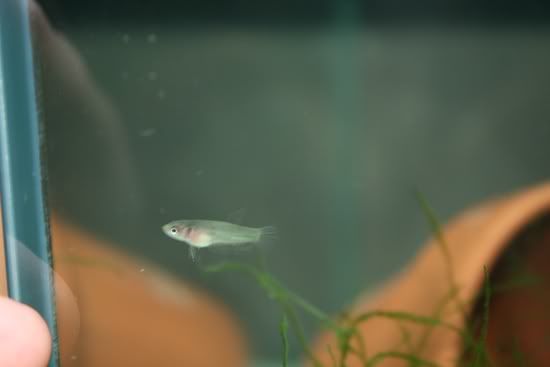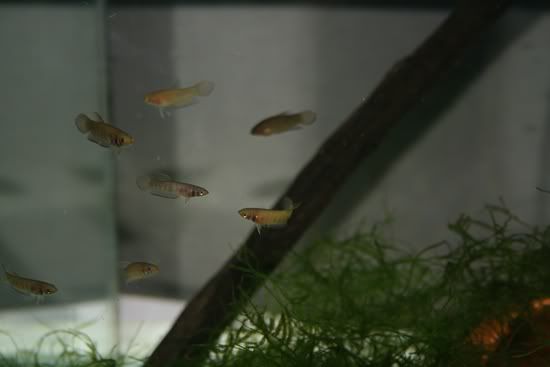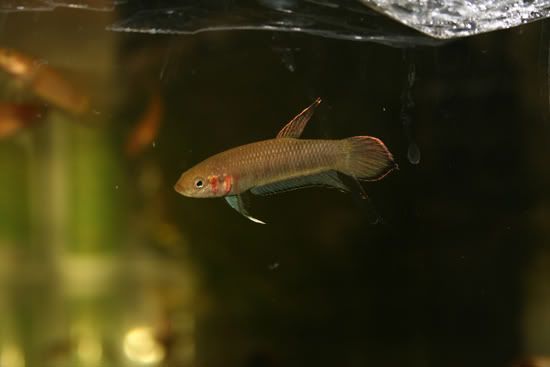 ---
I buried them together under some pretty bamboo in the yard.

I didn't have them for long, but they were quickly a part of our little family and were as loved and valued as any of our older pets.


They were not easily stressed, as you said, LBF, or in contact with toxins at all that I know of. I was so careful transporting them - they were in proper fish bags with half old water, half fresh inside some smaller plastic tubs, and never had a chance to get chilled, I had heaters running at both ends of the move for them. All the tubs were good quality plastic, and/or food safe. The strohi were very pale when I transferred them to the big tub, and I did acclimate them - they coloured up in the bag and seemed okay. The lid was not on tight because of the cords, but it was glad-wrapped pretty thoroughly just in case. I wondered if so many plants in the small space with the glad wrap might have depleted oxygen too much or something, but then the pleco would have died as well, I should think? I just don't know, which is possibly more awful than actually knowing what happened to them.

Om-nomnom is still fine, as are the shrimp. It's probably terrible, but I left them in the same tub to see if something in there was a problem, then at least I'd know it was that and to never use those tubs again- but nope, they're all good.

I feel like a giant failure of a fish keeper. And I miss them.

Aside from this, the move all went reasonably well, a few minor hiccups but the house is fine and all the other pets have settled in very well. I'll probably need some time to cheer up. The 3ft arrives tomorrow, so setting that up will not be the happy chore I'd planned on.
I am just sorry that you had to lose all of them in one go. That's pretty rough especially as you do so easily fall in love with them.

I was going to say once you were settled and had your tank all set-up that I have a lone ideii female (she's around the size of a macrostoma) who could do with a nice spacious 3ft tank. Her male jumped through the lid to his death last week and she is now just sitting down in my rumpus room getting fed and water changed and not much else.

If you want her at any stage let me know.
---
Aw, that's so very sad to hear. I wouldn't blame yourself, sometimes these things just happen and we have no control over them. At least all your other fish are okay and happy.
---
Current Betta:
Mulan: Blue/Green/Red HM Male

Those who now swim in the Rainbow Ponds:
Spike: VT Purple Male
Glaedr: CT Yellow Male
Ezio: DeT Dragonscale Male
Stu (Founder of the obsession): CT Blue Male
I know how you feel Aus. I had lost most of my fish a few years ago after the aquarium started dripping all of a sudden. Only my oscar and catfish survived the ordeal.

Sometimes we cant do anything, you need to remember that you did everything you could for those fishes and that they had a lovely home as long they were with you.
I'm sorry to hear that you lost the strohi, Aus. I'm going to miss reading about them. It sounds like you did everything right, but sometimes accidents happen when we don't expect them to.

I'm glad to hear everyone else is alright though. :)
---
| Tribble the Pomeranian | Oxley the Rabbit |
| Viola Chubbs |
My Journal
Thank you, everyone, for kind thoughts and words. I'm still rather sad without my little troupe of strohi, it's just not the same waking up to no fish tank and no little faces going
at me.
When we went back to finalise things at the old house, Slammy the Flatmate from Not-Quite-Hell-More-Like-Somewhere-More-Boring-and-Slimy told me that I owed him for all the cleaning he'd had to do (though I said I was actually there to do the cleaning, and seeing as he hadn't actually cleaned anything at all for the past two years we'd lived there, I was expecting to be at it for a while...) and so I wasn't getting either my bond or the 3ft fish tank back until I paid all remaining utility bills (which, oddly, came to about the same amount as the bond which I'd said he could keep to cover the bills, plus the cost of a new fish tank).
I laughed. Told him that I'd rather been expecting this sort of thing, and walked away.
In the taxi on the way home, Daughter spotted Irish at a bus stop we were passing and hollered for the driver to stop. We told Irish about Slammy and the fish tank, and the bills and the bond, and he kindly offered to go back to the house and shake Slammy by the throat until he coughed up the key to the shed, where presumably the fish tank was being kept hostage.
I politely declined, having decided that really, it was all around better just to walk away and be done with it.
So now I need a new fish tank for the fish I don't have any more and the pleco that I do.. though I get the feeling Om-nomnom might just as well live happily in a plastic tub as long as there's wood to chew on and the odd algae pellet floating down once in a while.
Small and at times strange dramas and small but profound tragedies aside, things are going swimmingly over here at the new house. Tomtom is very pleased to have landed in a dogless environment, and is once more Lord of the Yard and the Comfiest Comfy Spot on the Sofa.
Cole's tank has sprouted like nothing I've seen before - this NPT thing really is a very good idea.. - though I keep finding shrimp that I am fairly sure I didn't actually put in there.
Cleo is as fat and sassy as ever. She is now Lady of the Kitchen Bench Next to the Toaster, and so gets a lot of attention in the mornings.
And Aang will soon have a tank makeover, I think, and come to live in the loungeroom until I find another 3ft to fill the space where the other one isn't.
Daughter is exhausted. I think the strain of tolerating Slammy was a burden she only truly felt once we'd put it down, as I did -- though being an adult, I tend to carry such things more lightly. But she's happier, and that makes the place more sunny, no matter the weather (which is currently awful but was actually very nice all during the move, thanks to the Weather Fairies, which I'll tell you about next time..).
Irish, poor thing, has had to work long hours through all of this, and spend his spare time carting boxes about and fetching things from the hardware shop and so on. But he too is happy to have a peaceful, Slammyless home with no sweet but ill-behaved dogs leaping about, no inanimately malevolent ceilings looming like cartoon anvils overhead just waiting for providence to allow them to fall and squash us all like so many beetles, and a very good fish and chip shop just a half a block away.
LBF - I looked up the ideii.. gosh, so beautiful. If you're happy to hang onto her a little while, I must replace the 3ft for the sake of the plants and pleco. When I do, I'd love to offer her a home. Thanks for that. I really do appreciate it.
---
Last edited by Aus; 09-07-2012 at

07:45 AM

.
Oh yes - and Demyx..
---
I forget to mention him. Probably as he's eaten 85% of his tail and now is swimming like a happy little maniac around his tank, "wheeeee!" without an ill-bred curtain-like tonnage of fin weighing him down.

I'm increasing the ketapang in there, just in case of infection. His fins look ghastly.

But it's also kind of nice to see him swimming freely for once..