I have an old three footer tank sitting outside. It isn't spectacular looking (it's just the standard 3ft tank you get from a fish store), but it holds water and is just sitting there making our backyard look slightly ghetto.

Not sure if it is as big as your one was, but if you want it and can arrange to come and pick it up, you can take it.

I am waiting for my mum to screech at me to put it somewhere else once dog shows are over and we do our big clean-up haha so saves me and her having to toss it out or chuck it under the house for God knows how long.
---
Missing you and your posts. Hope all is well and that you are just too busy to come on here. Come back soon!
Yes! I wonder were Aus has gotten to!
---
Current Betta:
Mulan: Blue/Green/Red HM Male

Those who now swim in the Rainbow Ponds:
Spike: VT Purple Male
Glaedr: CT Yellow Male
Ezio: DeT Dragonscale Male
Stu (Founder of the obsession): CT Blue Male
This is the only journal I read. I miss her too.
Yeah, me 2 lets hope all is well.
Gosh, I didn't mean to worry anyone. Thanks so much for your comments and concerns, everyone, but things are okay -- I just have been quite busy settling in to the new digs and resuming a bit of writing and some art that is way overdue.

I've also been a bit despondent since the strohi died.. :( so I haven't felt much like talking about fish. But I'm kind of okay now, I just miss the little boogers a lot.

Everyone else is just fine, though I had a scare the other day when Cleo leaped out of her tank like a maniac (I missed her morning feed by sleeping in - that'll learn me!) and she went flopping around the kitchen bench. No harm resulted at all, I plopped her back in her tank and she was perfectly fine, staring at me as if to say, "what's a girl gotta do to get her breakfast around here?'

Om-Nomnom and the Darwin shrimp are all doing great in the tub, no more casualties. I am so fond of this pleco..

Aang has really coloured up, with some lovely deep indigo near his tail and lots more dark scales now.

Cole is still his big ol' mean self. Irish takes great delight in stirring him up. They're as bad as each other. :D

Demyx still has a nub for a tail, since he ate 85% of it after the move. He's happier than ever with this development, and swims about like a little bullet without all that ridiculous finnage bogging him down. I worry about infection, however, so keep an eye on water quality and his general health. All's well so far, though.

Daughter loves the new house, and her room and her bungalow/shed, which is looking very 'homey' and -- shockingly - very tidy as well, relatively speaking. She's done a very nice Lichtenstein-style pop art painting and hung it in the shed, and I am as ever really proud of her art and photography.

The garden here is great. I've been slowly tackling the overgrowth and identifying all the plants. We have a very nice apple tree in blossom out the back, a really old one.. but I have no idea what apple variety it is, so I'm looking forward to finding out (Daughter wants granny smiths, I want red delicious -- both of us are hoping it's not a crab-apple!).

I made a tiny water-garden in a pot by the front door, with some Vietnamese mint, bacopa, golden-eye and dwarf papyrus. It's quite pretty, and I hope it does okay.

Being unable to find sundews anywhere closeby, I bought a nice pitcher plant for my kitchen window, which is sprouting new pitcher-shoots like crazy. Hopefully I can get some Sth African sundews fairly soon, and maybe some of the very large pitchers as well. They'll all go in the sun room, once we have that sorted out -- there's still a few large boxes around the house... I am so sick of boxes! But everything's slowly finding its place.

We also got superfast internet, so we've been watching a lot of movies!

LBF, if I can figure out a way to pick that tank up, I'd like it for sure. My 3ft light got left behind as well, I discovered to my horror, and $ are tight this next month or so.. If it's still around when I can afford a light, a stand and transport for it, I will be happy to take it off your hands.

I probably have a ton of stuff to catch up on here, so off I go to read threads for a while! Great to be back, and thanks again all.
Wish I had an emoticon of Kermit (the Frog) going

YAAAYAYAYAYAAAyyyyeeee
Glad to hear you are alright. I was afraid you might have been in hospital or something since you told me you can sometimes have to go in.

The tank is just sitting there doing whatever it is empty tanks do. So whenever you want to come around and pick it up it will be ready and waiting. Shame about your light though! They can be more expensive than a stock standard tank to replace.

I feel like a mass murderer since most of my tanks have come down with some sort of ich/velvet infestation, so I will join you as a member of the despondency club. Lost half of my rutilans family that I have been growing out for a year and the rest don't look well at all. Stupid wild bettas that make you get so attached to them only for them to go and die on you.
---
LOL, Hallyx! I love Kermit's arm-waving cheers.

LBF - oh no! I am sorry to hear about your rutilans. How's the persephones going?? And yeah, its bloody sad to lose them, they are such little personalities.. I am a bit scared to try them again, just yet, but I really do want some more wilds. I have no intention of moving house for the next several (many) years, so that'll probably help. ><

I just did another check on Om-nom's tank, took everything out and gave it a bit of a clean (everyone in there is so poopy..) - all the Waterhouse snails are well, too, and Om-nom is probably double the size of when we got him. I put in some of those shrimp flake things you gave me, LBF, as I fear with 4 snails, 7 shrimp and 1 pleco all eating the wood gunk and algae the food might be running low by now.

I should be doing water changes right now, but it's bucketing rain out and I don't feel like getting wet indoors, either! Maybe I'll watch some Last Airbender episodes and do them later....

Cole's tank is a big mess. I am pondering whether to make myself renovate it when I do the water changes. It's annoying to look at - I keep itching to change things around.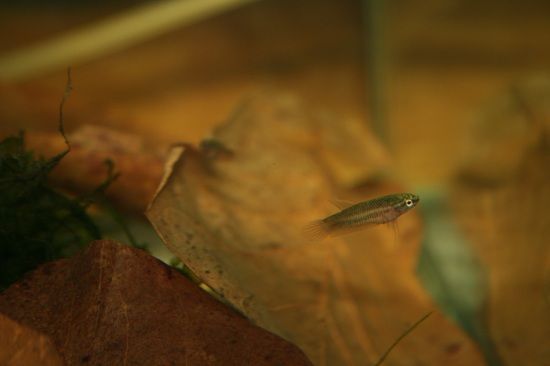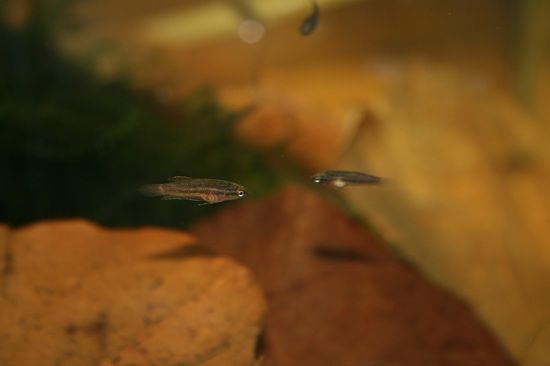 As you can see, persephone are all thankfully healthy and sprouting. Going to have to separate out some of the bigger ones as they are harassing everyone. Had the milestone of their first meal of live blackworms the other day and that went down a treat.
Lost mum and dad, and then my replacement male jumped to his death so I just have one very very carefully guarded adult female haha.
My ideii female is there if you still want her. She is enjoying the single life now her domineering husband has departed and is much friendlier than she used to be.
---