More wisteria news...
So, it is true that wisteria will sprout a new plant from fallen-off leaves. I have two leaves with roots in my tank!
The new growth on the main stem is less deeply pinnate than the rest, and more lobe-like, which might indicate that it's getting used to slightly lower lighting than the LFS's set up. It's still got jagged edges, so I know there's enough light to keep it healthy.
I also put Demyx's plants in with Sid to help keep them healthy while I figure out a new light for Demyx's tank, which has less natural light now I've moved it away from the window. I'm thinking a small LED standing lamp will be good, so am looking for one that has the necessary 6500K
So, in Sid's tank there is now:
15 pieces of java fern (some floating, some tied to driftwood)
2 cryptocorenes (potted)
1 baby crypto (floating, I keep forgetting it's there..)
1 anubias (potted)
1 huge wisteria stem (with lots and lots of roots now)
2 baby wisterias (rooted leaves)
1 clump of susswasstertang (freshwater seaweed)
and now it looks a bit more jungly.
Sid loves it.
Demyx is much happier in the hospital tank than Sid was. I think he's enjoying all the action of people walking by. He loves his new teacup, but I think I'll look around for some interesting ornaments he can take back to his main tank later, I worry about boredom. He'll be in the salt another week until I'm happier with his fins. I really do think he's biting them, but I'd like to be sure his fins are not diseased. There's no new damage, though, so the salt and daily water changes must be doing their work.
I've FINALLY decided to sell off the 3.5 tons of items in my house that I no longer love so much that I simply have to keep them in boxes in the shed and my wardrobe.
This tonnage includes:
- A complete set of Crowley books.
- 300 x 1950's - 1970's books on UFO's
- 150 beautifully illustrated children's books (I may keep a couple of those .. >> )
- 1500 x new age books on various topics, mostly healing and spirit guides
- Around 200 quartz crystals, some weighing more than 10kg, and lots of other minerals
.. and so on. I'm putting ads on ebay and several other sites, so hopefully somebody will want them. I need the room! No more clutter!
And I'll use the proceeds to make a very gnarly 10-15g NPT..
Since Irish and Daughter both like the idea of a larger NPT with lots of shrimp in it (and maybe a betta.. >> ), they can help with setup and water changes.
Booyah! I just found an online sales site for Aussie native water plants!
http://www.aquagreen.com.au/catalog.html
Most of them require a lot more light than the ones I have, but I'm hoping they have a few low-light species. They also sell IAL - and their native equivalents, which is awesome.
I have started looking for a 44g plastic drum to keep outside for a steady supply of aged water (apparently shrimps really hate fresh tap water, even conditioned, so I want nicely aged water for when I eventually get some). It'd be nice to have a lot of water ready for changes, anyway, and a few mozzie larvae would only add to the benefits...
I want some Pygmy Chain Sword for Sid's tank, once I get it up as an NPT. I think it's a really attractive plant, and will tolerate low light:
I want to make some of these!
Tillandsias (air plants) are such a great choice for this sort of display. It's from a wedding site, I guess they're little table favours or centerpieces.. much better than a betta in a vase!
I also found a 50L (13gallon) tank with heater for sale on Gumtree for $50 - hope it's still available! That would be perfect for my next tank..
I have been so timid about fishkeeping, worrying if I could keep up with it and what happens if I have to go back to hospital, etc.. But I think Daughter & Irish would cope with water changes for a few days. And water changes on two small tanks are no sweat, PLUS the bigger tank would be cycled so even less work! I have my fingers & toes crossed for a bargain tank & heater...
The guy from that native Aussie waterplant place emailed me back, nice feller, and offered to send me a quote for a pile of native lowlight plants. he;s all about preservation of species, etc, so I'd be glad to have natives in my tanks. :) He also has native fish! I have to show these little guys, as they're so darn cute: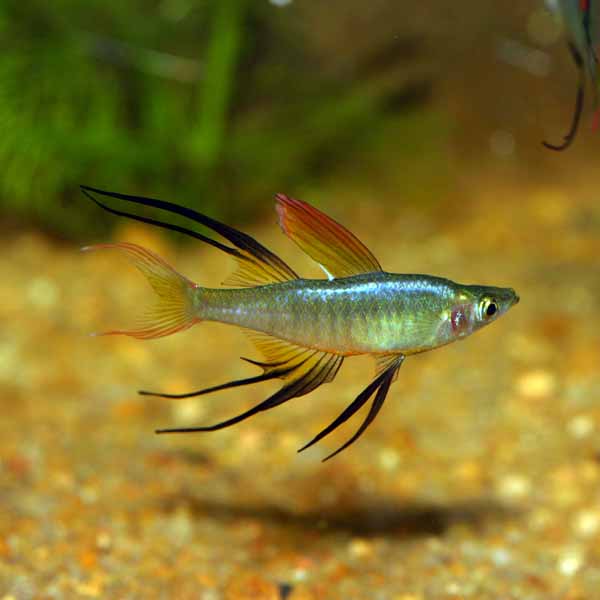 That's a threadfin rainbowfish,
Iriatherina werneri.
How cute is it?? They apparently are schooling fish, and grow up to 6cm long.
I don't plan on getting any, but I'm so very pleased that native tropical fish like these are available. Maybe one day...
Rip sid fishus
---
.... he was swimming. Then he just - stopped.
I'm not sure what happened.
I'm going to miss him. I really am.
OH AUS....... I AM SO SORRY TO HEAR.
No idea what happened? It's just so frustrating when we don't know why. Try not to let it eat at you, or fret that you did any thing wrong. You gave that sweet little boy a wonderful home, away from that nasty shelf at the store. You gave him a much better life. ((( HUGS )))
Jakie
---
Every kid, regardless of what they are going through, is ONE caring adult away from being a success story. ~ Josh Shipp, Teen Behavior Expert
Thank you, JB. An no, no idea what happened. It looked like a sudden, aggressive case of columnaris, so I treated with a half dose of Myxazin (never used it before, and the drops from the bottle are about 2x the size of drops from any other bottle.. and my net was out, so I dosed half until I could research how much was safe) - and in 5 mins he was dead.
I made a thread about it, in case anyone has ideas about happened:
http://www.bettafish.com/showthread.php?t=96791
He was never 100% well, and illnesses tended to hit him really quick and hard - but this was TOO quick, it seems to me...
Sigh. We all miss him terribly.
So.... Sid's tank became a shrimp tank for a week, with three cherry reds happily zooming about to see how they did in there. I had every intention of leaving it to this fate, at least for a few months..
But... we went to buy a couple more shrimp (I bought four). And Daughter spotted, among all the sick-looking bettas I would not dream of buying (omg, there's a LFS rant coming up, but more on that later..) a single, happy, healthy female. One sleek, healthy little fish, out of dozens...
And that is how we came to acquire Cleo.
I HATE giving those people money, and I had SWORN I would never do so again. But Daughter can be very persistent and persuasive, and I am a bit vulnerable to the idea of leaving a healthy fish to wind up diseased or dead like the rest .. (I am really annoyed at myself for caving in, though...)
So now we have Cleo and seven shrimp. And a lot of java moss.
She's a very young orangey-red VT girl. Mainly, I caved on buying her because I've never seen a betta so completely active and bright in a store cup. And -- well, all the pale, dying fish up the back rows of cups are female. They aren't as popular as the males, and I dare say they more often than not end up as 'losses'. I am seriously conflicted. I want to be happy that I have a new fish. But I'm mad as heck at myself, seriously, for going against my principles..
Anyway, right away I am noticing a few differences. Cleo did not take two weeks to perk up in her new environment. She is (as far as I can tell) 100% healthy from the get-go and didn't need a long time to start feeling good in a clean environment. In fact she adjusted to the tank in a few short minutes. She likes the filter, and doesn't mind the slightly higher setting it's on now. She never stops scooting around the tank, exploring everything -- and hunting the poor shrimp.
Kudos to the shrimp, though. They all manage to keep out of her way - my tank is quite heavily planted now and has wood as well, so there's no lack of places for them to hide. The two largest ones tend to ignore her completely until she tries to take a bite - they don't even go pale anymore when she snaps and they scoot away. The smaller ones are a worry, just because Cleo is so very aggressive. They keep to the back of the tank, behind the wood where Cleo can't go, and seem happy to stay back there, munching on the algae that grows on the wood. I have shrimp food, but there's enough algae back there that I think once a week feeding with a pellet is okay for now. They don't cluster around the pellet right away, as they would if they were hungry, so I'm taking it easy for now. At the rate they're going, though, I think the algae won't last long so I'll drop them more food as the growth declines.
She's nowhere near as 'personable' as Sid was, though. He was a very friendly fellow. Cleo doesn't seem so interested in interacting so much as wondering if we'll fit in her greedy little gob. She'll take some getting used to. I like her, of course, but she's just... not Sid. :(
Now for the tank... I did a LOT of research about this, and decided not to take Sid's tank down for disinfecting. As the shrimp all survived quite well for a week in the tank by themselves, I could be sure the water wasn't toxic or spiking unpleasant levels of anything. Really, I was happy to leave it as a shrimp tank, so there was no reason to disassemble it. When we brought Cleo home, I thought I'd have her in the hospital tank temporarily until I'd scrubbed the old tank and got it cycled again. But in reading around various forums and sites many people advised against this, on the principle that most diseases are endemic to the water and won't attack a healthy fish. They said it was a waste of a cycle, and that they'd never take a tank apart unless toxins were present.
After weighing up various opinions from very experienced fish-keepers, plus the risk of losing shrimp in the process of re-cycling, I decided to not scrub the tank. Now, I realise that this could be risky, but then again these people have kept fish a long, long time.. and I choose to trust them.
So far, all is going exceedingly well. I've chosen to do 3 x 25-30% water changes per week, with a light gravel vac on the third change. This is keeping the water clean and not disturbing the plants that are taking root (more on that later..) nor disrupting the shrimp. There are areas I cannot vacuum without taking the tank apart, but these are the areas where the shrimp hang out and feed, as well as where the majority of the plant-roots are, so I figure that'll be okay.
I'm testing ammonia levels daily - 0% so far. I think the plants are loving the extra waste the shrimp provide. They are literally sprouting overnight, new leaves everywhere! Not many dead leaves now, either, I'm removing less and less each water change.
The java fern is finally looking truly happy. New leaves, baby plants, new rhizome. The wisteria has grown enough hanging roots that it will soon start to anchor in the gravel - next water change, I'll give it some help with that. The baby wisterias have both taken root, and the potted anubias and cryptos have extensive roots growing from the bottom of the pots, so I might not move them to vacuum anymore. They seem happier when left alone.
I have a large clump of java moss in one front-of-tank corner, so the shrimp have a hidey spot up there too. Cleo loves to tangle herself in the middle of it, but can't get to the bottom where the shrimp hide.
Cleo herself is amazingly active and ... as I mentioned.. aggressive. She -flares- at us (I didn't know girls did that), never stops moving except for brief 'naps', and patrols her tank thoroughly. Her environment is as enriched as I could make it, so she's always got something to poke into or re-explore. An unfortunate mosquito decided to land in the tank, and Cleo spent ten minutes playing with the poor thing before swallowing it. I definitely get the feeling that she would not play well with others...
So far there's no sign of disease, no drooping or clamped fins. She does go very pale when cupped for water changes, but regains her colour fully within a minute of being back in her tank.
Cross fingers that I've made the right decisions. So far, so good...
---
Last edited by Aus; 03-25-2012 at

10:59 PM

.
My ladies are more active than the boys. I have ten girls. I have 8 in a sorority and 1 in a one gallon and 1 a gallon and a half for quarentine. My 5 boys are lazy and don't like to move more than they have to. The girls are entertaining and mine seem to never rest, not one of them.
---
Keep yourself clean and bright, for you are the window through which you must see the world.
Hi Shirl! I think it's probably that the girls don't have as much fin weight to lump around - I wonder whether male plakats are as active, though, as their female counterparts?
Oh -- I forgot to mention, being all fish-obsessed today as I am... Daughter's best friend, who has lived with us briefly and still comes to stay quite often, went for an audition yesterday for The X-Factor. And got through to the final audition! We sat about waiting as she passed through the various processes, from 9am to 5.30 pm.. what a long day! But it was awesome hearing all the warm-ups in the waiting areas, there were so many talented kids.
Daughter's friend - let's call her BFF - was with the executive producers longer than anyone else, so I am really hoping she gets a spot on the show. She's only 16 and has had a bit of a hard time, so this would really make a massive difference to her, I think. Just getting through the auditions was something to be very proud of!
Omg, food at the venue was SO expensive, I was joking that the auditions were actually a front for the cafeteria's goal of making a cool million on the day, lol. And the trains weren't running, so we had to walk miles back to the tram stop. The upside of that (the down side being that I actually cannot move today, my legs have just ceased to function altogether..) was seeing a man-made pond and stream on the way back, in which ducks and yabbies were settling. Major 'boo' to the racetrack owners whose koi pond is a toxic dump in which a few stray koi are surviving against all odds.
We went to La Porchetta after, for iced chocolates, hot chips and pizza. All in all, a very fun day out, and fingers and toes are now crossed for BFF...
---
Last edited by Aus; 03-26-2012 at

12:22 AM

.
I'll cross mine for her too thats exciting.

I do believe it has something to do with the fins. I have never owned a plakat male, just my little copper lady... my lone plakat.
---
Keep yourself clean and bright, for you are the window through which you must see the world.