Member
Join Date: Nov 2012
Posts: 445
The sweep of the tail is nice on this one but it could be cleaned up and more from to it, for a halfmoon you have to picture a full circle about midway through the betta so ys for HM that would be correct, Veils are a bit different as the circle would be on the outside of the fish, Kinda.
I think this one was one of the best looking Veitails I've raised. Ideally it's Caudal could be a tad thinner to meet the European standards but I like it like it is.
Member
Join Date: Nov 2012
Posts: 445
European are different than us Chard we like that caudal wide and touching the tail not longer either..this was how it was back in 75 anyway.
That is a very nice one hey, I have the smoothest orange male you ever saw and I also have a dalmation but no orange females, do you have any?
I have an Orange Crossray Crowntail X Copper Orange HMPK spawn about 2 and 1/2 months old. A Very small spawn of maybe 12, I already sold two females from it and it looks like only one or two more left. I want to do a sibling spawn to see if I can get the Crossray CT and some CTPK's back in F-2. There's also a Copper HMPK X Gold Yellow HMPK spawn of a month old. Other than those that's all I have for anything Orange.
Member
Join Date: Nov 2012
Posts: 445
Ok thanks. I will look for an orange in HM, that way In a couple gens I will get some nice stock.
I will also be saving some of the veils and superveils though.
Wow those are some fish
---
Pendragon (VT) male
King(PK) male
Moon(VT) male
Spade(ST) male
Spangle(CT) male
Twilight(VT) male
Bronze(CTPK) male
Here's my new boy, going to play with him as I get back into the breeding game!
crossing him with a lovely delta lady bred by Kayla Griffen
---
One hand reaches out and pulls a lost soul from harm. While a thousand more go unspoken for, they say what good have you done? By saving just this one... It's like whispering a prayer in the fury of a storm. And I hear them saying... You'll never change things...
MoonShadow Betta Fish Rescue
Saving the world one innocent life at a time

Not only is he incredibly handsome, but his eye makes it look like he is thinking adorably evil thoughts..and likely trying hard to grow an arm to punch something.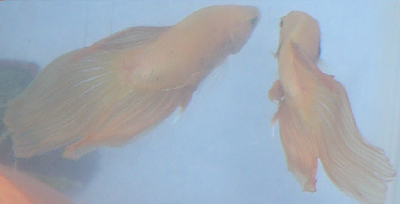 this is a pic of my new yellow veiltail male, he's rather pale in the picture but is brighter in person and has an orange tinge to the fins so he might turn orange on me after he settles in and gets put on some good food. This is him, just swimming, and shows how graceful those big tails look as they move. That's one of the reasons I love this variety, gorgeous fish that just aren't appreciated the same way fancier fin types are.
---
Last edited by coreyh; 04-19-2013 at

08:22 PM

.