Member
Join Date: Nov 2012
Posts: 445
Ok folks, I bred some Veils not a lot but I keep them around for color reasons, many of the reds today are Cambodian Crosses..Boy I sure would love to have a pair of classic white and reds..anyway here is one of my red males from a line I have this is more of what a show Veil would be.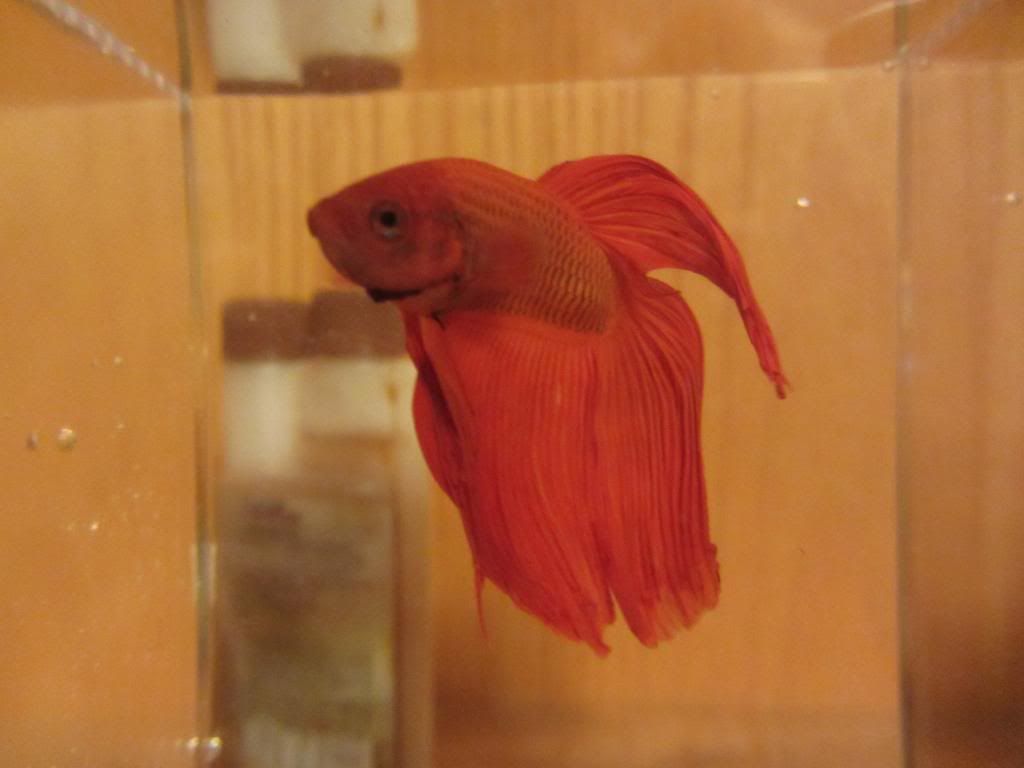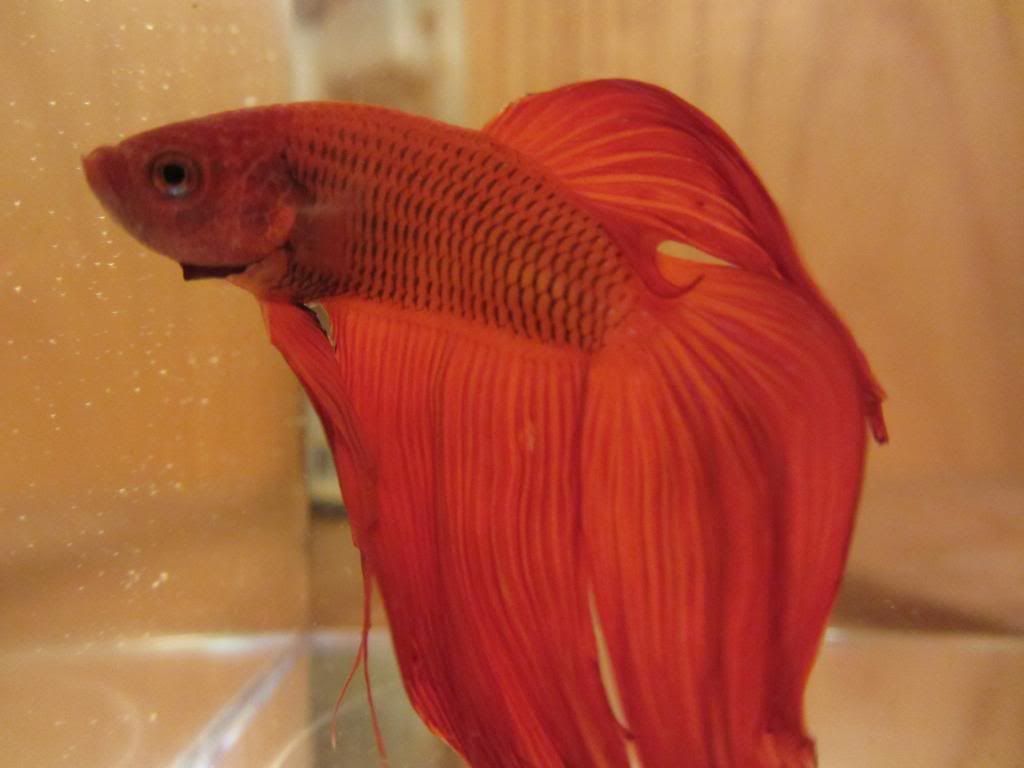 Notice there are no gaps? See how the tail flows and isn't longer than the caudal..as I said before, back in the day we showed veils we never liked the European standard, this is what we were shooting for.
Member
Join Date: Nov 2012
Posts: 445
He is torn up from breeding his rays used to be nice and straight and overall he was in a lot better shape, but you get the idea.
This guy and his mate made some really fine young.
Member
Join Date: Jul 2010
Posts: 3,026
Quote:
He is torn up from breeding his rays used to be nice and straight and overall he was in a lot better shape, but you get the idea.
This guy and his mate made some really fine young.
Those are the LONGEST ventrals I've ever seen! I thought my veils had long ventrals but this guy wins the contest
Is this a trait of veils? because I have never noticed really long ventral fins on any other type of betta.
Member
Join Date: Nov 2012
Posts: 445
I am breeding him for form and fullness, his offspring should be real lookers because the female was outstanding, the female is the real key to great fish.
Quote:
Does he fit in here at all? (he's still a youngster though)
He's got gorgeous form, he looks gorgeous!
---
LillyMae~ It's two L's not one :)
While I like veiltails I don't really understand how you would go about breeding quality ones from pet store stock
.
Without knowing the genetic background of a fish you'd just be throwing two fish together based solely on looks with no knowledge of what that fish is capable of producing. It'd be like me going out side tracking down two feral cats and mating them together in the hopes to eventually set enough traits so that they would be distinguishable from average petstore fare.
Breeding based solely on visual phenotype is unpredictable and it just seems like it'd be easier to import show quality veils from a country that allows them to be show and develop our own strains from there.
Also it kinda seems like people here want a 'pet quality' class to be included in betta shows and while that sounds like awesome fun it could also be crazy problematic.
I've been to cat shows with categories for best pet quality cat and without a standard to judge against the people whose cats don't win are always at a loss as to why. What does a judge tell someone whose pet lost when the winning animal was chosen based on nothing more then the whims of the judge?
I'd love to see the U.S.A adopt other countries vieltail standard and bring back showing them, but going out to pet store and trying to 'breed up' just seems so hard.....
It is hard. I know from personal experience. I started back breeding Bettas over 5 years ago with pet store stock. You couldn't then and for the most part still can't buy a decent Halfmoon female. I can look at a male and tell from their form and finnage if he will be a good addition to my breeding program or he might have decent finnage and I want the color. I started entering my Purple Veitails in show this last season but due to finances I was unable to send enetries to the last three shows. I went from 9th place to 20th, OUCH! By entering Veiltails in the form and finnage class they are still judged by standards and not just on the whim of that particular judge. If people want to see Veiltails in the shows they need to put their Bettas where their mouth is and enter their Veiltails themselves. I did, now where's yours?
Yes Exactly!! I've seen alot of proposals to include veil tails as a 'pet quality just for fun type class' and i don't think thats the way to go at all! People need to actively send veiled bettas out and lobby for a real separate class for them.

Breeding up is certainly possible but i don't think the average hobbyist has the fortitude to stick with it and sometimes I think being unable to find real quality stock discourages new breeders from bothering with veils and thats depressing :(
Member
Join Date: May 2012
Posts: 847
VT can be shown. There HAS to be enough individuals to have a separate class. If more VT were entered there would be a class for them. You like VT? Good. Send them to the show.
New Member
Join Date: Aug 2013
Posts: 2