Parameters are good, 0 ammonia and nitrite, 10ppm nitrates.
I'm trying to convert my tanks to planted. I almost killed my favorite betta the other day because I didn't know that ADA Amazonia Aquasoil leaches a lot of ammonia into the water and you have to cycle that before you put it with live fish. I'm lucky I had those ammonia sensors on. .. it spiked and I had to take Alejandro out, dump all the substrate, and start the tank all over again without (for now). Now I have the remaining Aquasoil in a spare tank .. . ugh

Just thought I'd mention it if anyone tries to get all "fancy" and get Amazonia. So for now I just have floating plants but I swear my bettas are in love with that too.
---
current pets:
Alejandro Marmalade


Rehomed bettas
(
because of my move): Cornelius Buttknuckle, Limoncello Dandy Lion, Cumulus Meriweather, Nimbus McCloud
RIP Pinkerton Flowers and the fish formerly known as Prine Purplius LeGrape
oh no! glad you caught it in time!

Good news! I changed out some water yesterday and did not add more salt, my last 2 tetras are actually swimming around and active! I still have no idea whats going on but yay!
wanted to update, I lost 6/8 rummy nose 1/6 kuhlis, some cabomba, repens and most of my MTS.
Lots of water changes and a while later everyone was doing really well! I added some plants to replace the ones I lost. yesterday I went out and got some more rummy nose and some shrimp... Already lost 2 rummy nose. I have a feeling that I just will not have luck with these guys, so I wont be getting anymore. Im going to give it a week or so and see how many I have left, if the rest survive I will keep it as is, if more die I will be looking to rehome the rest to someone who can give them a chance. Getting pretty discouraged tbh, I may just get a male betta, more kuhli and shrimp if this keeps up. :(

Plants are doing good overall though.
I know it hard not to, but dont get discouraged! You have done an amazing job thus far and it takes awhile to get a balanced set up. I hope you keep going, I miss seeing your pictures!
---

If you always do what you've always done, then you'll always get what you've always got.

Thank you :) I will get some pics soon, only two tetra left but my shrimp are doing good!
Member
Join Date: Sep 2012
Location: New Orleans
Posts: 350
Hmmm I wasn't aware you can use soil as a substrate! Nice job!
recent pic of the tank, I added an HOB and had to take the plants out in the back left corner as they all died, the HOB killed my little hill and I trimmed some of the giant sword leaves so one part is pretty empty atm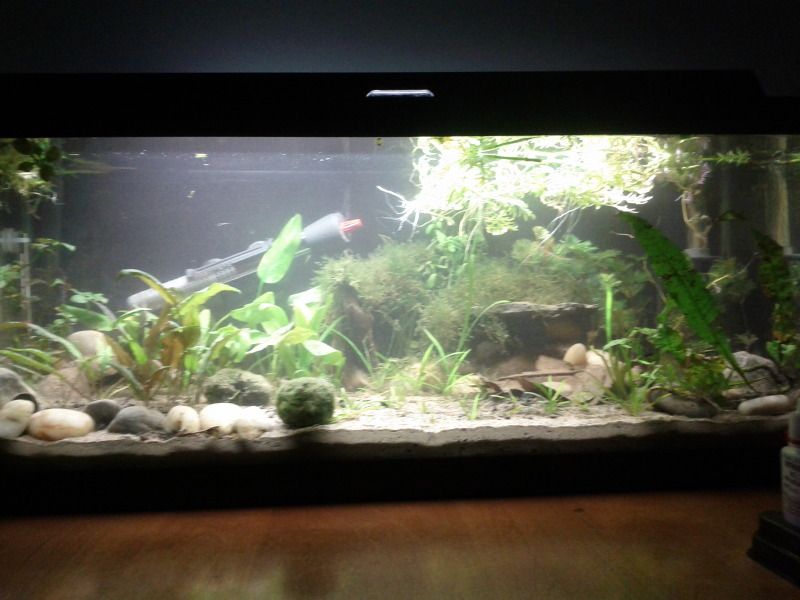 I broke down today... i was in a LFS and they had giant roundtail bettas. So I got one haha. He is doing good in the tank, pretty docile, just ignoring the tetras, shrimp and kuhlis, hoping it stays that way! He is huuuge, twice the size of my crowntails, I want to say he is cambodian but he isnt, he is flesh/white body with light blue/white irridescent fins. Will try and get a decent pic in a few days.
picture of my new betta:
directly under the light his fins shine a light blue.
a few updated pictures of the tank, the tree and all my java moss are growing great! If you look close you can see some shrimpies :)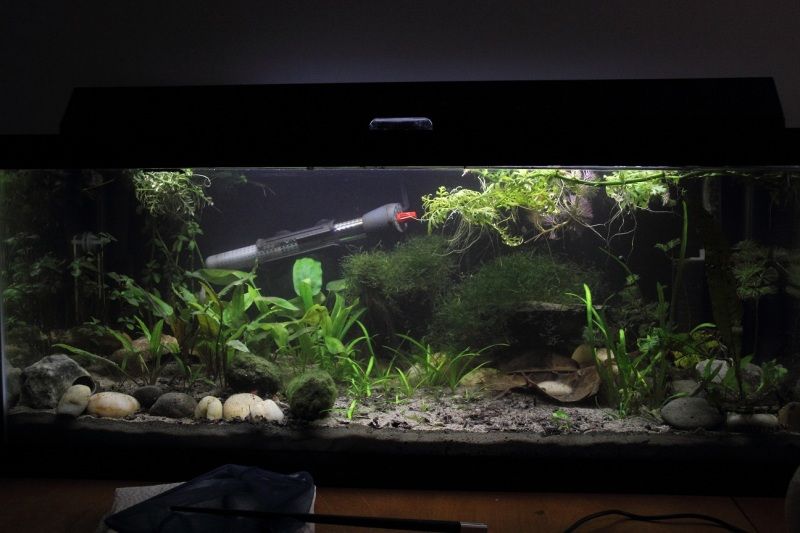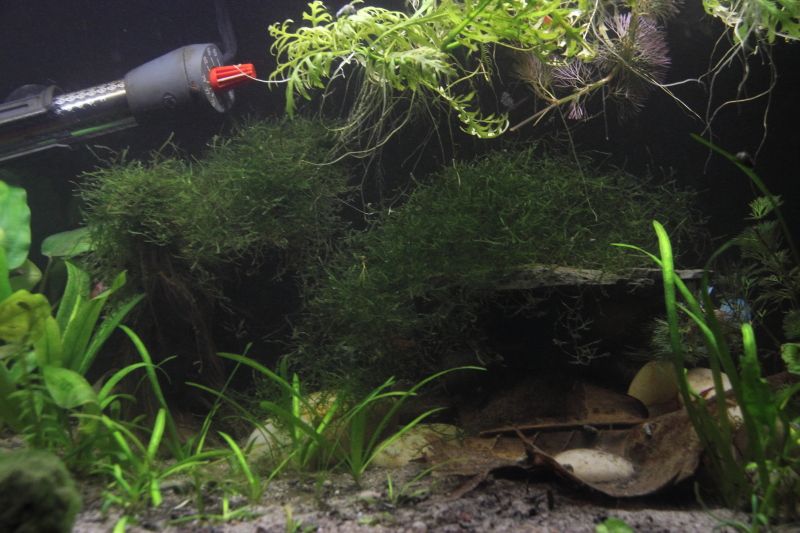 betta!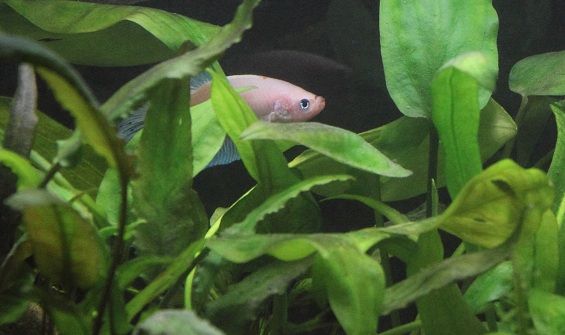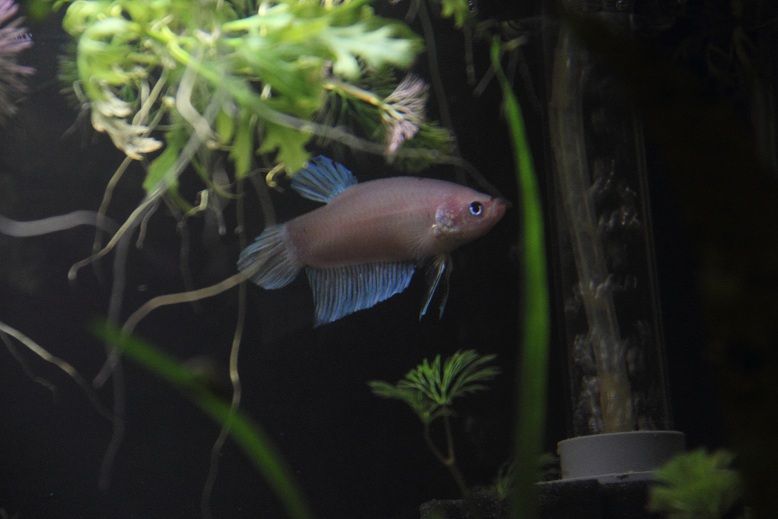 and a couple shrimpies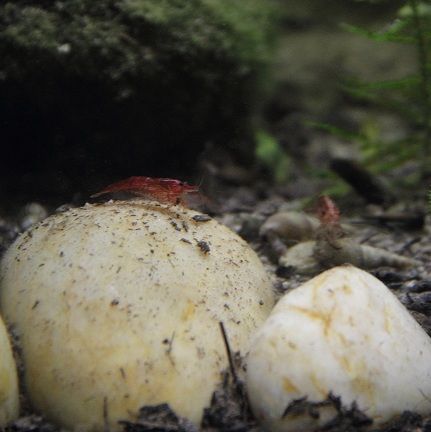 Similar Threads
Thread
Thread Starter
Forum
Replies
Last Post
Planted Tank Pics

Mo

Planted Betta Tanks

80

09-11-2012

11:13 PM