It's going to be so nice when you get those little ladies in there!
---
current pets:
Alejandro Marmalade


Rehomed bettas
(
because of my move): Cornelius Buttknuckle, Limoncello Dandy Lion, Cumulus Meriweather, Nimbus McCloud
RIP Pinkerton Flowers and the fish formerly known as Prine Purplius LeGrape
Wow, I wish I saw this before setting up my tank. Cant wait to see how it will turn out. Keep us posted!!!
Its looks fabulous Star! I can't wait to start my own planted tank.
---
Aussie Boys
Dexter- Black Tri
Finn- Red Merle

The Betta Crew
Bis- Black Orchid Crowntail
Lock- White, Molted Blue & Gold Dragon Crowntail


Thanks!
I added trim and glass canopy, water is clear but low due to adding the trim (I will top it up in a few days)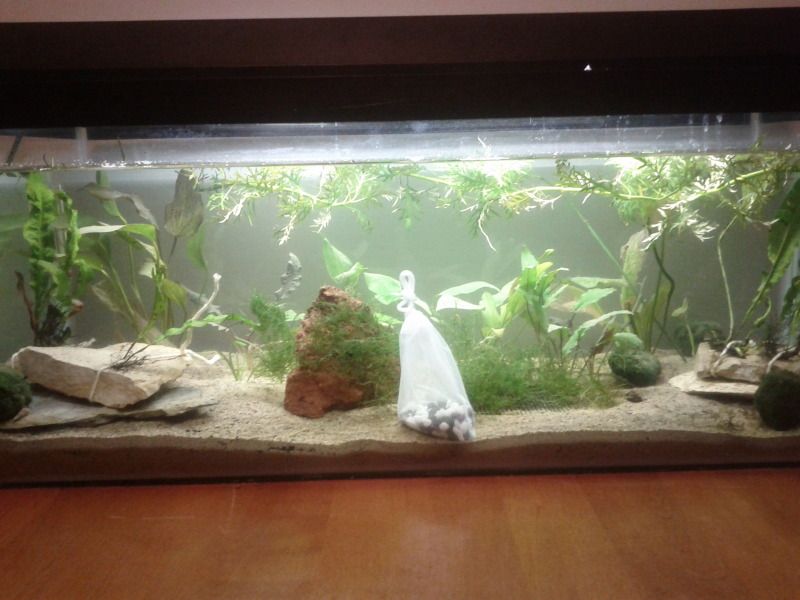 Member
Join Date: Jul 2012
Posts: 733
I appreciate seeing this bc I'll be prepping my 10 and 5 gal purchases in the next month!
:)
today I found one of my MTS on my floating wisteria... I have no idea how the little guy made it up there! lol
This is awesome!
I hate to ask but did you use the miracle grow potting soil or the garden soil in yours?

Or... *scuffs feet* if you wanted to list more of the the product names you used that we couldn't see names of....... it would be wonderful too. It's nice to know what brand of something WORKS when you go out shopping, or if you're like me you get something, say "Yea! this will work fine!" do something with it, and disaster ensues because it's not the same product. :D

BTW what does MTS stand for?

Edited to add: PLEASE, please, please, please, let me see a picture when you get your chichlid stones in your tank. And is that butchers string you used to tie some of the plants down with?
---
.....Betta Fish are like potato chips, it's hard to have just one!
Arm yourself with knowledge.
Consider advise.
Make informed decisions.
---
Last edited by Twilight Storm; 07-29-2012 at

01:40 PM

.
MTS= malaysian trumpet snails, the only inhabitants of the tank so far.
I used miracle gro organic garden soil
http://www.scotts.com/smg/products/M...n-Soil-std.jpg
other then that I used some play sand (the only kind I found lol). I also picked up some flourish by seachem for fertilizer. Other then the substrate and fertilizer its just plants and rocks in the tank right now :) The filter I bought is a sponge filter from ebay (it hasnt arrived yet). The light strip is by perfecto, I got it cheap off a friend, it holds a t8 bulb (I ordered a hagen life glo bulb for it, as it is in the proper K spectrum). And... thats about it unless you think of something else!
I will absolutely post pictures of the cichlid stones in the tank!
Nice, thank you. :)

I got a bag of their potting soil, rather then the garden soil. I was told it's ok to use, just wanted to know what you used. I couldn't read the bag from the picture.

You inspired me to clean out the spot I want to put the tank and get started on it right now! :D

I just finished up transferring my 2 mystery snails into a 5 gallon with my baby betta because I have a female that keeps laying eggs. My other snail is smaller and doesn't lay eggs so i'm guessing he's male. Who knows. I can't tell. Hopefully some magic will happen between them. If it doesn't, then no loss.

Thank you for all the pictures and information btw. This helps me so much.
---
.....Betta Fish are like potato chips, it's hard to have just one!
Arm yourself with knowledge.
Consider advise.
Make informed decisions.
oh yay, post pictures!!

i am not super knowledgable about mystery snails, I just grabbed some MTS because they burrow which helps aerate the substrate.

if you need anymore info let me know! I found the main tropical fish keeper site really helpful as well as planted tank.net
Similar Threads
Thread
Thread Starter
Forum
Replies
Last Post
Planted Tank Pics

Mo

Planted Betta Tanks

80

09-11-2012

11:13 PM