You didn't bother to rinse the playsand?

So a tank like this doesn't require siphoning?

I'm just wondering how this would work with the sand on top of the soil when it comes to cleaning.
No I didn't rinse it, I didn't see the need.
You can siphon with sand but the technique is different, you hold the siphon above the sand to not suck it all up. You shouldn't need to do it often as waste helps feed the plants.
new stuffs came in the mail today! The new lightbulb definately looks better :)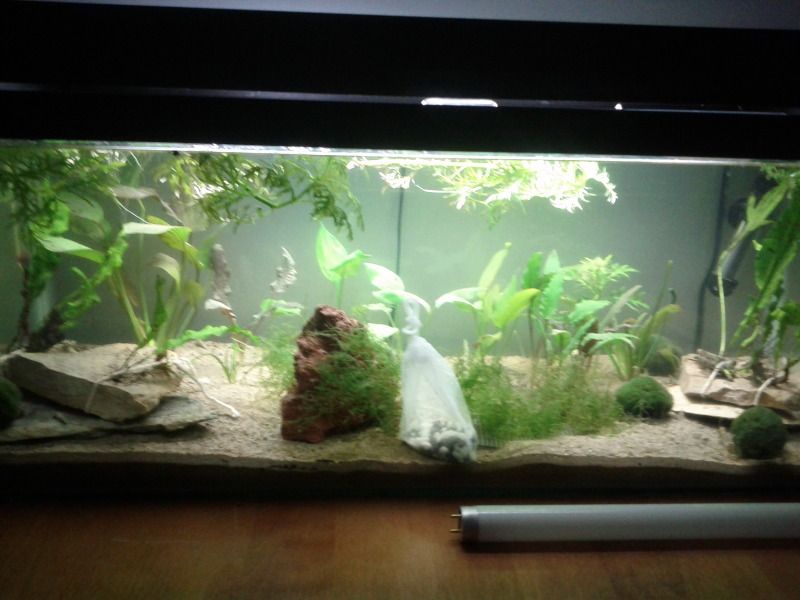 (might be hard to tell from pictures)
Cichlid stones came but arent going in the tank yet, I got the small size and the openings on two are fairly small but Im hoping with females who dont have big fins it will be ok, I held them up to presley and it looks like his body could fit in fine but if you want cichlid stones maybe try the medium size.
I also got 2 exo terra reptile caves which are supposed to be aquarium safe, Im going to silicone sand onto them to blend in better.
i wanted to post comparison pictures and this was easiest lol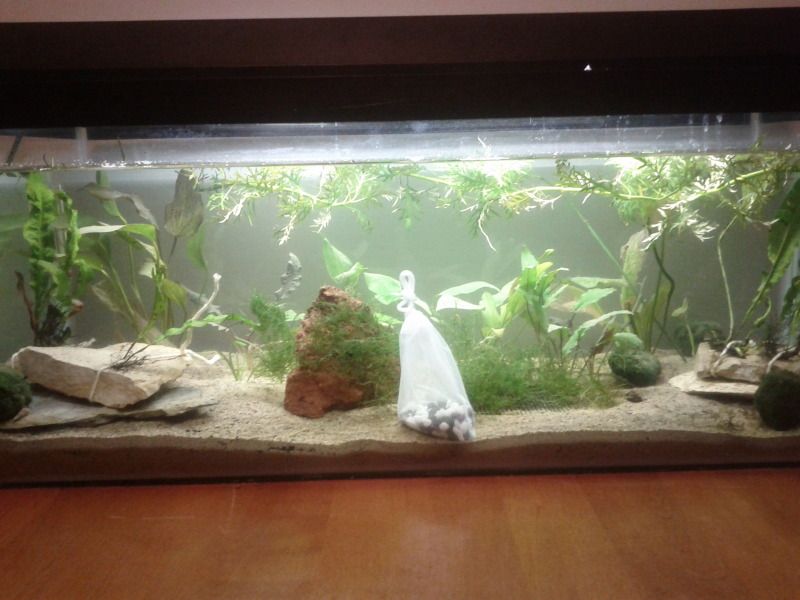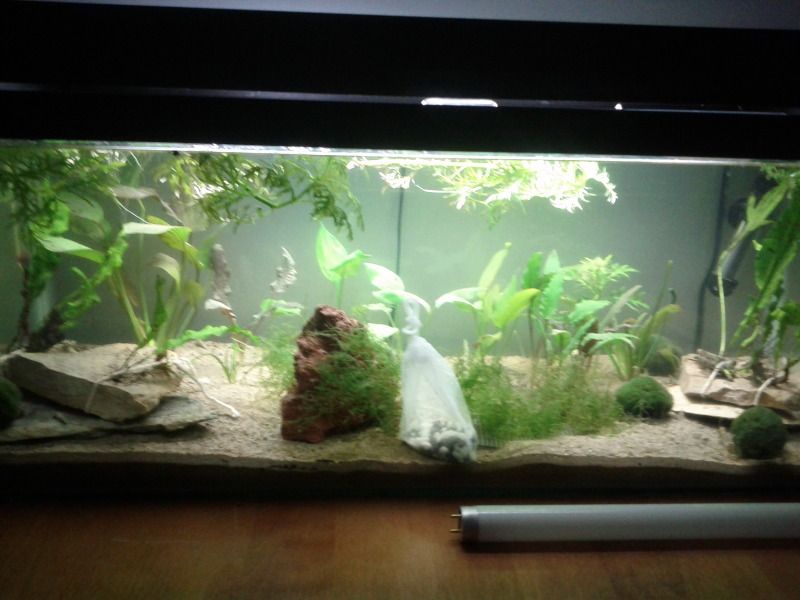 ETA looks like there has been a bit of plant growth yay
Wow, this is gorgeous! I've never tried a live planted tank, but the more I see the more intrigued I get, considering all of them look beautiful.
---
♥ RIP Sprinkles ♥
Current owner of Rocket :)
thanks! it is even scaped yet lol, I just threw the plants in to get some growth, Im currently reading at plantedtank.net for scaping ideas!
Sorry to poop on your parade, but with a NPT, or naturally planted tank (soil based tank), you want fast growing stem plants covering like 50-75% of the tank until the tank is established. Then you can adjust the plants and add different ones. Most of your plants are slower growing and won't suck up as many nutrients.

When a soil based tank is first setup, the dirt is going to be giving out tons of nutrients, this is when algae is most likely to occur. You should be at least one water change a day for the first week or so to rid the too many nutrients. You can then back off a bit after your first trim of stem plants and replant those stems (You don't have any though besides wisteria floating). Add way more stem plants...

Here is a picture of my tank, I need to move the plants around a bit though. (It is not current at all, this was a bit ago)
---
15 Gallon NPT
1g no tech bowl in the making
It entirely depends on what you read and who you talk to, I'm doing a low light tank and as such have low light and slower growing plants. It will come along just take longer than a tank with faster growing stem plants.
I'm also not doing daily water changes and have no algae issues probably because of the lower light.
Thanks for your post, npt tanks probably have as many different ways of doing them as as politics, everyone has different experiences and ideas of how to do it lol
Every where I have seen it all says the same thing, every keeper of one says the same thing.
Also this tank use to be low light, I had problems because I didn't have enough plants. If you are interested, read the first stickies in order or skim them
http://www.tropicalfishkeeping.com/aquarium-plants/
---
15 Gallon NPT
1g no tech bowl in the making
Thanks I will check it out. I've read a ton of different opinions all over the net
Similar Threads
Thread
Thread Starter
Forum
Replies
Last Post
Planted Tank Pics

Mo

Planted Betta Tanks

80

09-11-2012

11:13 PM