My planted tank, then and now
---
Here is my 10 gallon divided tank when I first got it set up:
And here it is now: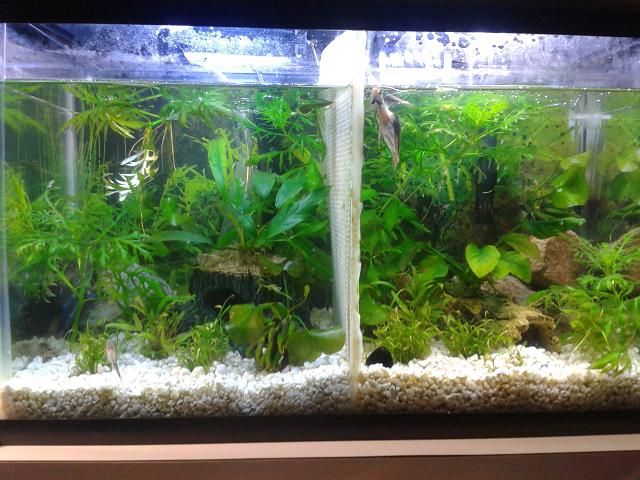 This is Lucky's side:
And this is Fly's side:
This tank has quite a bit of water wisteria in it, floating on the top and planted in a couple places. There are also microswords, crypts, anubias, and banana plants. I had some hornwort, but I took it out because it was making such a mess with nettles everywhere. The water wisteria is awesome and I'm constantly trimming it back to keep it under control. The anubias are established and growing well, but I suspect we'll have an algae problem in the future despite the oto clean up crew. The microswords are lovely, but slow to grow in my set up. We'll see how the crypts do, they're a new addition.
It's a low tech setup. No CO2, 2 CFL lights at about 10W that are in the tank's original hood, plain gravel substrate, and .75mL of Flourish once a week. I'm very conservative with the Flourish due to having some shrimp in the tank. There are a couple root tabs in to support the microswords and planted wisteria. Lucky's a serious jumper so I've been keeping the water levels lower to avoid any incidents. He jumped his divider once, but no trouble now that it's a solid five inch high barrier.
It's great having all of these plants for my boys to swim through and peek out of. I've never tried live plants before, so this has all been an adventure.
---
betta splendens (domestic) | betta imbellis | betta falx
Wow it is very nice!

I wish I could get my plants to grow :( sometimes they're doing great and then suddenly they start to turn brown and its terrible and then they start turning green again.

I don't really have much of a green thumb.


super jealous though. thats what I am aiming for with my 29 gallon, I am currently setting it up to be a sorority tank, but I havent gotten anything for it yet :(
Member
Join Date: Jul 2010
Posts: 3,026
Nice! I bet the boys love their little jungles
how much growth time is there between the before and after photos? we've just started live planting a 10g, and it looks pretty similar to the before, but the after is more what we're aiming for.
---
So remember, when you're feeling very small and insecure,
How amazingly unlikely is your birth,
And pray that there's intelligent life somewhere up in space,
'Cause there's bugger-all down here on Earth.

Godric/Eric/Sookie/Frodo/Sam/Vlad/Rasputin/Genghis/Hannibal/TARDIS/
LaVey/Crowley/Dahmer/Ripper/Al/Thor/Skadhi/Freija/Sunna/Mead/Mani/
Loki/Grendel/Gail/Beowulf/Camilla/River/Bathory/Arwen/Lafayette/Deb/Jack Skellington (soon)
I'm at about three months on this tank. A lot of the fill came from the water wisteria growing and being added in different places as it tried to take over.
---
betta splendens (domestic) | betta imbellis | betta falx
Nice! That's some serious improvement! How are the banana plants btw? I saw them and a LPS once and they seem super cool.
---
Puck (Yellow koi HM king) / Scar (White HM) / Salt 'n Pepper (Silver HMPK) / 'That fish' (Copper butterfly HM) / No name (White DT) / No name 2 (Turquoise/white marble HM) / No name 3 (Lilac HM)

Bo Peep (Cambodian VT) / Goldilocks (Yellow VT) / Joie de Vivre (Multicolour VT) / Lil' Peep (Blue VT) / No name (Dalmatian VT) / No name 2
That's exactly what I'd like my tank to look like! Beautiful!
---
R.I.P. Akira aka Feisty Fins (August 10, 2012)
Great job! I think both sides look lush and beautiful, and I bet your fish just love being in there.
Member
Join Date: Jul 2012
Posts: 733
Lovely!
---
Prana (deep blue/purple CT female) Fluval Spec 2

Qi (turquoise CT female) 5 g riparium

Vanilla Beast (Ivory apple snail diffusa), Watson and Crick (Amano shrimp), Tributary (Moss Ball aka AquaTribble) Fluval Spec V

Pond and ramshorn snails (so many!) 2.5 g

Mr. And Mrs. Smith (assassin snails) 0.5 QT tank

Leopard ramshorns 16oz NPT Mason Jar