Low tech set-up
---
Kfryman wanted to see some pictures of this tank so I thought I'd post them here. Unfortunately because of the location of the tank my photos either came out really bright or really dark.
This is my low tech tank. I literally just do a 25% water change on it once a week and scrub the algae off the sides. Plants are mini bolbitis, java moss, anubias, needle leaf java fern and standard java fern.
The right hand side still needs some work and I am trying to figure out a good replacement external filter because this tank is so small and shallow.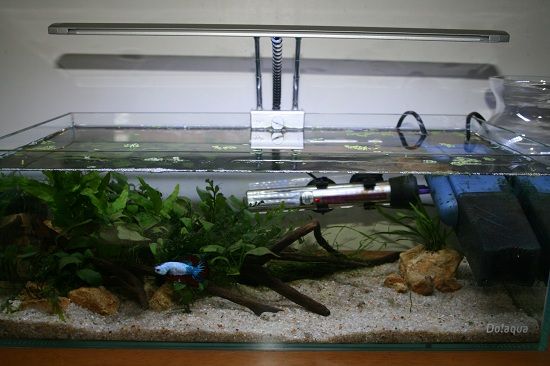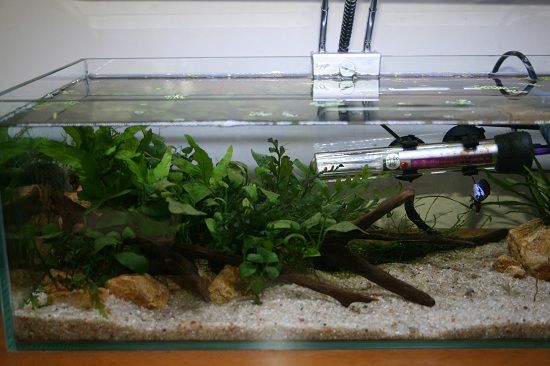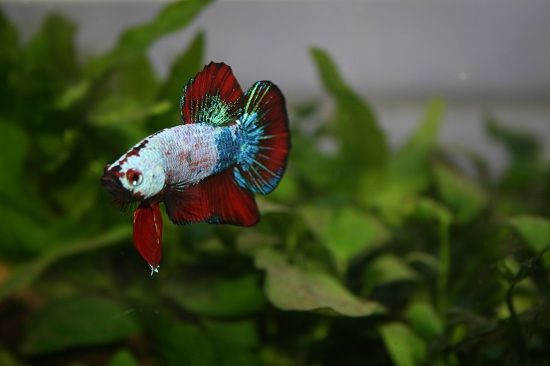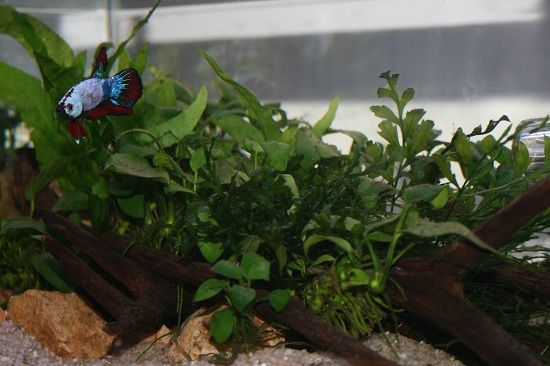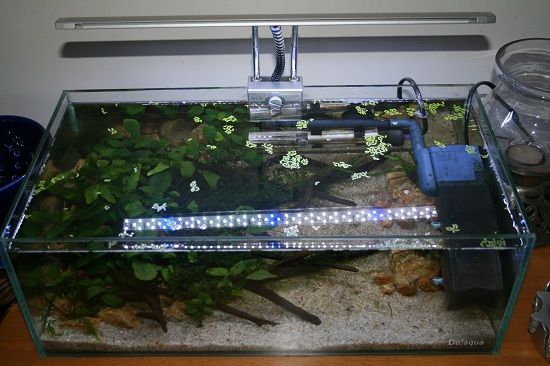 I have no idea what my betta was doing during this photoshoot. He looks derpy in all of these when he is really quite lovely in real life.
---
Your tank is beautiful and so is your betta! I'm hoping to start a ten gallon planted tank soon. Hopefully someday my tank will look as opulent as yours.
how many gallons it that doaqua! tank.
I think 4? It is 45cms long x 16cms high x 24cms wide. It's actually a really great size, although I prefer the 60-F, which is slightly taller and wider, and is 60cms long.

It's a pretty easy set-up. Just took a while for the java moss to spread and my bolbitis to grow in. I just like it as there is no need to be pruning stems or cleaning up plant debris.
---
You call that low tech set up???? What do you try to say (make fun many of members :(

My highest setup has only heater and thermometer.
Low tech is referring to the fact the plants require essentially no fertilisers, there no CO2 and quite low light over the whole thing.

High tech to me usually means lots of light, regular dosing of fertilisers and CO2.

It has nothing to do with anything else and I'm not making fun of anyone. High tech and low tech are just terms used by people with planted set-ups.
---
Gorgeous set-up and betta! I'd love to have a tank like yours someday...I've actually been searching for a tank like that (a longer, shallow rectangular kind).
---
Puck (Yellow koi HM king) / Scar (White HM) / Salt 'n Pepper (Silver HMPK) / 'That fish' (Copper butterfly HM) / No name (White DT) / No name 2 (Turquoise/white marble HM) / No name 3 (Lilac HM)

Bo Peep (Cambodian VT) / Goldilocks (Yellow VT) / Joie de Vivre (Multicolour VT) / Lil' Peep (Blue VT) / No name (Dalmatian VT) / No name 2
Haha, I am looking to turn my sorority high tech. I already have the T5HO light and some ferts. I am looking to do DIY CO2 first, then I am gonna buy a regulator so I have no need for an airpump. Though, I have been to lazy to do the CO2 lol.

Tank looks gorgeous! I remember you posting a picture of it once, maybe in you avatar or something, and I was amazed by the simplicity, yet it looks amazing!

What about the TOm Mini Internal filter? Or rock two Azoo Palm filters, one one each end? They are rated for 3.5 gallons. so you might even be able to get away with one, but 2 provides a bit better flow (adjustable flow too)
---
15 Gallon NPT
1g no tech bowl in the making
---
15 Gallon NPT
1g no tech bowl in the making
---
Puck (Yellow koi HM king) / Scar (White HM) / Salt 'n Pepper (Silver HMPK) / 'That fish' (Copper butterfly HM) / No name (White DT) / No name 2 (Turquoise/white marble HM) / No name 3 (Lilac HM)

Bo Peep (Cambodian VT) / Goldilocks (Yellow VT) / Joie de Vivre (Multicolour VT) / Lil' Peep (Blue VT) / No name (Dalmatian VT) / No name 2