nay thats my same problem i cant keep any of this npt stuff strait in my head.. my local stores only sell normal lites and heat bulbs for reptiles.. i did find a few "grow lights" most of whick fit in a giant 3ft thing and one was a screw in.. screw in didnt say how many K just "50/75 watt" and like 3800 L -.- nothing says K's :\ so i didnt get it only sirly curly bulbs we have even at lowes it seems is energy efficient ones


and thanks kashi that makes me feel lil better ik bettas like tanned water but i was hesitant to put it in tank :O i may do so now :)
---
IM BACK!!! DID YA MISS ME? ;)
lost my betas, tried some new things and now im back trying for 2 new npt's both with sororities
only 1 girl at this time tho
it IS the energy efficient bulbs XD
This is how I have mine set up with a clamp on student lamp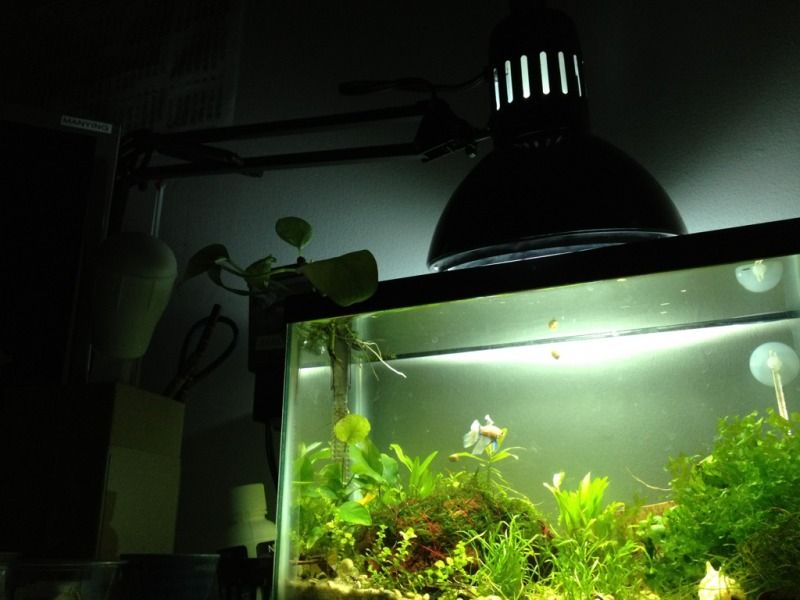 lol kashi ima hurt you a wiel back i said "im guessing its not the energy efficient ones then" you said yup.. yep/yup means im right :P i went all over town today and they were right in front of my face?!?! ima hurt you chico/chica lol
---
IM BACK!!! DID YA MISS ME? ;)
lost my betas, tried some new things and now im back trying for 2 new npt's both with sororities
only 1 girl at this time tho
OH SORRY! I read it as: Im guessing it IS the energy efficient bulbs D:

So sorry!!!! T_T I feel so bad now :(
you should! jk.. i was looking for some f those weird ones that make funny rectangles from tubes and swirly ones that said plant.... tho none of my stores had any lights with a K reading only L =\ so not entirely your fault i thought the energy efficient would be worse as i thought they were like a normal ancandesent but dont get as hot and save energy.. had no idea they helped photosynthesis in aquatic plants.

so what L reading should i be looking for.. my cfls at walmart, menards, lowes exc exc all say just what what they are how much they use a luminant reading and "saves you $47 a year/month"[didnt read it i was looking for letters with K and the word plant haha]
---
IM BACK!!! DID YA MISS ME? ;)
lost my betas, tried some new things and now im back trying for 2 new npt's both with sororities
only 1 girl at this time tho
well i think ill visit walmart in the morn then :P none of the boxes or cases said K just 3700-4800L =\ ill be sure to look on the bulb this time tho!
---
IM BACK!!! DID YA MISS ME? ;)
lost my betas, tried some new things and now im back trying for 2 new npt's both with sororities
only 1 girl at this time tho
look for the 'natural, or daylight, or grow bulb' just in the regular bulbs. That one i listed as a gem? is good, you can do a google for it too and its on amazon and several other places, by mail though. If you buy it at the store the url takes you to, its only 3.25, lol. plus shipping :(

i saw one online at walmart, oh that grow one with the skinny bulbs in it, it said Kwhater, 3500k I think. That will work to, but you have to protect if from water splashin up on it.
well walmart had one grow bulb but wasnt a cfl. was normal and was a 50wt. think ill look into cfl sense they last longer tho ;p
---
IM BACK!!! DID YA MISS ME? ;)
lost my betas, tried some new things and now im back trying for 2 new npt's both with sororities
only 1 girl at this time tho
you can buy it online and ship to your local walmart.

This is what you want to look for in cfl...

If it says T2 that it!

2. temperature = K = Kelvin: from 5000 to 6500 is the daylight range for temperature.

3. the other number is cri, and it needs to be like 85 to 100 for temp/kelvin above.


You need both 2 and 3 in the same light for the clf's Or only 1. as it will have the correct ratio already, and just buy the watts you need, like 20-25 I think.. from what I read works for growing just fine.

Write it down, take it with you, hehehe then tell me what you bought! I dont have time to look through all the cfl tom, was just looking online and boring!!!!

mind you, im just going by what i have gleamed from a few sites. So if the plants die, lol, dont blame me, hahahahaha