you can add plants now, the plants will actually soak up some of the ammonia. It wont hurt them.
Here's the tank, I took a pic now that you can finally see what's going on inside it:
Ammonia is sitting at .5 ppm so I think you're right on the plants, I'm just hesitant because I had a GIANT ammonia spike with my last attempt that melted all my wisteria. I'll add a couple of plants today and see how things go :)
In my experience no matter how many times you rinse Flourite substrate it will make your tank cloudy. Filter will generally take out the majority and the rest will settle back in.
Ok added two Amazon Sword plants. One wasn't in very good shape to begin with so if it dies I won't blame the substrate. I also realized that I picked up Flourish Excel instead of Flourish, so had to order some of the real stuff.
Flourite, in my experience, is always very dusty. It'll definitely cloud your water if you don't rinse very thoroughly.

The water should clear up on its own in a few days.
I received a shipment of plants earlier than expected yesterday and took the chance of adding them to the tank. It looks beautiful today! I haven't decided on the placement of the plants in the middle, the only ones that will likely stay where they are would be the ones on the ends:
Close-up of left side: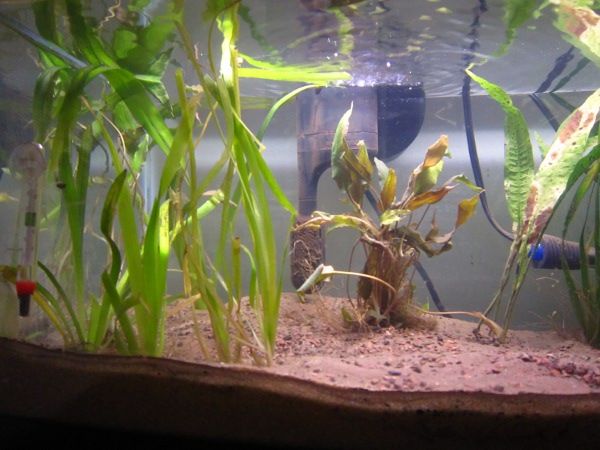 Close-up of right side: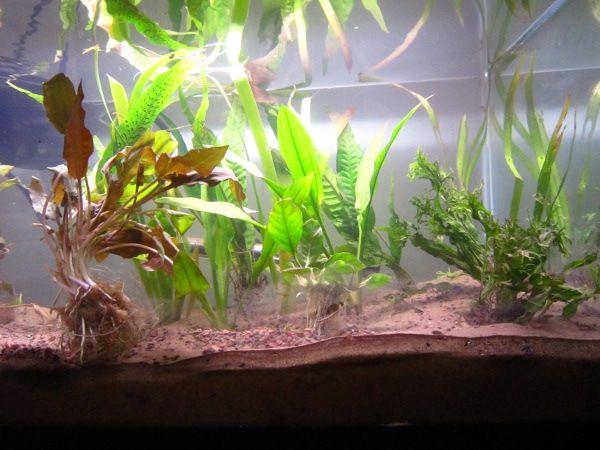 I also have two pieces of driftwood soaking in bowls that the moss will be attached to, and I have another two pieces coming :)