Here's my planted tank: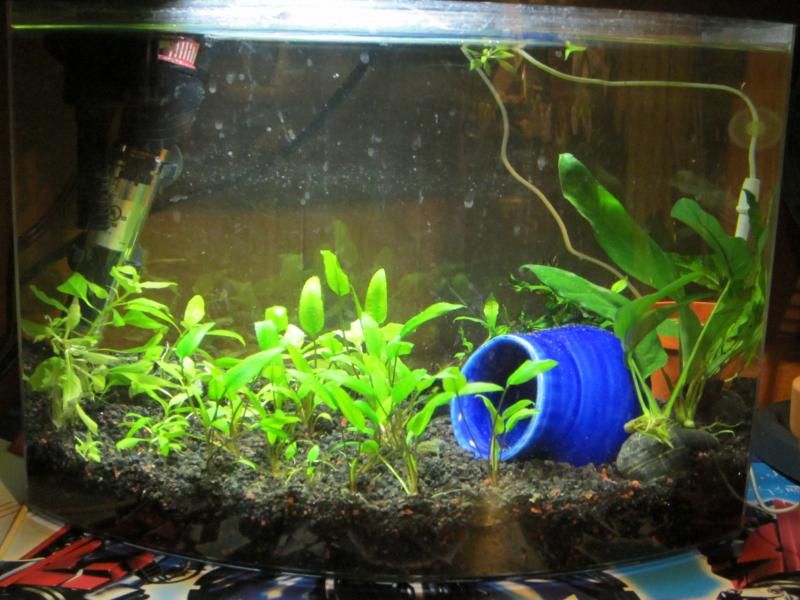 There's two Anubias, two kinds of Java fern, Cryptocoryne wendtii, and a stem. The friend I got the stems from didn't know what they were, but that they did very well in her tanks and her bettas loved them.
No livestock yet, but I just finished a fishless cycle with it. :)
Question: My 5g NPT has been up and running since January and I just removed the filter after the last water change. The water is a bit hazy - not as clear as it was with the filter...will this go away or should I put the filter back? Livestock and plants seem fine...
it should clear up, but I always keep a filter of somekind running for water movement
I know OFL mentions removing the filter on the first page of this thread...I liked the idea of not having a filter because it takes up room in the tank (and blocks light) and I already have way too many cords on my counter! If it doesn't clear up soon I'll probably put it back or try and find a smaller one to use in there instead...
yeah it wont take much of one even a sponge filter will work, I tend to have bubble bars and filters to keep the water moving, it helps keep some of the algae at bay as well, I have thought about removing the filters on my smaller tanks that are not as well lit as my big ones but what can I say I like the polished water look
New Member
Join Date: Jul 2013
Posts: 1
I have used Pothos for many years in tanks. My favorite use is for Betta bowls.

First buy a small pothos then rinse the soil completely from the roots. I like to use one gallon containers from Pat Catans and place the whole plant in the bowl. Place it in a window (I like north windows), let the water condition a few days and then add a betta. Never add plant fertilizer! Feed the betta floating food until the plant is well established. After a few months you will have lots of roots and you can virtually stop feeding the betta. They find all the nutrients they need on the surface of the roots, primarily infusorial organisms attached to the roots and plant tissue itself.

No air stones are needed. Bettas are labyrinth breathers and can live in very small puddles without aeration. Bettas have channels in their heads called labyrinths which they fill by gulping air. In Thailand they have been found to be living in water filled hoof prints of water buffalo.

The betta will be very healthy and content. They forage among the roots and build bubble nests. That's much better than an empty bowl. The roots give them something to do all day. The plant absorbs the nitrites and nitrates and maybe carbon dioxide from the water. So, the fish aids the plant and the plant aids the fish.

I like square bowls and I place them back to back across the window. That way they have some company. The vines grow to the floor. I trim them when the reach the floor, but I believe they will grow long enough to go across the top of the window. They grow that much. The water never smells even though I don't change the water very often, maybe once every two months or more.

This is a very fun project with fish. I am a microbiologist and love stuff like this. I have also been an aquarist for 51 years. This illustrates the symbiotic relationship of fish, plants water and air. It would be a good science project or exercise for science classes with minimal cost. The fish appear very healthy, grow to ripe old ages and maintain full finnage and beautiful color.
Member
Join Date: Aug 2013
Posts: 75
I want to make my 5 g betta tank a planted tank tomorrow but I want to make sure that I am off to a good start. I plan on getting the Aqueon® Mini Compact 50/50 Fluorescent Lamp from "
http://www.petsmart.com/product/inde...vailInUS%2FNo"
and putting it on a timer for when I go back to school since I go away on weekends. While it is currently on a window sill getting full sun all day long I don't plan on using the light. I am going to pick up some organic non fertilized soil from home depot tomorrow and some play sand for the cap. I was thinking about getting some anacharis, brazilian pennywort to float around, some java fern, some anubias on a log or rock, some water wisteria, crypt wendtii, and possibly some rosette sword and maybe some dwarf high grass for the bottom cover. Would that be enough plants? I plan on putting in 2 ghost shrimp and 2 mystery snails to go with my crown tail betta and otocinclus, would that be enough to sustain the plants? I cant find any trumpet snails in the area or I would go with them. I will probably poke the soil often for a while. Do I need drift wood in the tank? Are there any kinds of wood I should stay away from? Am I missing anything? I don't have much floating but I know my local pond shop has water lettuce would that be a good idea for such a small tank? Are floating plants crucial?
I have some questions I'm planning to start a ntp on a 75 gal tank but I'm starting with low light plants such as java moss anubias and stuff like that at this point I'm looking for the lights I would like to get led fixtures because they don't use that much energy ( just trying to go green lol ) but I want to know since I can't use the watt per gallon rule should I based on lumens if so how many lumens would it has to be?
Phoenix and Carlos, I can't answer your question because I'm a plant newbie as well, but you'll get better responses if you post these questions as threads in the forum itself. Where this is just a sticky giving the how/why of NPT's there's not as many people who look on here other than the original posts by OFL with the how-to's. To answer questions the forum is definitely the way to go so that you get noticed by members who *can* answer your questions. :)

I hope that helps!
---
Member
Join Date: Apr 2013
Location: Northern Canada
Posts: 88
So you have to have soil for a planted tank to work? I have 10lb or gravel in my 10g with stem plants. It's only been a couple days but im very confused and just bought Nutrafin Plant Gro (with Nitrogen, Baron, Copper, Iron, Manganese, Molybdenum and Zinc, I think B vitamin too). Is this all i need? The highest maintenance plant I have is Limnophila aromatica
http://www.ebay.ca/itm/281131870878?...84.m1497.l2649
Is this plant gro all I need for this plant to survive (i also have 4 other types but lower maintenance). My betta loves his new tank but I hope i can keep these plants alive
. Also I only have LED light that came with my Tetra 10 gallon tank from walmart. I dont know if this light is suitable so I want to buy a new hood with better lights for my plants can anyone give me a link :)

---
Last edited by Mitra; 08-19-2013 at

07:58 PM

.