Planning a 29g planted sorority - light question
---
I have a 29g tank, with a 24" hood. It holds one T12 fluorescent bulb, and the highest wattage I could find in a 6500K was 20w. My fixture says the highest I can put in there is a 22W, but I don't even think they make those in the 6500K. Will this be enough to grow plants? I'm looking to do low-medium light without CO2.
Just want to get opinions before I go ahead and spend a lot of money on plants, lol.
Here is a picture of my empty tank, with the light on so you can maybe get an idea: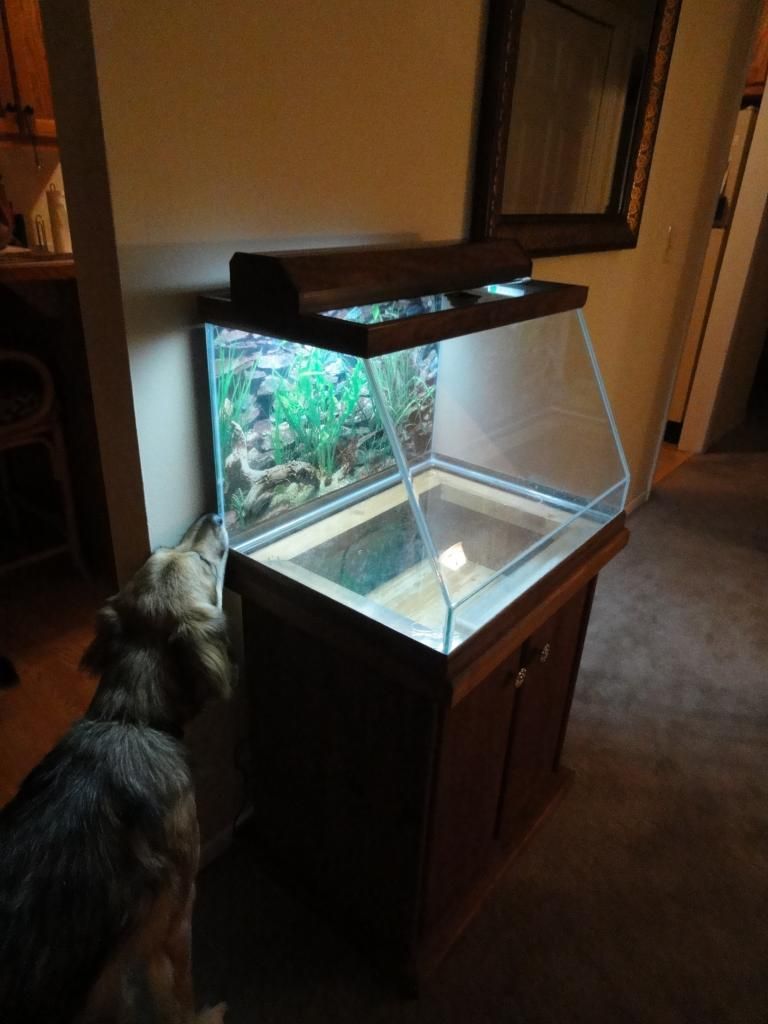 ---
Last edited by carbonxxkidd; 12-16-2012 at

10:04 PM

.
Not the best with lighting, but it looks pretty good to grow low/medium light plants!
---
Canadian Fish Owner
So I'm not sure how accurate this is, but I calculated out my WPG to be about 0.7. That's pretty low...not sure how the addition of substrate alters that, if at all, but I plan on having at least 3" of Eco-Complete.

What plants can I grow with that low of WPG? Or would it be better to just invest in a better light hood which can provide me more WPG? I want to stay low-medium light so I don't have to dose with CO2. I just want plants, lol! I plan on ordering plants sometime this week (maybe not with the holiday) and really want to set up my tank asap, so any other help from the plant/light experts would be greatly appreciated. Please? :)
The wider leaf plants are the ones which grow the best in lower lights. Short plants for the lower level: Anubias, and java fern. I found certain swords to do well in low to medium light. I also have wisteria in nothing but the original lights that come with a standard tank hood.
---
Breed for the breed, not for the money; the words any REAL breeder would understand.

You must know nothing in order to know all, for all is nothing and nothing is for all.
WPG is outdated, big time, I wouldn't count on it for anything.

A single 24" T12 on that tank will, however, be best mostly for just low light plants but some stem plants may manage. That's an odd size tank, if it's not as deep as a standard 29g the light will do a little better. Depth is the key factor in lighting, not some WPG rule. Consider this: A 20g tall tank needs brighter lighting than a 20g long tank. Same volume, different requirements.

Other options to consider:

Get a T8 fixture or a T5NO (NO = Normal Output). These are slightly more intense than the older T12.

Get a dual T8 or dual T5NO fixture. This will put you in the upper end of moderate lighting, floating plants will be a good idea. This is the level I use on all my tanks (all are non-CO2).

Get a single T5HO (HO = High Output) which will be a nice moderate. T5HO are about 1.5x as intense as their T5NO/T8 brothers.
Wow, I love the shape of that tank! They just don't make them like that anymore. I agree that WPG is tricky nowadays because we have more efficient low energy bulbs now. I think even my T5HO lights are something like 24W.

Some large anubias plants and java fern on driftwood would look fantastic in there, and most varieties are hardy low light plants.
It is an odd shaped tank...I've had it for over 10 years and have never seen another one like it. It is taller though, about 17" from where the light is to the bottom of the tank. The base is 18"x26". I was planning on buying the 20g low light plant package from plantedaquariumcentral.com and adding a few more low light plants (vals and pennywort). I'm glad to hear that I should have success with the low lighting I have, might consider upgrading my light fixture later.

Thanks everyone, I appreciate the input!
New Member
Join Date: Nov 2012
Posts: 11
Excel is a toxic chemical, I wouldn't use it with fish. It will also kill some plants.