New Member
Join Date: Jan 2013
Posts: 2
My planted betta tank
---
My planted betta tank for ship had a spare tank, heater and filter and when I was at the fish shop yesterday I decided to plant it up and add a betta in with a few glow light tettras and a few baby yoyo loachs untill they get big enough for my other tank. I picked up some live plants while I was there as well.
I have a sand substrate normal play sand left over from my other tank. And a few decorations I had lying around. Sorry about the poor pics but it was taken after I turned the lights out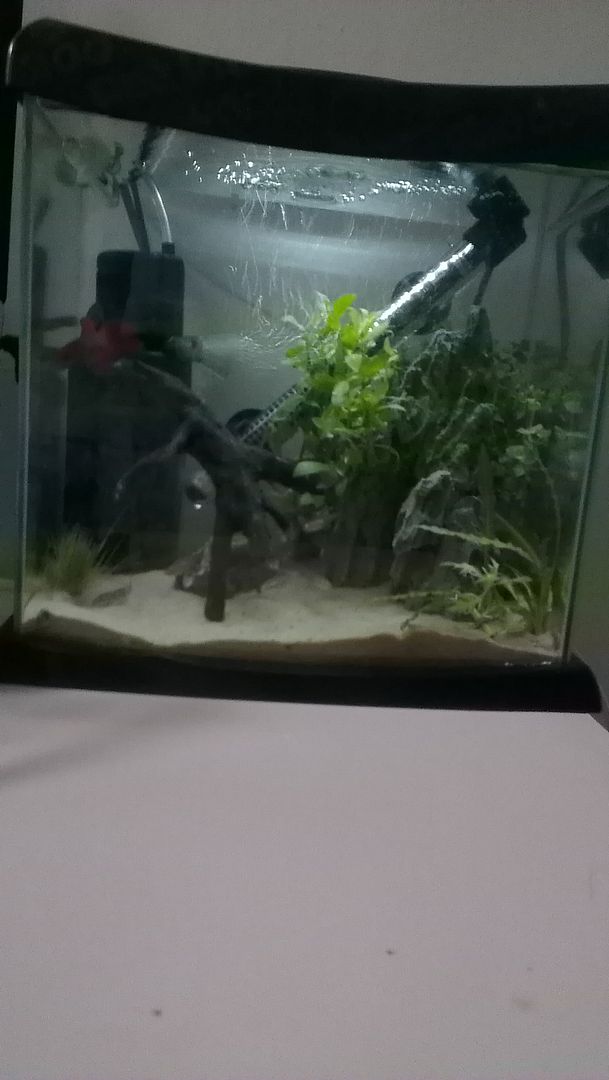 That some cool rocks and a piece of driftwood you got there :D, are those real rock? And the filter look kinda strong for a betta, or is it because of the picture? And do you mind telling me what plants you using?
---
11 bettas: 1 Twintail Halfmoon, 2 Crowntail, 5 Halfmoon, 2 Plakat, 1 Veiltail
Oooh pretty!

I have to agree with squirt:: That filter does look pretty strong for a betta
---
10 HM, 3 HMPK, 5 HMPK fry
8 German Blue Ram, 5 Green Dragon BNP, 4 Albino BNP, 4 Calico BNP, 6 Red BNP, 5 Kuhli Loaches, 2 ADF, 7 Peppered Cories, & 6 Tiger Endlers + Fry
12 full time tanks, 4 NPT, 6 QT/Breeders
Member IBC
New Member
Join Date: Jan 2013
Posts: 2
I honestly have no idea what the plants are there just the generic plants my local shops sell. I had my filter set to max flow originally untill I read this sight now iv knocked it down to minimum lol. And the rock is plastic but shhhh don't tell no one lol