Plant suggestions for a 29gal?
---
I just go a 29 gallon (whoop!) off craigslist; it's clean and finished it's 24 hour test. The substrate will be an aproximately 50/50 mix of typical gravel and the Flourite by Seachem plant substrate (I still had half a bag left from two other tanks). I'll probably end up having to replace the light, as I got it with the tank and I'm not sure what type it is, though the past owner mentioned having algae problems so...we shall see.

I plan to set it up as a growout for my spawn over the summer then keep it as a planted sorority. It will have a landscape (hardscape? It's not a capped tank...) of rock, need to test them first they were left from building our front porch, as well as terra cotta pots as caves.

I LOVE Java Fern and have no trouble with it, so I plan to buy more than that, but what other plants have you had experience with and enjoy in a tank? I will mention, this tank will have a long time with nothing but a few ADFs in it to grow before it's a sorority, and lots of hiding spots are needed, so things can grow in.
If you can obtain some, I looooove my sunset hygros; so pretty! I do know that they are illegal to transport and possibly purchase in some states, so investigate that first though. With enough light, you can get fabulous shades of pink, or even red (mine are currently hues ranging from coral to lightly tinted salmon with green).
I also enjoy my carpet of loose subwassertang (round pelia)... I just threw it in and let it drift to wherever it wanted to land... it's now forming a great layer along my substrate that will provide ideal cover for my ghosties when they arrive.
My tank is a 5Gal NPT with gravel/soil & awaiting invertebrates so I can add my betta. (Giving them a 24hr head start to find the hiding places before adding Alpha). (Please excuse the cloudiness/snails... just finished a WC and also waiting on my assassin to deal with them)
Whoops, deleted my photos by accident!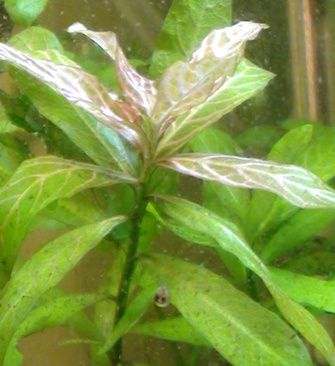 and second, whole tank with the subwassertang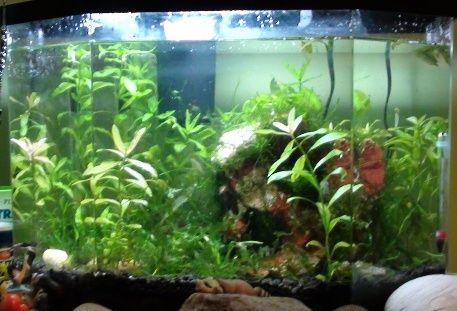 Wow, lovely! I have no clue where I can find either, but I will definitely search them out, especially that sunset hygro. It looks gorgeous. Wonder if I can have it in NC...
My favorite plants in my 29 gallon are my water wisteria, vallisneria spiralis and amazon sword...they are doing super well under a low/medium light. My anacharis and hornwort are taking over the tank and I will probably be removing most of them soon, the anacharis sheds EVERYWHERE. I also have hygrophilia (giant hygro) and bacopa caroliniana. Can't wait to see pics of your tank when it's all set up! :D
I've had issues with Swords in the past, though I love the look...course I have three in my ten so we shall see how that goes xP

Definitely will have either Anarchis or Hornwort (or both) because I need those for the spawn tanks...pity about the shedding, but still, good cover

I've never had the Vallisneria Spiralis, will have to look into that, same for the Hygrophilia and Bacopa Caroliniana

Where do you guys buy plants? My petsmart just has tubes (half of which are not even aquatic) though I think my petco has more...just not sure where to get some of these plants
I bought pretty much all my plants for my 29 g (except hornwort and wisteria) from plantedaquariumscentral.com. All the plants were beautiful and no snails. :)

I really wish my anacharis would stop shedding! It's growing like crazy but refuses to root, the bottom leaves just fall off and then the stem melts and they start floating. I hate it. The hornwort that I have was a tiny piece given to me for free from Petsmart and now takes up the entire corner of my tank. My fish love it, and that hasn't shedded at all.
Thanks, will check that out!!!

Jeesh...might go with the hornwort then, I like it better anyway xP Do you have any idea what would be better for the fry?

Right so (not ordering yet, don't have the stand built BUT) THis is what I'm looking at
3x Bacopa Carolina
1x Hygrophila corymbosa
1x Hygrophila corymbosa 'angustifolia'
1x Hygrophila Stricta (midground)
2x Wisteria, Hygrophila difformis

Anyone see anything wrong with this idea? Suggestions? (shockingly it's just over $25 before tax.) I plan to get some Java Ferns out of Cap's tank (they're overrunning it, it's only 5.5) and putting them in the foreground of the 29, as they are one of my favorite plants
---
Last edited by Vizja13; 01-21-2013 at

08:16 PM

.
Well, the baby betta I have in my tank really likes the hornwort, so probably that. It's a bit more dense than the anacharis. :)
Alright, that decides it, Hornwort xP

In the previous post, are those plants good ideas? Too much or not enough? The tank will also have rocks and terra cotta pots