I like it lots, very nice = D
---
Thanks
I thought I'd give everyone following this thread a photo update:
I've only done a couple water changes to try to get floaty bits out of the tank. It's really filling in. There is a ton of dust algae which I know is normal but what I guess isn't normal is the fact that I've set up about 10 tanks in my life, and I've never gotten this before. Wierd eh?
I have a lot of floaters attached to the plants. I seem to have a lot of "shedding" .. You can see on the wood the "snot" that I mentioned. This stuff was THICK. About an inch in some places. It's really cutting back now.
This picture is to the right of the last one. The sword in the front isn't doing well but there is new growth in the center. The one in the back is from another tank which looked like the front one when I put it in. It only had like 2 leaves left. The tall stalk just happened in the past 24 hours. I hit growth mode!
My glosso is growing tall.. I wonder how to get it to start growing sideways? I've read it does this when you first plant it but I don't want to rip it up to lay it flat. Maybe a trimming will get it to shoot sideways. You can see new growth to the right.. it is spreading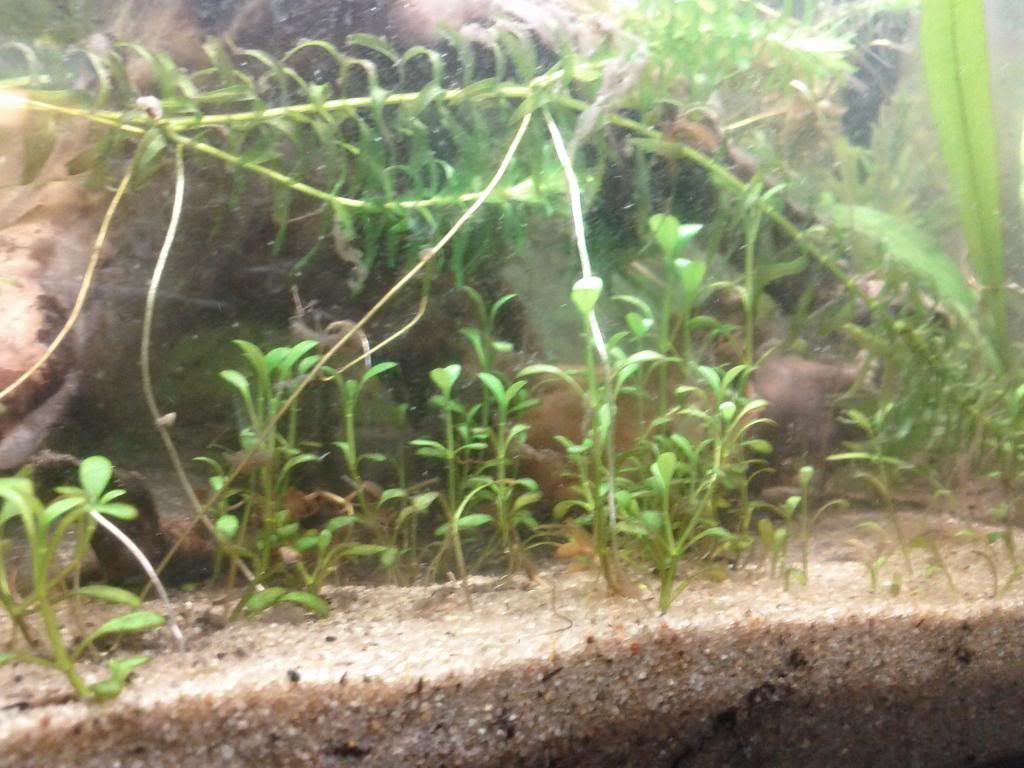 Overall tank look:
Back left: Water sprite (hard to see) and dwarf sag
Center: Glosso and pennywart in the back
Right: Wisteria, 1 crypt wentii green (way back right) 1 dwarf sag, and swords in the front.. this side I"m going to redo soon because well.. it's going to explode!
It's a jungle in there!
Today I had at the tank again. I can't leave the plants alone so I'm not sure that this whole thing will work out. I keep deciding that the plants with the large root systems gotta be moved around or removed so I can't help but get soil loose. I added some more sand but that was after ripping out all the dwarf sag on the left because 1 plant turned into 6 in a matter of 4 days ! My betta was having issues swimming through it so I opted for some brazilian microsword. I hope it does as well as the dwarf sag did!


On a plus note: The driftwood doesn't need rocks on it anymore cause it finally sinks!
---
Last edited by Aurie; 02-13-2013 at

04:15 AM

.
I moved things around and got some more stem plants
Now from left to right:
Sunset Hygro
Brazilian Microsword in front of that
Rotila Indica (behind the 4 leaf clover)
1 sprig of creeping jenny
Anubias on wood,
Christmas Moss on wood
There's a water wisteria in the back right but it's still kinda small
2 swords. I don't know the type, but I don't think they're the typical amazon type
Crypt parva in the front right of rock
Anarachis tucked on top of the wood
Blyxa Japonica on the back right.. it's got a little black algae one it :(
I yanked out most of the glosso.. and I'm hoping that the 4 leaf clover will eventually spread after the emergent leaves die off. I couldn't get it into small clumps so I'm hoping that it'll spread from that bunch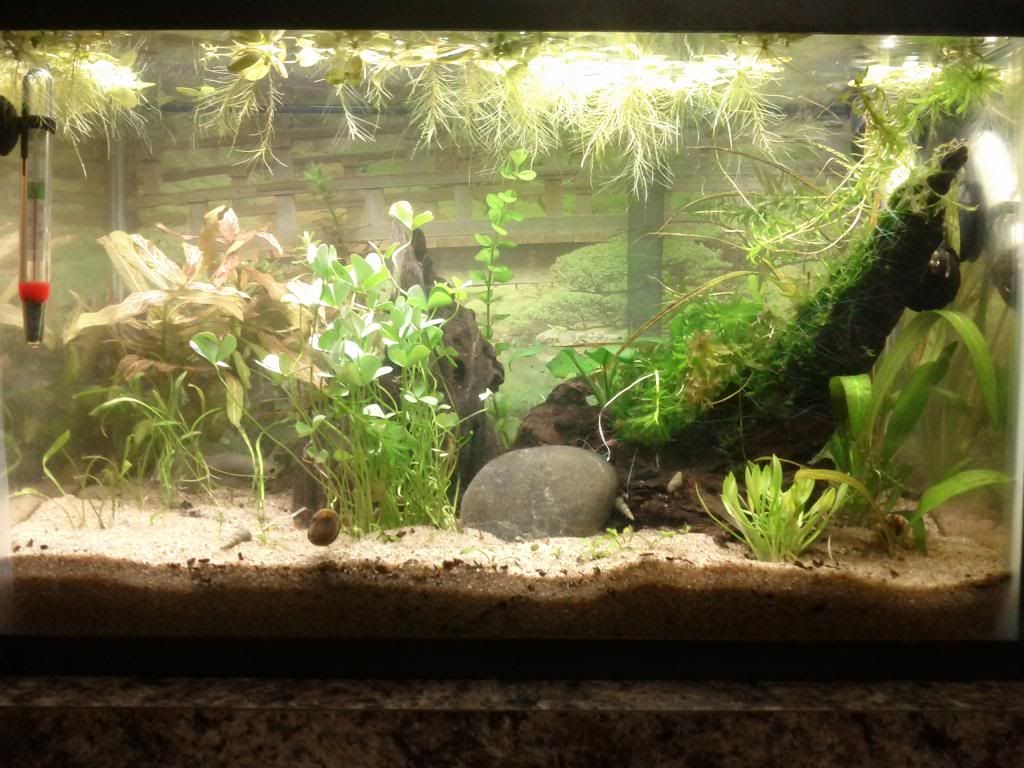 ---
Last edited by Aurie; 02-17-2013 at

02:50 PM

.
wow that tank looks awesome! i also have a 5.5 tthat im trying to get fully planted. i love it!
yeah I can't keep my hands out of my tanks.. after like a week I feel like I gotta move something. It's so... hard to not move things.
glosso only carpets under highlight...
otherwise the bottom usually melts away. and the stems will either die of float to a new home.
u have marsilea quadrifolia?
Yeah I picked some up yesterday at my LFS .. they normally carry it. I know the nice leaves will melt away, but I like the look of them for now.
if you let the leaves float on thw surface like lily pads, they might not melt.
Member
Join Date: Feb 2013
Location: West Palm Beach, FL
Posts: 591
This looks great! Thanks for passing on the tip about sanding the edges. I hadn't seen that before, and it makes a lot of sense.

Driftwood bargains are the best!!