And now it's complete! (pic fest)
---
So I have finally finished with Alpha's NPT. AND added him in lol. Got some RCS (all named Jaquesclean ("shaw-kleen") to keep things simple) (also, they were mating in the bag as I was acclimating them and I also noticed about 15 *teeny* *tiny* baby shrimplettes in the bag with them) and an assassin snail (named Ezio) yesterday (I have a ramshorn problem... oddly enough, there's only one pond snail, although s/he's gotten large enough that s/he's been named, Boo (I fully expect Boo to be eaten by Ezio). I have in here:
- about 16 stems of hygros
- about 5 stems of sunset hygros
- a bunch of java ferns (maybe 4? I just attached them all to the swim stone at the top)
- Java moss (trying to cover the swim stone in it... sort of working)
- suBwassertang (all along the bottom and a clump on top of my "cave")
- and 2 "rosettes"? of some grass-like plant that I've had since before I got Alpha... oh and it appears to have sent a runner & started another shoot in the foreground. Can anyone ID it for me? It was sold to me as "misc".
- oh, and lots of Algae lol (too much light... but I know that and I don't mind it, I just need to get something to scrub it off my viewing walls)
Sorry for the Rambling, now for the pictures!
The Tank: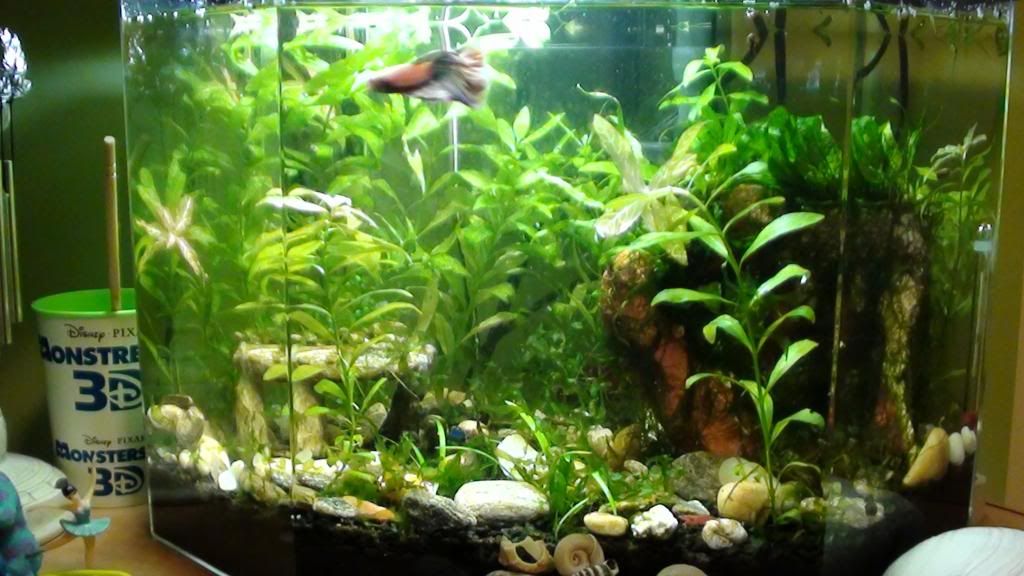 The Java ferns and moss on the swim rock:
My favourite sunset though the algae-coated wall lol (mostly so you can see the colour):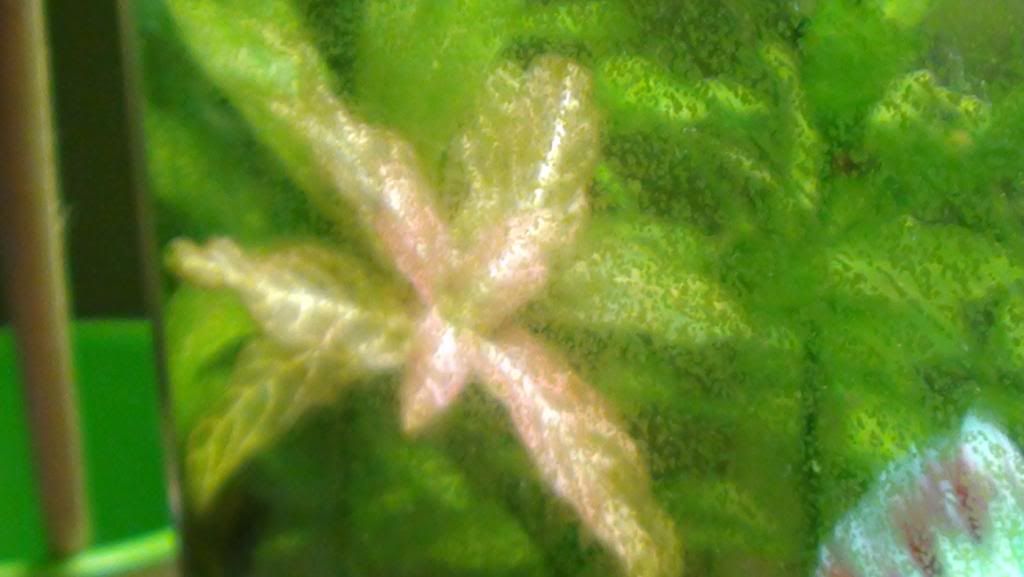 The mystery plants (surrounded by suBwassertang):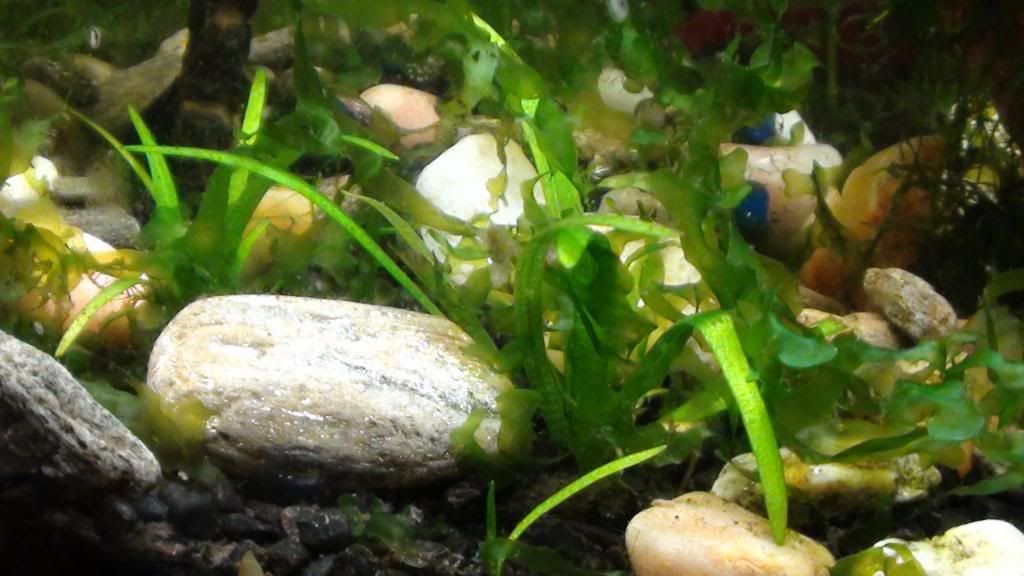 My boy esplorin' his new mansion:
One of the Jaquesclean's: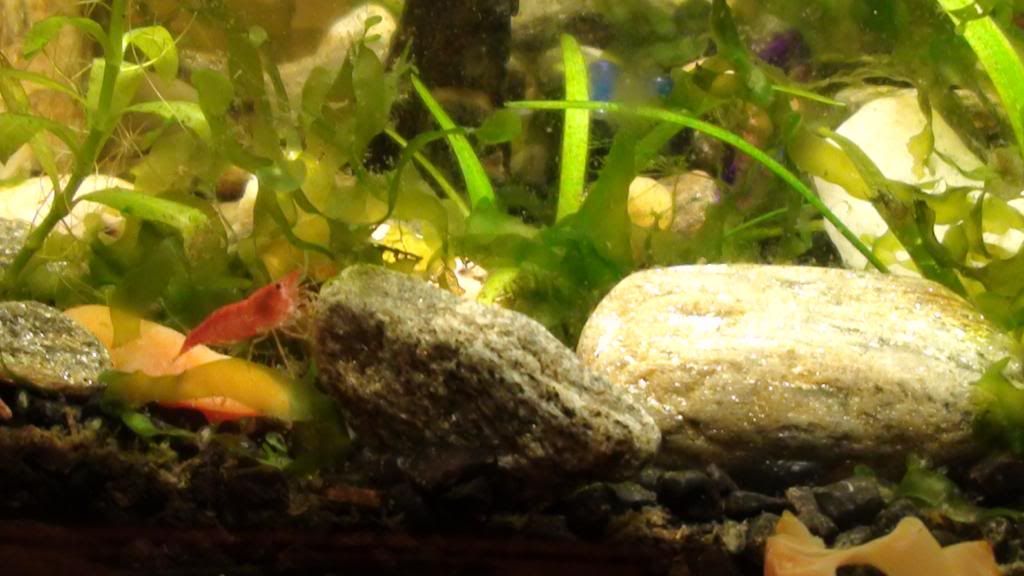 It looks awesome!! How many gals is this tank?
---
Gorgeous tank! jaquesclean is an awesome name for shrimp lol
Goodluck with it!
---
10 HM, 3 HMPK, 5 HMPK fry
8 German Blue Ram, 5 Green Dragon BNP, 4 Albino BNP, 4 Calico BNP, 6 Red BNP, 5 Kuhli Loaches, 2 ADF, 7 Peppered Cories, & 6 Tiger Endlers + Fry
12 full time tanks, 4 NPT, 6 QT/Breeders
Member IBC
Nice tank. mystery plant looks to be Saggitaria Subulata. I recommend confining the susswassertang and tying it to one rock or something. eventually it gets too messy abd goes everywhere :P

I like sunset hygros. But dont keep them anymore due to the fact that they're a noxious federal weed :( but the coloration is superb :)

beautiful betta too!

Keep up the good work!
Thanks guys!
aemaki: I was going to call them all Jaques, after the red shrimp in Finding Nemo, then my BF suggested Jauquline for the girls, then he changed it to Jaquesclean lol

aokashi: Thanks! That's totally what it looks like! I thought about tying it to my cave (for now I just placed a bunch around the cave & what attached, attached) but I kind of like that it gives my shrimp cover. Plus I have 2 friends with bettas who are more than willing to take my extras! LOL I'd read that hygro was a weed in the States; as far as I know, as long as you're not transporting it beyond state lines & are disposing of it "properly" (ie not in compost/garbage... idk burn it or something?) then I *think* it's still ok in some states. It's probably my favourite plant of the tank... that or the suBwassertang...
Banned
Join Date: Aug 2012
Location: Hogwarts
Posts: 2,082
Beautiful. Nice work Kwomais. Subwassertang is a fav of mine to. The german seaweed. Some people dont like it but as aokashi pointed out it makes good landscape attached to things. Great plant choices and balanced eco system.
---
Proud IBC member
Thanks guys!

*update* so 2 of my Jaquesclean's died :( (I'm pretty sure Alpha pestered them to death... I saw one being chased about & then it just dropped in the tank & that's where it was when I found it dead today) the other 3 are still hiding though; I occasionally see them flit about. Also occasionally see the baby Jaquesclean's. My LPS had a 5 day guarantee on all the invertebrates that I purchased so I went back and asked if I could trade the 2 dead shrimps in for another assassin snail... they gave me 2 (couldn't find one, but when they do, they're gonna call me)! yay! I made money on the dead shrimps! So I now have another assassin snail.. Altir!

I also have a lot of growth with my hygros... I can see why they're labeled as a noxious weed in the States... I get 1-2inches of growth per day with these things!
Similar Threads
Thread
Thread Starter
Forum
Replies
Last Post
Shrimp Fest!

imsunflwr1

Betta Fish Compatibility

18

01-12-2013

06:43 PM