plant foods?
---
ok so I posted maybe a week or so ago my new planted tank.I have seachem tabs that sould be coming soon (delayed by the big storm on the upper east coast). I was wondering should I also put some kinda plant food in the water as well for the moss, ferns and floaters? Since its going to be a red cherry shrimp tank what kinds are safe? I also have a low pet budget so it needs to be affordable. Im already in a little trouble with my other on the cost of the new stuff I got. lol just cant help it got the fish bug again.
says Im cut off from new fish for a while. Its a 5 gal sand with gravel cap
here is what it looks like now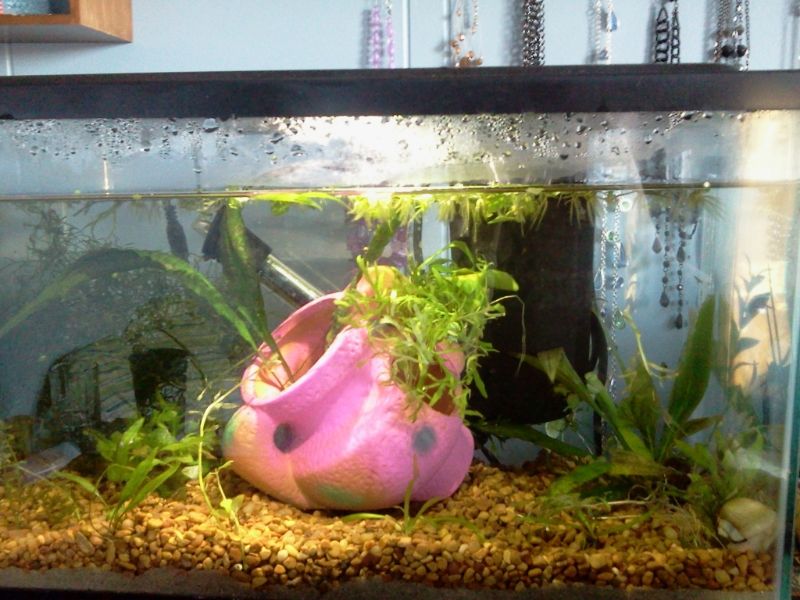 ---
fish:1 6yr goldfish, 2 1+yr goldfish, 1 molly, 7 guppys, 1 danio, 1 betta(baby), 4 apple snails, red ramshorn snails, 15-20 red cherry shrimp
other: 1 Pomeranian(4yr), 1 cat, 4 parakeets (6mo-3yr), 2 mice
Member
Join Date: Mar 2010
Location: USA
Posts: 10,951
The Seachem brand plant ferts are what a lot of folks use. Seachem flourish should take care of the water column feeding plants and the root tabs for the rosette plants-then your water changes that will replenish a lot of the trace nutrients. Also, as the byproducts from the livestock and decomp from the plants will provide nutrients once they breakdown.

What kind of lights are you using. age of bulbs, kelvin, watts and photoperiod. The correct color temp lights are the driving force behind successful planted tanks.
i use both seachem flourish and seachem excell =). also some root tabs!
Seachem Flourish is my favorite.

Dont use excel unless you want to dose every day. If you suddenly stop (or sometimes start) use, plants will usually melt.
---
10 HM, 3 HMPK, 5 HMPK fry
8 German Blue Ram, 5 Green Dragon BNP, 4 Albino BNP, 4 Calico BNP, 6 Red BNP, 5 Kuhli Loaches, 2 ADF, 7 Peppered Cories, & 6 Tiger Endlers + Fry
12 full time tanks, 4 NPT, 6 QT/Breeders
Member IBC
yeah I was thinking seachem, but Im having trouble with figuring out how much you dose in such a small tank. As it will have shrimp I have to be very carefull not to put to much. I think flourish is one cap for 60 gal. A cap is supposed to be roughly 5ml I think so I think .5ml or less. Probably a little shy cause Im a worry wart.
---
fish:1 6yr goldfish, 2 1+yr goldfish, 1 molly, 7 guppys, 1 danio, 1 betta(baby), 4 apple snails, red ramshorn snails, 15-20 red cherry shrimp
other: 1 Pomeranian(4yr), 1 cat, 4 parakeets (6mo-3yr), 2 mice
u can go to a pharmacy and ask them for a dosing dropper for babies. its a dropper that measures up to 5ml
Similar Threads
Thread
Thread Starter
Forum
Replies
Last Post
Fry Foods!

Mo

Betta Fish Marketplace

2

08-20-2012

03:15 PM