I think the circumstances here on this forum is that, there are a lot of new comers. many who have never kept fish before and hardly knows what they've gotten themselves into. it's definitely not ok to run around saying half gallons are ok....

But I think this conversation should be available for academic discussions. ie. people who knows how to treat a fish with TLC, can test their water, understand the nitrogrn cycle and the effects plants have in that cycle. Recognise that plants are not the complete solution and that accumulation of TDS in the long run increases water hardness and PH and can bring negative impacts on fish health if water changes are not performed / are performed etc.

truthfully no one has ever conducted a survey on whether tank size affects fish health and longevity. i for one am certainly interested in such an analysis
Quote:
Now, Ayala, ghost shrimp are only dangerous to anything smaller than them. And whoever was talking about the big claw variety is correct; real ghost shrimp have red joints on them, if they don't. You probably want t. Stay away from that strain
Yeah I've just heard things about ghost shrimp vs. other types like cherry shrimp. I actually don't know that much about shrimp which is why I said it more as a question than a statement, lol.
---
Veyron Sprite Ayala
S.I.P. Okami, Bahari, Lotus, Mercy, Daihatsu, Ascari, Kuraokami, DaBaDee, Zenvo, & Stella <3

1. Look in betta photos and your arguing with chard.

2. Look in the "show us pictures of your bettas home" (or w/e it'd called) thread and look at your argument with Sunstar because you couldn't figure out what a king was.
Posted via Mobile Device
Dang...the amano shrimp I just got yesterday is nowhere to be seen. Could Marigold have eaten the entire thing?
---
I certainly wouldn't recommend a half gallon to an inexperienced hobbyist. I never said I would. I have high standards when it comes to tanks. I'd rather see tanks with live plants, but a tank can work without live plants. It's just obviously much easier to have a tank with tons of the "good stuff".

Aemaki, I'm not sure what you have against me. But if you don't like me that much, put me on ignore. End of story.
Can you label every one of these plants please? I WANT THEM ALL :P
---
If we are made of cells, then a scientist who studies cells is actually a group of cells studying themcells!
Here's my 5 gallon I setup today
5 gallon fluval chi tank only
Fluval 1 filter
Old school 50 watt heater( damn thing is a pain to setup no temp numbers like my other heaters)
Substrate is MTS mixed with peat moss and clay
Capped with sifted all purpose sand
Plants are
Anubias on slate rock
Java fern on lava rock
Hornwort
Ludwigia
Dwarf sag
Anacharis as a bg filler, will remove once the other stem plants start growing
And a random stem that got thrown in
I will add floaters duckbit maybe mini water lettuce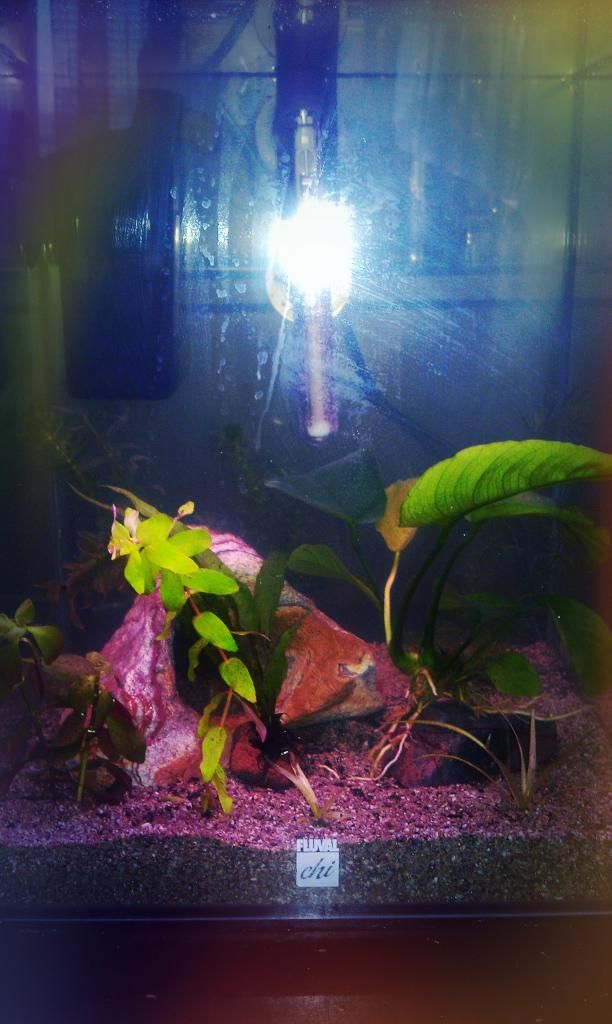 Lighting for now is natural light and a 20 gal flouro light hood I had laying around.
I will put a desk lamp with a 6500k cfl
No fish right now I'm going to let it cycle more fore a week or two
Betta tank for sure
Do you mean duckweed or frogbit?
Either way, their both good in my book.
Going to setup a 30 gal for all the overgrowth after I prep my soil.

Lol one of them for sure don't know anyone who has any floaters right now. Might throw in a small clump of java moss too.
---
Last edited by gorillakev; 03-11-2013 at

09:45 PM

.