So I upgraded Sherman's tank again. Now he and his 4 juli cories friends are in a 10 gallon tank. He has been glass surfing a bit but it's slowing down and he is starting to explore. He isn't a fan of change but I did want everyone crowded in a 5 gallon.. Cories are loving it!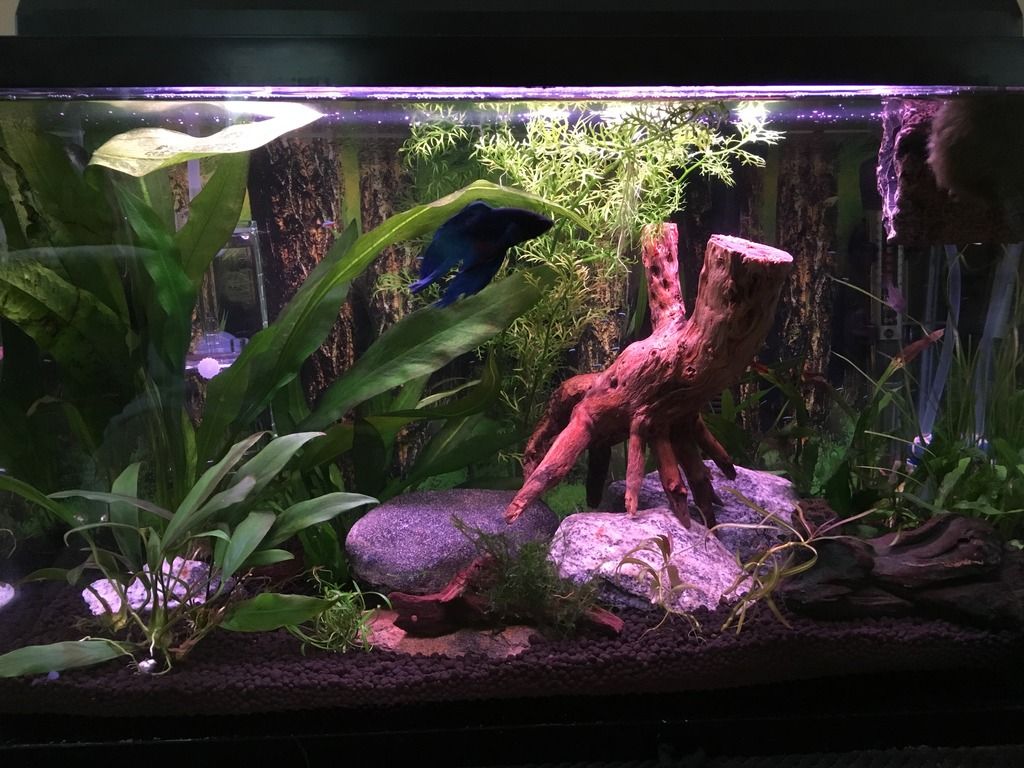 ---
Last edited by Poly106; 07-29-2016 at

10:32 AM

.
Member
Join Date: Jul 2014
Posts: 290
Not very exciting but it is only a week in. Redid the whole tank. New substrate, filter and plants. Some crypts, guppy grass, riccia fluitans, Java moss on the driftwood and what I could salvage from my anubias is floating somewhere. Also a melon sword that I am thinking may not have been so smart. It's already out of the water. I got a new cave from Whitecitrus that I haven't seen him use once. Oh well. Lol Have a couple floaters coming my way then I am going to start looking in to Amazon swords I think. Preferably smaller varieties.
Sent from my iPhone using Tapatalk
New Member
Join Date: Aug 2016
Location: Tennessee
Posts: 21
Finished planting out my new fella Finn's 5.5 gallon today. He seems to like it
Member
Join Date: Jan 2015
Location: TN
Posts: 5,467
I love it! I really like all of the planted tanks I'm seeing here. They're so gorgeous!
---
10 gallons, petco king and community fish
2 x betta 5.5 gallons
1 betta 2.5 gallons, all low-tech planted tanks
| | |
| --- | --- |
| The Following User Says Thank You to Sadist For This Useful Post: | |
Member
Join Date: Jan 2016
Location: North Dakota
Posts: 2,293
This was the 20 before it was decimated by Columnaris. Now it is divided (15 & 5) with a few sprigs of Wisteria & Water Sprite, along with Cacomba.
---
"I'm not crazy for bettas.... I'm just outright insane!"
- TFT, 2017

Samurai | Akuma | Kumo | Ringo | Tsuki | Daichi | Marmalade
New plants...and a snail!!
---
I just rehomed Ollie from a 3G to a 5G. He just went in the new tank this past Saturday. Today I added some more live plants and a Nerite snail. It's so cute. He's very curious, but no sign of aggression so far. My favorite new plants are the Scarlet Temples. They add a lovely fuchsia color.
Attachment 827081
image.jpg
This is my DIY Fluval V that I finished yesterday up yesterday with the DIY Fishkeeper decal from The King of DIY. There is Java fern and anubias. There is also a mat of Java moss in there temporarily, but it's not in the picture.
---
My Bettas:
Squirt (VT/CT) Apollo (HMDTPK) Hank (HMPK) Adam (VT/CT)
My Milk Snails:
Flash | Priscilla | Rapunzel | Eugene | Flynn
Those Gone Too Soon:
|Destiny (Baby) 8/17/2016-9/13/2016|Eric (HMPK) 3/30/2016-1/3/2017|
My Journal:
The Making of a Fish Fanatic
Lotus in his 32L Fluval.
---
~ I
my mini boys ~