Here is my planted killifish tank. At the moment the plants are sort of positioned wherever as I have to lay some substrate down and figure out what I want to do with everything.
I have the following plants in this tank -
Bolbitis
'Mini' java fern
Anubias nana
Mini pellia
Peacock moss
Fissidens
Subwassertang
Java moss
I meant to get a closer/better photo but my camera is still on the charger.
---
New Member
Join Date: Aug 2013
Posts: 3
Likuid, is that riccia on the drift wood? That's awesome![/QUOTE]


It's Peacock moss. Super easy to grow. It looks like Christmas moss actually, I just did a huge trim on it. Thanks!'
wow! looks beautiful littlebettafish btw what tank is that a mr aqua brand ?
---
You can call me Blu for short!
It's either that or a YiDing brand tank (basically OEM ADA tanks). The tank is set up more for the comfort of my killies rather than to be a proper scape so it looks rather chaotic.

However, the plants are thriving and my bolbitis has been sending new leaves off everywhere.

I am hoping that the peacock moss will cover up the two ceramic tiles in there and make sort of a nice carpet at the front.
---
oh, well it looks so beautiful i would call it a scape !!
---
You can call me Blu for short!
Got a 2.5 gallon minibow from a coworker (hence the horrible scratch marks on the front), and decided to start a small experimental NPT a few months ago. I've clipped it a couple times since. Future home of maybe an ADF :] The only thing was I replaced the Anubias because it was getting too crowded.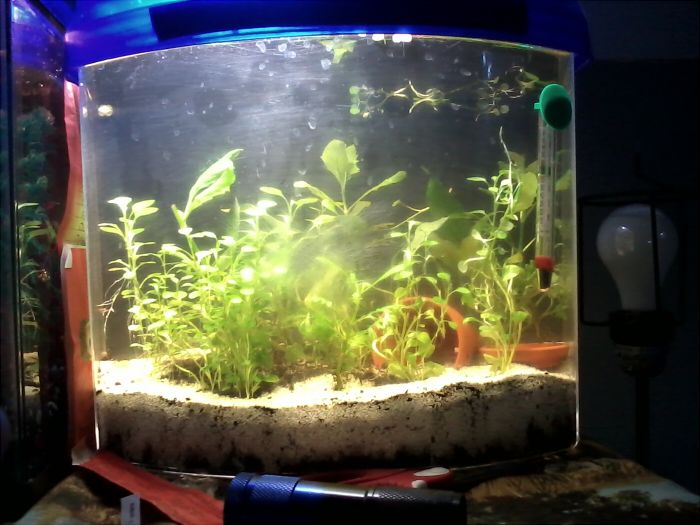 new 10 gallon divided npt going for about 3 weeks now, I believe. I just added Gator after a week and a half of having it set up, he's loving his new digs! Photos taken last week, since then the Wisteria and Lobelia has really grown, and the Anubias is flourishing in its new tank as well. Anyone have any suggestions on what other plants I could add that wouldn't look bad? (I do have a bit of an algae problem, I added some rocks from my cichlid tank to help it cycle, turns out it also had some algae that I missed on them. But I don't mind the look that much)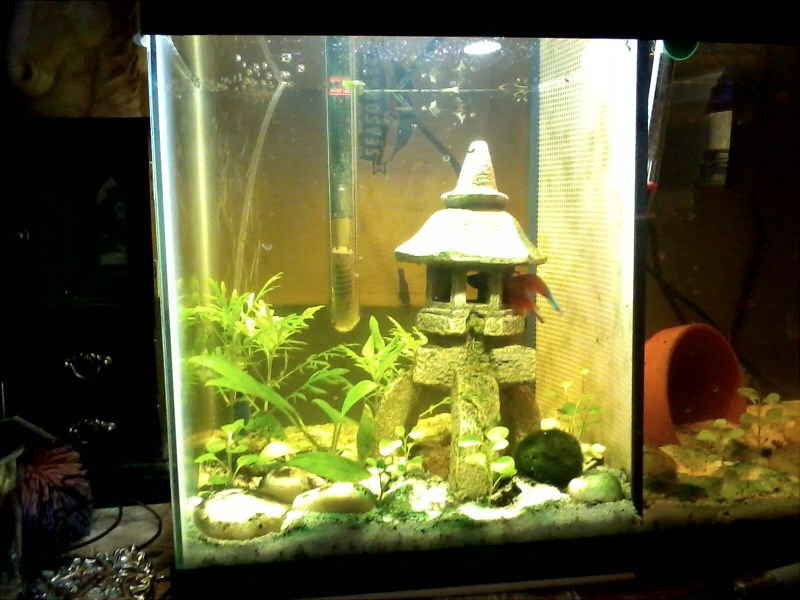 I don't have much on the other side because I have yet to find another working 15watt florescent bulb. All 3 Wal-Mart's I've gone to don't have them in stalk. And when I do get them, they don't work.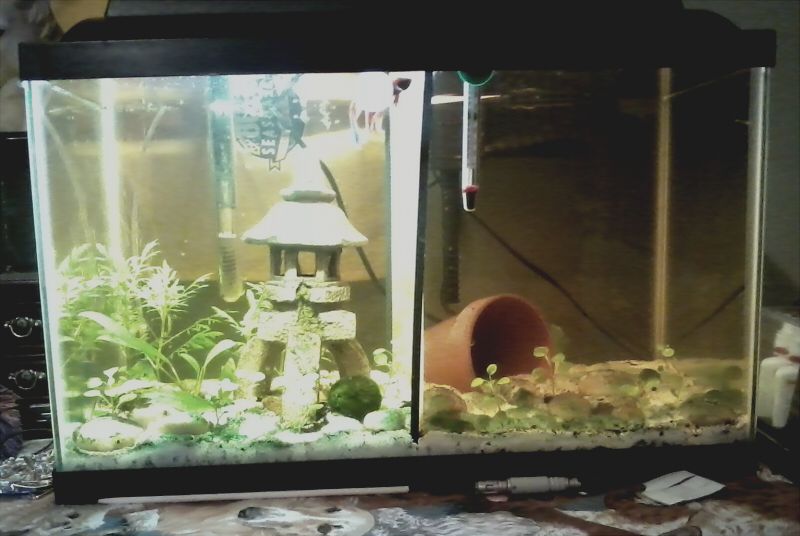 Member
Join Date: Apr 2012
Location: Auckland, NZ
Posts: 69
Quote:
Kelskels12, what is that lacey plant that you have there.
It's a java fern! I googled it to double check (I bought it over a year ago) and apprently it comes in a regular and lace variety! It has little baby ferns come off it all the time that are usually lace, but it has produced a normal type off shoot too, which confused me greatly
---
Tanks at home: 5.5 gallon with a male CT betta, 10 gallon with 4 females and an ottocinclus, and a 1.5 gallon hospital tank.
Work tanks: a 1.5 gallon with Nemo, a male VT betta; 2.5 gallon with Blue, a male VT; a 2.5 gallon with a rosy faced barb; a 5 gallon with 2 cherry barbs and a rosy barb; a 10 gallon with fancy guppies; and a 10 gallon with 5 silver dollar tetras!
Anubis or a small sword would make a nice center plant for your bowl.
New Member
Join Date: Feb 2013
Posts: 33
@emmalee. How's the lighting for the bowl and how often do you plan to change the water? It might be hard having to root plants again and again, but you can try some anacharis or other low light stem plants which can float at surface and thrive.