Quote:
It is Water Sprite.
It's not very delicate at all. In fact, all my plants(with the exception of the cobomba) are very hardy and easy plants.
It's lovely.
---
Slave to
Dixie
- 3 yr old Golden Retriever
The Fids -
Missy, Ozzie, and Harriet
The Bettas -
Sousuke
and
Gallifrey
This thread needs reviving!!!
I took some small trimmings and did away with ALL of Reuben's fake plants! Tank looks a little pathetic and empty right now, but hopefully they'll take off like they've done in my angel tank
let me share some algae here XD
i thought it was beautiful... too bad it's all gone now :(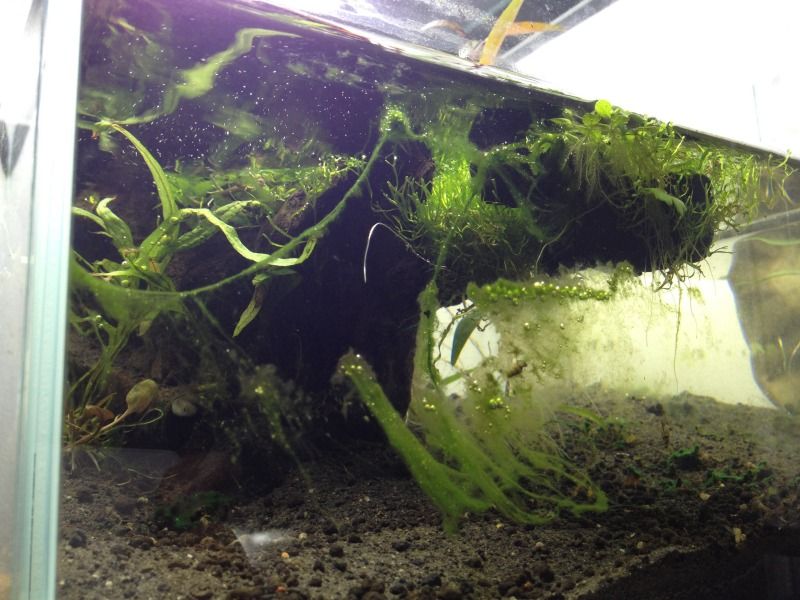 Sent from
Petguide.com App
My tanks are not nearly as beautiful as everyone else's but here they are! lol
Augustus and his 4 gallon:
Julius and his 3 gallon:
I am hoping the plants will grow out and become more jungle like. I am also hopefully getting another tank soon that will be a planted tank aswell. :)
---
Bettas - Giovanni (HM), Burly (HMPK Giant).

Planted tanks are the best
Here is my shrimp tank- the only planted tank I dare allow see the daylight for now haha
As you can see, my snail has done her daily uprooting of anubias..Ohwell, won't hurt them.
She doesn't do it intentionally, she just likes to crawl around the bottom and doesn't care what's in her way x3. 'Big' mystery snail, so the plants don't really have a chance. Especially not the anubias, which can't be planted that deeply. :c