The Amano and the jar
---
I've had this Jar for a while. it held plants for me... and I had recently emptied out most of the living contents except for some dying scraps. The tannins are from a piece of DW i had in there.
I think I filled it 3 months ago to hold moss...
So the amano story:
Well I got an amano to see if he will eat some algae for me...
I have a non covered tank for my betta ( he can't jump even if his life depende on it...)
The betta doesn't jump, but when the betta chased the amano, the amano sure lept!
this all happened whilst I was at school...
So I found this crispy amano on my carpet. I was going to bury him... but i saw the brown jar of water I've was going to pour out. So instead of buring the poor thing, I tossed the crispy mano in the jar.
two days later I decided to pour out the water with said amano's decaying corpse...
I ended up almost spilling the contents on my carpet when a shrimp lept out from the debris...
o_O it survived....
and...so I left it in there.
It's been two weeks now and zombie amano looks as good as new.. in his own little filthy jar....
There's definitely an eco system in thy jar as There are many many seedshrimp dorming with the survivor amano right now. As to how that eco system works...
I don't have a clue. there are more dead plant matter than alive plabts in there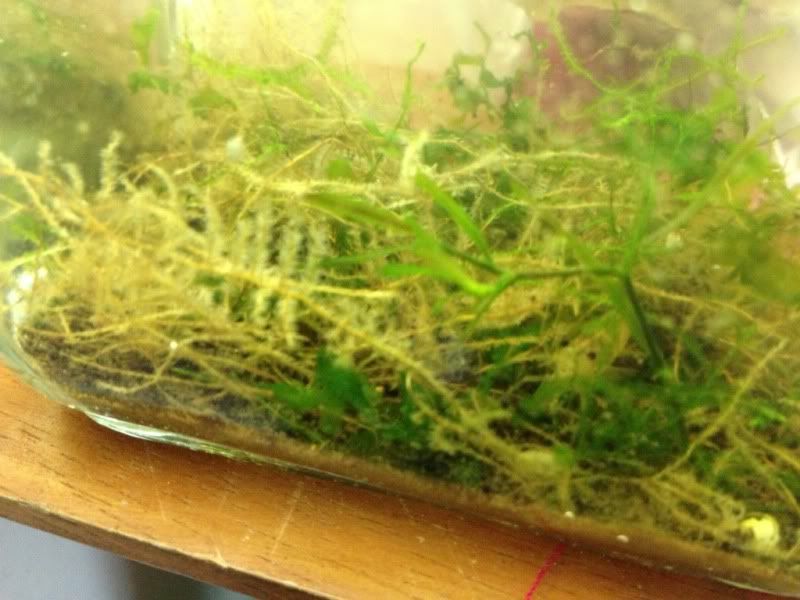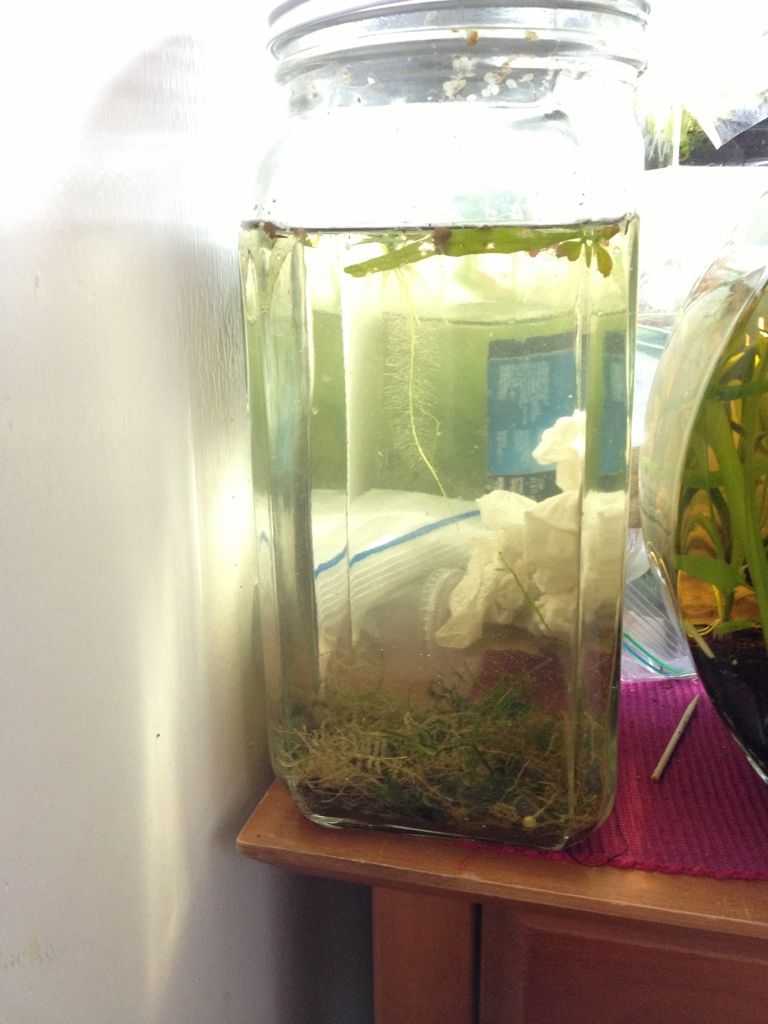 Awesome! I would make sure to keep up on water changes because Amanos have the largest bio load of the shrimp.
Quote:
Awesome! I would make sure to keep up on water changes because Amanos have the largest bio load of the shrimp.
Never changed the water... don't think I ever will XD
This jar is defying everything I've been trying to do with plants so far.
I'm just going to observe for now, maybe another two weeks... and then the amano is going into one my tanks :P
haha maybe hes a zombie shrimp!

I kind of want to get amanos but I hear they are delicate, I had some bad experience with ghost shrimps, do you think the amanos are more hardy?
Amanos are preeeeettty hardy... I think someone cycled their tank with an amano.
They kind of crawl around like cocharoaches out of the water too :3
i have 8 amanos, 6 i recently bought because I thought i only have one left of four i have bought awhile back. Its funny because i had searched every square inch of the tank and inside decorations and seen only the loner so went and bought 6, five amanos and one lonely blue shrimp. About a week later during feeding time i thought i should count to make sure all seven were still in the tank and here comes a little guy that looks dark and about 2cm long
... no sure where he/she came from as all the shrimp except for the blue have been amanos.
Oh love the first picture
you can see Zombie's little eyes peering through the debris
Im relocating the shrimp to a 10 gal with my only two guppies. I just recently put some java fern in and going to take a sample for testing before the shrimp and fish go in.
Hope everything goes well for you.
ha thats awesome!

And i am glad to hear i am not the only one with a random jar of odds and ends plants.
Similar Threads
Thread
Thread Starter
Forum
Replies
Last Post
Amano Shrimp??

freemike

Betta Fish Compatibility

11

02-04-2016

04:36 PM

Amano Shrimp

stagmanv835

Betta Chat

1

02-08-2013

09:14 PM

Amano shrimp

purplemuffin

Betta Fish Compatibility

5

10-01-2010

03:47 PM