Is My New NPT Viable?
---
My husband went to Phoenix and brought home a "surprise": 4 false bandit corys (2.5 inches max size) for our 10 gallon. There goes my plan to increase my group of otos from 4 to 6. I've tried telling him about shoaling and bioloads, but <sigh>, deaf ears. Can't take them back, if I want a bigger tank I'll either have to wait for my birthday or a miracle from God (and I have to admit, these guys are just cute as the dickens), and I'm pretty sure this is doable with the right tank setup.
So, emergency NPT makeover! I didn't have the time to prepare like I would have wanted, and was limited to the plants I already have and Petsmart's selection. I'm paranoid about whether I did it right, so I'm looking for confirmation about my tank's viability as an NPT from the experts.
Livestock:
1 VT
4 otos
4 false bandit corys
1 assassin snail
1 ramshorn snail + whatever babies survived the transfer
6 malaysian trumpet snails
(expecting the snail population to decrease due to Mr. Assassin)
Plants:
7ish leaves java fern
4 stems anacharis
6ish stems red ludwigia
6ish stems rotala indica
2 Amazon swords
9ish stems cabomba
floating hornwort
frogbit
Substrate:
Miracle Grow Organic Choice Potting Mix- bark and large pieces of chicken poop removed
pool filter sand cap
Pictures: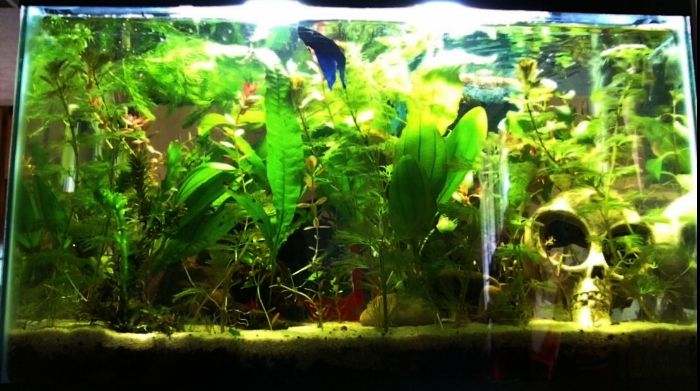 You can seen where I mixed up the sand and soil a bit in the front of the tank- siphon accident when setting up.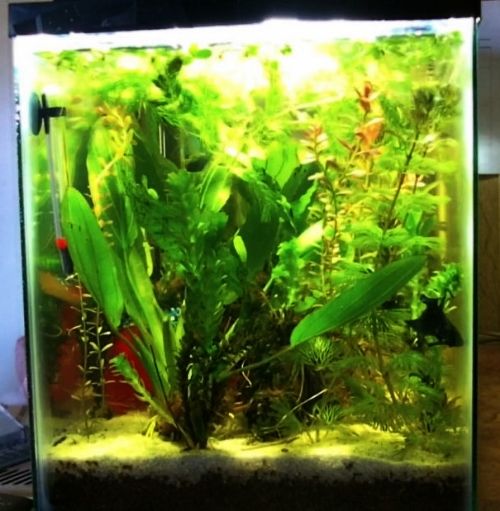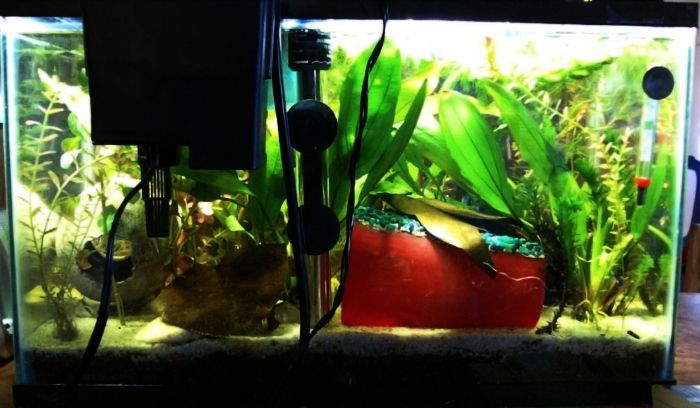 Thanks all!
---
"People have forgotten this truth," the fox said. "But you mustn't forget it. You become responsible forever for what you've tamed."
-Antoine de Saint-Exupery


---
Last edited by Nicci Lu; 03-12-2013 at

12:28 PM

. Reason: Heh- gotta change my sig
Member
Join Date: Mar 2010
Location: USA
Posts: 10,951
It looks good and with your stem and floating plants-along with some water changes-you should be okay, however, you are pushing the bioload in an immature NPT. Once it is mature it will be much safer.

What kind of lights, age of bulbs, kelvin, watts and photoperiod

Do you have a test kit, if so, what kind and what are your baseline numbers on the source water-with and without additives and tank.

How many days has the tank been setup and running and type of filter if one is used.

Go check out the thrift shops-sometimes you can find pretty good deals on complete setup...Sometimes you have to go to several different ones several times-since stocking can changes almost daily....lol.....I have found some good deals on complete setup with extras for under 10 bucks.




The day after the conversion, my water was .25 ammonia, .5 nitrItes, 10 nitrAtes. A 50% WC brought the nitrItes to .25. I have a 1/4 teaspoon salt in the tank to prevent nitrIte poisoning. Today, the second day after, I've got .5 ammonia, .25 nitrItes, 10 nitrAtes. I usually dose a full 10 gallon dose of Prime daily to detox (plus, of course, WCs when ammonia is over .25, or nitrItes are present). This morning, however, I instead added Tetra Safe Start in a desperate gamble that it would speed up the cycle, thus allowing the BB to work until the plants and soil can take over. You are not supposed to use Prime or do WCs while using TSS- however, I'm not going to put my fish at risk, so if the TSS is not making an improvement by later today, then I will do another 50% WC and continue with WCs as needed.



is a good idea. Except it's not the money- my husband is just adamantly opposed to a new tank. He thinks it'll feed my addiction, but he's the one who got the corys- go figure. If my fish start suffering, then I'll put up the fight needed to get one, but if I can make this work, I will.
---
"People have forgotten this truth," the fox said. "But you mustn't forget it. You become responsible forever for what you've tamed."
-Antoine de Saint-Exupery


Update
---
This is interesting. 5 hours after adding the Tetra Safe Start, my ammonia is back to .25 and nitrItes are just a shade lower than .25.
---
"People have forgotten this truth," the fox said. "But you mustn't forget it. You become responsible forever for what you've tamed."
-Antoine de Saint-Exupery