@VJM you will not find any, just like you won't find anything about bettafix killing bettas. lots of myths and legends floating around the net
---
I have been worried about anaerobic soil since I set my NPT 10 gallon tank up on May 3,2013. The picture is about 2 weeks ago and I have got more plant growth since then. I have had one baby betta in there since 5/3/13 and 3 turbo snails and 2 RCS and 2 ghost shrimp. In the beginning I poked the soil twice a day and then after a month I stopped doing that since plants were growing and thought it wouldn't be needed anymore. Last week I started seeing the big bubbles coming out of the soil in different areas of the tank but it does not seem to be affecting anything and not really smelling anything. I do 40 % water changes once or twice a week. I do still have tannins in the water, but my worry is that somehow the sand and dirt now seem to have shifted where there is a lot in the front and less in the back. I do see pockets in the deep part of the soil. I started with 2 inches of organic potting soil and 1 inch of play sand. That front part is what I am worried about but I do not see bubbles coming from that area. Is that a concern for the anaerobic soil? If I poke it now I would worry it would be anaerobic. Sorry if this is too long but I am new to all of this and I worry a lot.
Well, VJM and Stone, you guys have inspired me to do some research on this mystery. Not from aquarium hobby sites, where myths do abound, but from scholarly articles, and, er, Wikipedia (because we all know that Wikipedia is never wrong, right?
). My faculty with scientific language is rather poor, however, so you might to do some digging on your own.
First off, hydrogen sulfide is toxic to fish. Perhaps this was never in question, but it's a good place to start. "Hydrogen sulfide inhibits oxidative phosphorylation by blocking the reoxydation of reduced cytochrome by molecular oxygen. The overall result is inhibition of energy metabolism by cells, similar to the effect of hypoxia.... Fish exposed to acutely lethal levels of hydrogen sulfide exhibit increased ventilation rates, followed by rapid cessation of ventilation, then death."
Actual data
-Egg survival and fry development of northern pike limited by exposure to as little as .006 mg/L hydrogen sulfide (henceforth abbreviated as h-s because I'm lazy).
-Acute toxicity in bluegill eggs after 72 hours at .019 mg/L.
-Acute toxicity in bluegill fry after 96 hours at .013 mg/L.
-Acute toxicity in juvenile bluegill after 96 hours at .048 mg/L.
-Acute toxicity in adult bluegill after 96 hours at .045 mg/L.
-Chronic exposure to .002 mg/L for 826 days did not cause mortality in bluegill.
-Growth of adult bluegill retarded by exposure to .011 mg/L.
-Acute toxicity in channel catfish after 3 hours occurred with 1.4 mg/L exposure.
-Acute toxicity in channel catfish fingerlings after 3 hours occurred with 1.0 mg/L exposure.
-High concentrations of h-s responsible for poor growth in channel catfish in acidic waters. (
What is a 'high concentration'? I don't know...
)
-The EPA "suggests a maximum [h-s] concentration of .002 mg...for fish and other aquatic life."
How is it produced

The production of hydrogen sulfide is part of the sulfur cycle. Anaerobic bacteria (bacteria that requires the absence of oxygen) decomposes organic sulfur, using it for energy. This process creates hydrogen sulfide as a waste product. Organic sulfur comes from animal/fish and plant residue. High rates of microbial activity lead to anaerobic conditions within mud.
The Big Question

So, what we really want to know is how much hydrogen sulfide is typically created in a closed environment (i.e., our home aquariums) and whether this amount is enough to cause toxic conditions in our fish. I'm not sure. Most scholarly studies and literature focus on ponds and lakes. If anyone knows of a
scholarly
study that addresses hydrogen sulfide in home aquaria, I would love to see it. However, I have come across these facts. Check them out and decide for yourself.
-Photosynthetic bacteria can oxidize h-s to sulfur and sulfate in the presence of light and the absence of oxygen.
-H-s is oxidized by oxygen, creating first sulfur dioxide and then sulfate. This may occur readily in surface waters. Both waste products are "eventually"
(wish I knew how long "eventually" was)
removed through absorption by plants and soil.
-Hydrogen sulfide is readily soluble in water.
-In water, h-s is a weak acid yielding bisulfide ions and sulfide ions. At a pH of 7, the ratio of bisulfide ions to sulfide ions is 1:1. As pH increases, the ratio of bisulfide ions to liquid hydrogen sulfide increases. Only above pH 12 will the sulfide ions be at a 50% concentration.
-Several species of soil, aquatic and marine microorganisms oxidize h-s to elemental sulfur.
-
"Because it is a gas under ambient conditions, bioconcentration and food chain biomagnification are unlikely to occur."
(This might be different in a closed environment?)
It would appear that there are conditions in our home aquaria that encourage the oxidization of h-s. But what would happen if a fish were directly hit by one of these bubbles before it has become soluble and/or oxidized?
Sources

Boyd, Claude E.
Pond Aquaculture Water Quality Management
. Norwell, Massachusetts: Kluwer Academic Publishers, 1998. 145-147.
Toxicological Profile for Hydrogen Sulfide
. Washington DC: Agency for Toxic Substances and Disease Registry, nd. 115-118.
"Hydrogen Sulfide." Wikipedia.
---
"People have forgotten this truth," the fox said. "But you mustn't forget it. You become responsible forever for what you've tamed."
-Antoine de Saint-Exupery


itsme- The depth of your soil from the picture is somewhat of a concern. It looks rather deep to me. Also, I'm not sure that you have enough plant coverage for an NPT. If you look down from the top, you should only be seeing 20% max of your substrate.

That being said, bubbles are normal and if you aren't smelling sulfur, you should be okay. Keep poking- just make sure that there is no livestock above the area where you're poking, in case you do release an anaerobic pocket. Better to release them than to let them be, if they do exist. If your water params are okay and you're not smelling sulfur, then I don't think you have to consider a tear down. Just keep a close eye on things. Sometimes, I use the flat of my hand to press down on the substrate- you can release a lot of bubbles that way.
---
"People have forgotten this truth," the fox said. "But you mustn't forget it. You become responsible forever for what you've tamed."
-Antoine de Saint-Exupery


Thank you for the reply. This is how my tank looked the first day, coudy, but the soil and sand were even,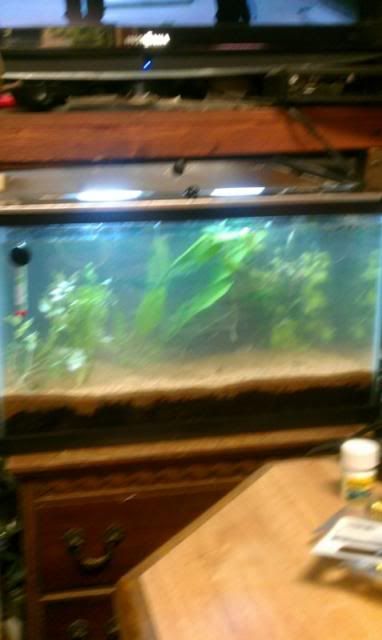 This a picture I took today
I just got some big bubbles come out of this thick area in front a few minutes ago.
I was also reading about it and found this article:
Anaerobic decay can result in the accumulation of a gas called hydrogen sulphide (H2S). In theory, because this gas is toxic to fish, any bubbles of H2S can harm or kill your fish. However, in practise H2S oxidises very rapidly, and once it is in contact with oxygenated water the H2S gets converted to plain old sulphur (or as the Americans spell it, sulfur). This reaction is so fast that it is for all practical purposes instant, so small amounts of H2S will be rendered harmless long before the concentration in the water reaches dangerous levels. Marine aquarists have learned to embrace anaerobic decay, and routinely set up filters (e.g., deep sand beds and mounds of living rock) that perform anaerobic decay. I also have yet to see a pond that *didn't* have masses of anaerobic decay going on in the thick, gooey mud at the bottom of the pond. But for whatever reason, freshwater aquarists are still skeptical. So let's put things into perspective. Anaerobic (or at least dysaerobic) conditions are normal in muddy freshwater substrates, and most plants actually prefer them to the clean, oxygenated plain gravel substrates we usually give them. Under anaerobic conditions the mineral ions they want are "reduced" and more easily absorbed than they would in their "oxidized" states. Plant roots carry oxygen into the substrate via a tissue called aerenchyma, which you can think of as being a bit like a snorkel. Some of the oxygen carried down to the roots escapes and immediately around the roots the conditions are partially, but not completely, oxygenated (i.e., dysaerobic rather than anaerobic). So wherever plants are growing, the actual risk of dangerous levels of H2S developing becomes even smaller. Occasionally poking the substrate with a stick to stir things up a little won't do any harm, and I always add Malayan livebearing snails to planted tanks because they do this automatically, behaving rather like earthworms do on land. In my view, these snails are indispensable and as you probably know they never, ever harm plants. I took it from here
http://www.wetwebmedia.com/plantedtk...soilagfaqs.htm
| | |
| --- | --- |
| The Following User Says Thank You to itsme For This Useful Post: | |
I agree that the whole "gas bubbles killed my fish" problem is primarily myth. Either that or it is the ONE problem that everyone manages to avoid...
Sent from
Petguide.com App
---
125 - BGK, chanchito cichlid, pictus cats, silver dollars, palmas bichir

125 - cichlids (severums, bolivian rams, chocolate), rainbows ( turquoise, red), loaches (angelicus, zebra, kuhli and horseface), plecos (BN, RL and clown), denison barbs, tiretrack eel, pearl gouramis, betta
90 - Congo tetras, african knife, upside down cats, spotted ctenopoma, kribensis, delhezzi bichir
2.5 - betta

Member
Join Date: Feb 2013
Location: West Palm Beach, FL
Posts: 591
Awesome discussion you guys!

I can answer the question about what happens if a fish gets hit directly by a bubble- absolutely nothing. I shoo them away when I am poking, but do they listen? Of course not. One was being nosy, and a bubble burst right on his nose. He is fine.
Similar Threads
Thread
Thread Starter
Forum
Replies
Last Post
Help with my soil !!!!

acadialover

Planted Betta Tanks

4

12-31-2012

12:01 AM