First NPT!
---
I finally decided to start up a NPT. I set it up today, and added in all the new plants I bought, as well as my older ones that I've had for a couple months now. They were starting to look kind of sad, so I figured it was about time I started a NPT. Hopefully my algae issue will be fixed as well. :)
It's a 10 gallon heated and filtered tank, with green melon sword, stargrass, Rotala Roundafolia, green hygro, java moss, baby green crypts, ludwiga, salvinia, duckweed, greater duckweed, dwarf water lettuce, frogbit, antler fern, hornwort, pennywort, anubius nana, and java fern, as well as one betta, 15 Malaysian Trumpet Snails, and possibly some shrimp later on. I have some tidying up to do, since some of the soil wound up making its way to the surface, but I think it looks nice. :)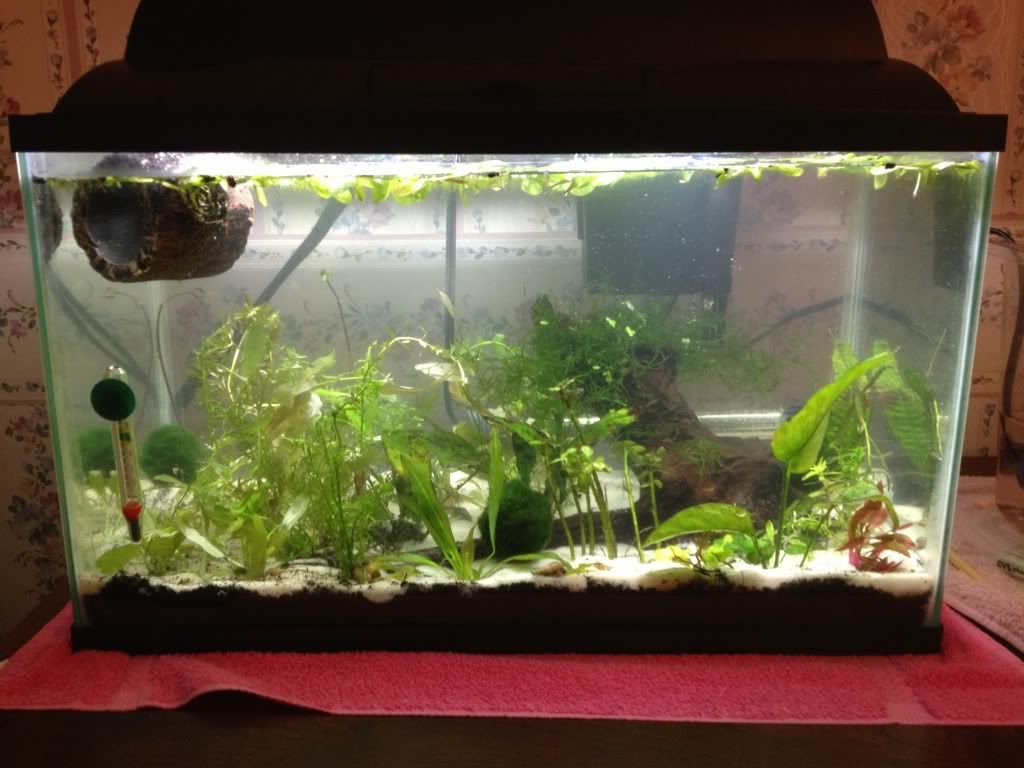 ---
~ P o s e i d o n ~
This is going to be beautiful when it fills in, so happy you like the plants and they arrived safely.

A couple suggestions just from looking at your picture. If you have more sand I'd put about an inch more over the soil to help stop the soil from floating to the top. Did you bury the anubias rhizome? I can't tell but it looks like it might be under the soil, if it is pull it out and gently leave the roots under the soil or hook it under a corner of the driftwood or tie it to the driftwood with some thread or fishing line, just enough to hold it down but the rhizome out to get the light. The hygro is going to fill in and get really tall, you might want to put it across the back of the tank and the green melon is going to fill in for a large sword ball type plant (if that makes sense, lol!) so may want to give it a circle clear area to fill into leaving it about an inch back from the longest leaf touching the front glass, that way you don't have to move it when it starts to root and grow in. They are messy when the roots get deep and you have to move it.

Looks really great and I can't wait to see it grow in a progress.