Quote:
This is how it started my first betta my first 5 gallon before this he gas in a 2 gallon
Attachment 221330
Then we moved to this
Attachment 221346
Now it's this
Attachment 221338
And the second one hasn't been rescape I like how it looks since the beginning
Attachment 221354
All those plants did very well with stock light that's why don't want to changevthat I know it's nt for more demanding plants but I may do something diferent later I don't see those tanks in the forum very often to get more ideas on light and filter since they're on the living room I don't want to get a big lamp above it or something that would look like office furniture you know but again your tank it's so cool
Looks good I still like the concept of the fluval chi though, maybe later if you decide to get more demanding plants, you can do a diy led in place of where the stock lights are.
Quote:
Sorry if this was asked already, but what brand of superglue did you use for the moss? How has it held up? No sighs of problems with it leeching anything into the water and messing with the cycling fish?
I'm using the superglue brand gel type. It's holds up pretty good, the thing is once you put your moss might die. I only did dots of glue so that only little parts of the moss died.
Not much of an update, but it's been a couple of weeks and this ada aquasoil. Finally this tank is cylced but the aquasoil is still leeching ammonia or ammonium. I went ahead and added a school of black skirt tetras for the next couple of weeks just to make sure, I transferred all the guppies to my other 5 gal with my female betta.
This tank still has an algae problem though, I got rid of a majority of it, but it comes back with a vengeance. There is still too much excess nutrients coming from the substrate. I also fixed my co2 to run 24/7, 1 bubble per 4 seconds. I want to add floaters but at the same time I don't want to be blocking out light.
Plants are doing fine except the hc still. I've been busy with switching out my grow out tank to another 20l. I bought s repens but decided not to put it in here due to algae. I was thinking of putting hydrocotyle Tripartita since I have leftover from my 20l grow out. Here's the new grow out 20l, I didn't keep the scape since it was only to grow out plants for my big tank project next month.
My betta that was originally in here before is still happy in her temporary 1 gal, hopefully in 2 weeks I'll put her in and take the black skirt tetras out and put in another tank.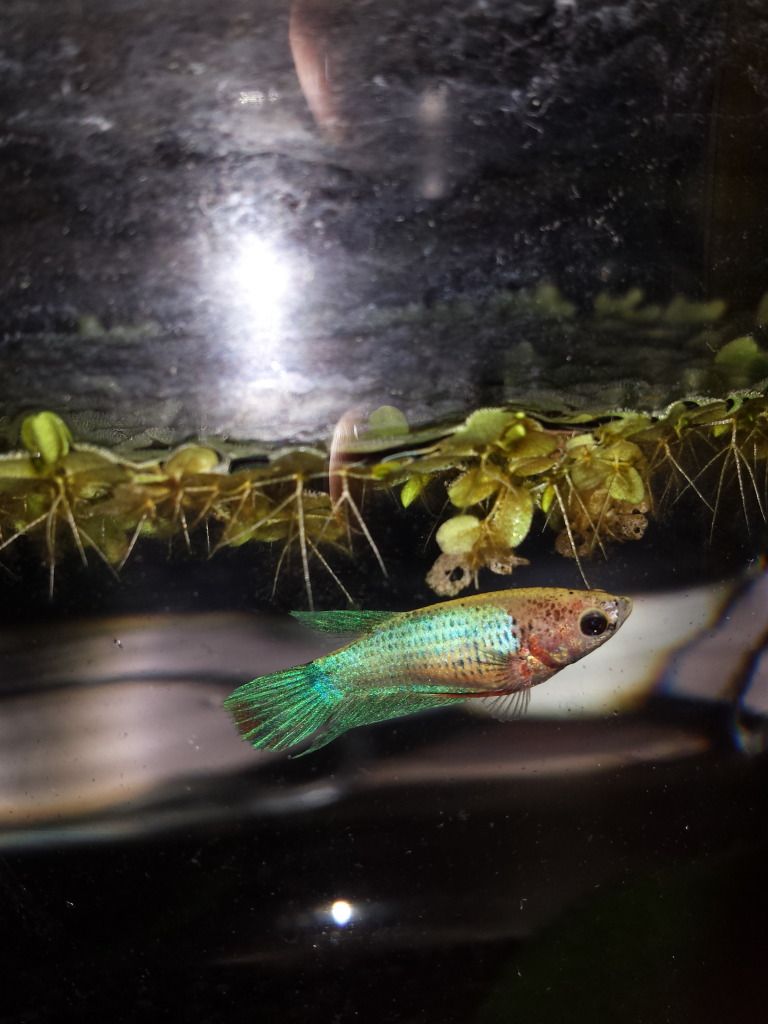 So it's been a couple of months since I last updated you guys. I let this thing turn into a complete jungle, I had root balls the size of mini basketballs in there. It got to the point my betta got stuck in the root system and drowned :(, after finding that I redid the whole tank.
I left whatever remaining hc in there. And trimmed back the l repens, root system was the mini basketball size. I took out a lot of dwarf sag.
I also added hydrocotyle sp japan, pogostemom helferi, pogostemon erectus, and some limnophilia sessiflora which was later removed.
Fish consist of 7 harlequin rasbora, 1 black skirt tetra and a guppy female soon to be moved to my 20l. I will be adding a betta female soon to replace the tetra and guppy
Sorry there is no before and after.
Water is still cloudy due to me uprooting the plants.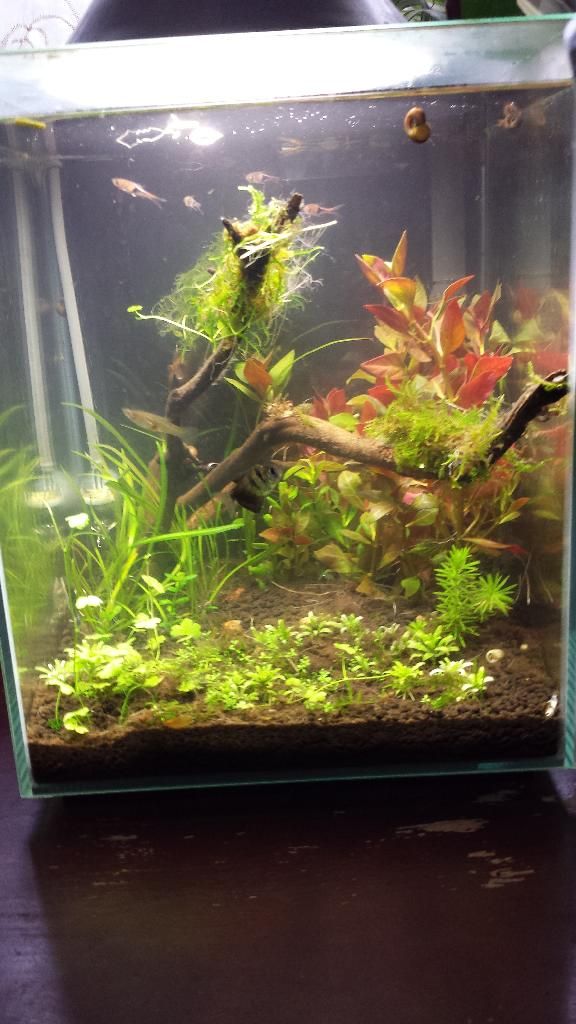 All the mulm from the uproot should be taken care of in next weeks water change