I may have made a big mistake
---
A 29 gallon mistake. I was at Goodwill and they had a huge tank for $20 and I let my sister talk me into it. They also had an entertainment center that looked like it would fit my other 3 tanks perfectly together that was cheap, but super sturdy.
So now I have a Fish Entertainment Center. My cat already enjoyed it for a bit.
The 3g has my white/black betta, the 10g is my red/blue betta and his friends who will eventually be moving up to the 29g I think. the .75g is just for growing some plants up for moving them to the main tanks. I just got the big one set up today and moved some plants and mini snails in to try to grow them up while I figure out what I want to do. All I do know is I want to plant it up into a jungle! I had a heater already and bought a filter on sale for like $17 so I'm trying to do this all as cheaply as possible, but Ill probably spend a fortune on some driftwood.
I would like some recommendations of tall plants and any advice for a thick 'jungle' tank.
Wow... I wouldn't call it a mistake, just an accident hehe your sister did tempt you after all XD

I would reccomend some Italian Val :) and Mario their pretty and big plants :D more members will name tall background plants but those come up to mind when I honk of backround plants :) good luck!
---
You can call me Blu for short!
Jungle val is a beast, that is probably the tallest plant.
Posted via Mobile Device
You might enjoy looking at this site. Go to the "Aquarium" drop down and you can look at plants from A-Z.
index
Saturday night is AquaBid's SNE with lots of good sales (it's the 3rd Saturday of the month). NoFishToday (
www.bamaplants.com
) has nice plants at more than reasonable prices. Sale is from around 7-11 EDT. Go to left side of page and click on "One Hour Auctions."
Amazon swords get huge. I have one in my 54 gallon that started out as a little 4 inch sproutlet about 6 months ago, and now it's growing out of the tank. And the tank is 25 inches deep.
---
Bettas: Roland, Belle, Snow White, Polo, Elise, and Titan. | 120 gallon community tank | 55 gallon angelfish tank | 20 gallons of guppies
Hehe lol I just noticed I said Mario I meant myrio : P
---
You can call me Blu for short!
---
Quote:
Hehe lol I just noticed I said Mario I meant myrio : P
It's-a me, myrio!
Also, that's the best kind of mistake.
---
Current bettas: ♂Opalo, ♂Granite, ♂Alpha-Betta, ♂Eclipse, ♂Lucky, ♂Honor, ♀Virtue, ♀Innocence, ♀Garnet, ♀Chroma, ♀Tethys, ♀Amaryllis, ♀Goldeen
Tanks: 3g betta NPT, 20g NPT community, 10g 3-way divided, 10g NPT sorority, 5g divided betta tank

I can send you a poop-ton of Myrio Mattogrensense for $25 free shipping if you like haha
Came from my own 29 that looked like this before the trim: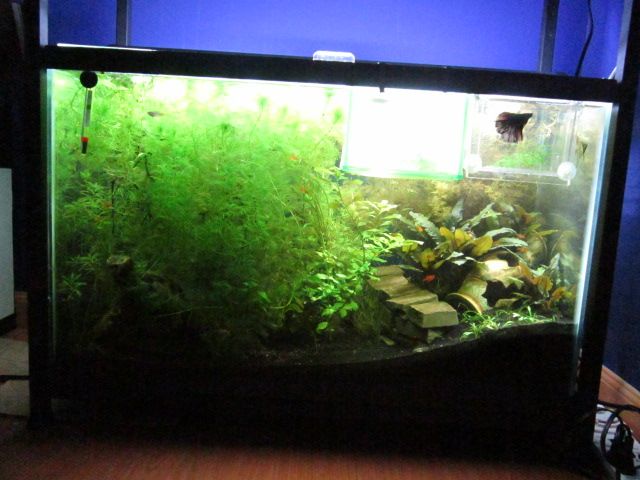 And I went to this. So you'd be getting all that Myrio that I cut out! They're long stems too, not dinky little ones! They do require at least medium light, they'll be okay in low light conditions but better in medium-high light. (Hey look! I have Giant Hairgrass I can finally see! hahah)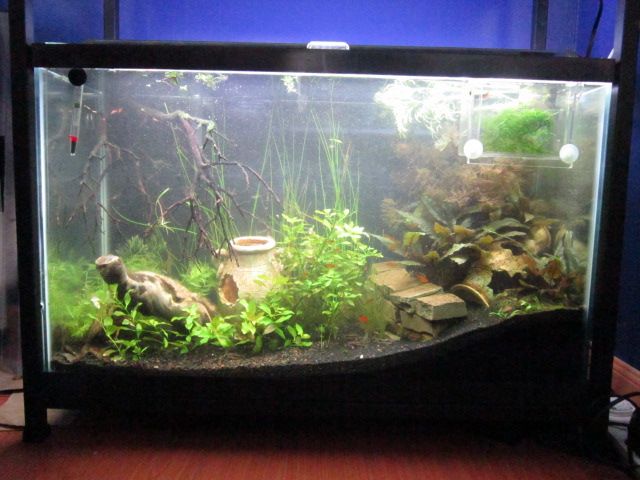 ---
Rembrandt II, Suiché
Leopards: 1:4 Hawkeye, Luna, Astrael, Dorian, Cullen
Gargoyle: Cloudjumper and Toothless
Member
Join Date: May 2009
Location: Northeastern Massachusetts
Posts: 94
I don't see any mistake. I think it looks awesome!
Similar Threads
Thread
Thread Starter
Forum
Replies
Last Post
The worst mistake you made

redthebetta

The Lounge

26

03-06-2014

12:53 PM