Member
Join Date: Mar 2010
Location: USA
Posts: 10,951
Glad I could help and look forward to pics....
I have wanted a bigger aquarium for some time now, and this thread has made it even worse! A 55 would be awesome, but I just don't have the room. Thanks for a good sense on how to do a NPT later on though OFL!
---
I tried being an outsider once....but I didn't fit in.
Member
Join Date: Mar 2010
Location: USA
Posts: 10,951
Update Photos-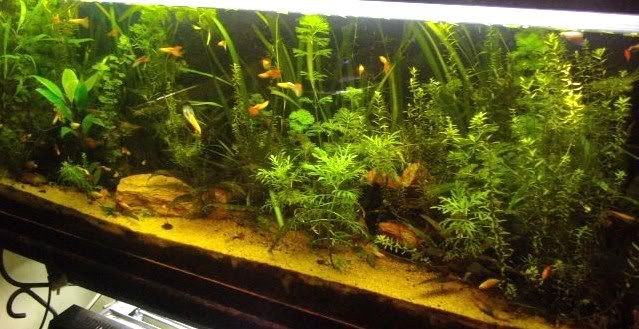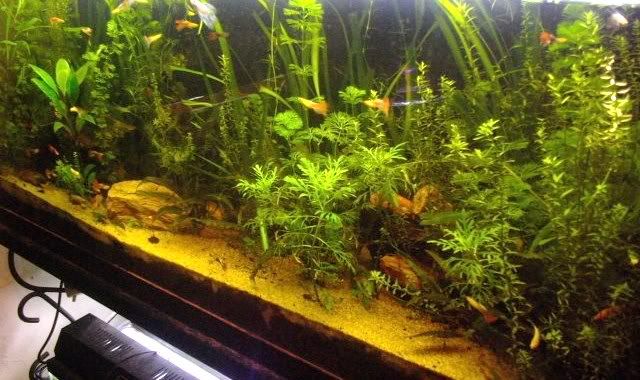 Also, I updated lots of pics in my album....take a look.....
---
Last edited by Oldfishlady; 02-09-2012 at

07:13 PM

.
Guppy Heaven
---
Absolutely beautiful! You are my hero too. I only have about thirty posts but can you sell me Java moss? If not I will try to relocate some I saw on internet I beleive was in California. I would love some guppies too! But really just wanted to say you are so impressive! CJD
Hey, what's that over there!

*tries to grab a tank*
*throws out back*

....

Beautiful tanks OFL! As always!
---
Breeder so I have too many to count and too many named to list here!
Member
Join Date: Mar 2010
Location: USA
Posts: 10,951
Thank you....and to think this is just roughly 3 months of growth more or less-nutrient rich substrate can really get the plants growing and I have trimmed at least weekly and have only had to make 3 water changes...top off with about 5gal of water weekly since it is open top...
Water prams are zero across the board-generally I will never even have nitrate due to the plants and this is a pretty heavy stocked tank ...
Plants can function as a great source of filtration-and even take care of the DOC's-they don't leave but are recycled by the plants so they don't cause any livestock problems...
Sorry Jim...I don't sell plants or livestock to outside sources......
NPT-Natural planted tanks with soil substrate are great system with little problems when setup properly-started with enough of the right species of plants....no CO2 or ferts needed....as close to a complete ecosystem that you can create in a glass box-but its still a closed system so it needs some care...but not much.....
You can see more of my tanks with updated pic and information in my album
http://www.bettafish.com/members/oldfishlady-albums.html
Enjoy....
Member
Join Date: Mar 2010
Location: USA
Posts: 10,951
About 3 weeks ago I removed all fish but the breeding pair of long fin albino plecos-male guarding his nest of eggs in the hollowed out section of a piece of driftwood for the past week and spotted some baby plecos a few days ago...usually I will get about 30 or so......

But what I am waiting on.....Angelfish that I ordered off aquabid...half dozen Koi angelfish...I got them 2 weeks ago all DOA but the person I ordered them from was great and sent me replacements at no charge and he sent them overnight express that cost more than my whole order...Great guy I highly recommend him Joefish72 if you ever buy different species of fish.....anyway

I got the Angelfish and Florida *** fish today...4 of the 8 survived and all 6 of the flag fish survived and so far doing great-eating and hunting the baby red cherry shrimp....I will post some pic once my camera battery is re-charged......

My plan for this 55g NPT-other than the pleco and RCS....Angelfish-I have always wanted to breed this species and if all goes right....by next year I will hopefully have eggs......
Good luck with the Angelfish!
Member
Join Date: Mar 2010
Location: USA
Posts: 10,951
Here is a pic.....sadly I lost another Angelfish too...dang....down to 3 now and the odds of getting a pair are getting slimmer by the day.....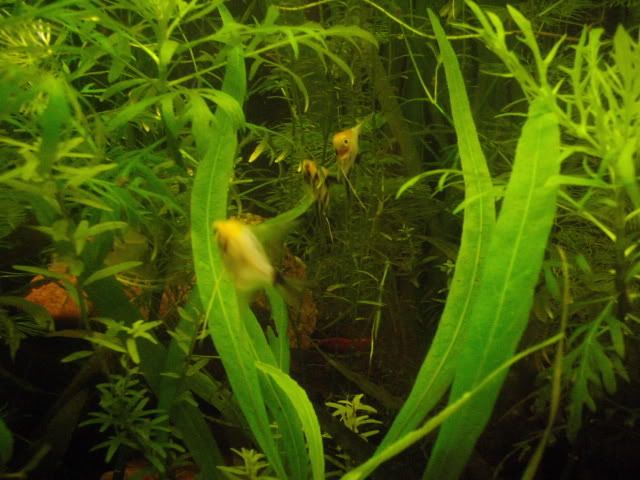 Wow, another one? Are they usually delicate? Sorry to hear that, and I hope the other three stay well.

Your pic didn't work? I googled them, however. They're certainly beautiful fish.