Very lovely, and I am in love with your angel.. so very pretty, love how she has more yellow to him. She is going to grow up and be even more beautiful. I am wondering how she will do with the shrimps when she is older? I used to feed mine adult ghost shrimp all the time, whole and alive- wouldn't last 5 minutes in my angel tank.
I am strongly (and secretively so my boyfriend doesn't roll his eyes) considering starting back up with angels in the future once more, thanks to you lol.. I started looking at their pictures when you posted about your shipment and it made me miss having them around. So I blame you :P Thanks!

Wishing the best with the next shipment..
---
Breeder so I have too many to count and too many named to list here!
Member
Join Date: Mar 2010
Location: USA
Posts: 10,951
Thanks guy....I keep hoping the Angelfish colors up more....this was the plainest one of the group......I have been calling it a him.....lol.....I don't know why...just do.....he come to the front and wiggly for me asking for food.....funny fella....spoiling him with live foods.....he has doubled in size in the short time I have had him. And yes, he goes after the baby shrimp like a mad man.....hopefully the tank is planted heavy enough to keep them from eating all of them...but I have 2 dedicated shrimp tanks that I stock all my tank from......

The Florida flag fish have really colored up and responding well...I have dedicated 2 tanks for them to spawn....I have 2 pairs and the 2 extra female in the 55gal-the more I look at the two in the 55g the more I see 2 females and not a pair...females have a black dot on their dorsal fin...colors are really starting to pop on them.....

Hopefully I will get the new Angelfish without any problems.....the guy I am getting these from sounds like he knows what he is doing.....
I love their dance lol, may be why bettas grabbed my attention. I was amazed at how some of my angels were very intuned into me and my actions, and how they responded to me (such as the wiggle dance).. so possible one of the reasons I started liking bettas, was just how interactive they can be and how they reminded me of angels. I'm sure he will color up- you do an amazing job in caring for so many species of animals/fish, he'll be wonderful.

Those flag fish are nice looking, I bet even better when the light hits them just right. Looking forward to more pictures!
---
Breeder so I have too many to count and too many named to list here!
I'm glad your angelfish is doing well, OFL! Also, it's interesting to hear a bit about their personality.

When Daughter and I went to the LFS recently, she saw a large dalmation angel and fell totally in love with it - quite amusing, she was just so dazzled by it. Now she wants a tank in her room with two dalmation angelfish and maybe a smaller catfish of some kind (her only other fishy interest) for her 14th birthday later in the year.

I said this was fine - but I understand that angels are for 'experienced' fish keepers? I'm encouraging her to read up on their care - she has months to do so, but I worry that she might be biting off more than she can chew.

I wanted to ask- what size tank might suit that stock?
Member
Join Date: Mar 2010
Location: USA
Posts: 10,951
Awesome...I wish one of my kids would have held interest in fish keeping-now I have to work on the grandkids....lol.... and I did the same thing when one of them wanted a critter....research and a paper written on it....when my son wanted a lizard- he researched and found out how much work it would be....he didn't get one....
Anyway, for Angelfish I would use 20gal tall for a pair or 30-40gal so that she could also have some catfish and since they are farm raised they are not as delicate as they once were-more tolerant to the harder source water...This is one of the best sites I have found on Angelfish
http://www.angelsplus.com/fisharticles.htm
My new Angelfish should be here today or tomorrow......yeah.....
Member
Join Date: Jan 2012
Location: Surfside Beach South Carolina
Posts: 5
Just a quick question
---
From an old man, who hasn't been caring for fish since the "dark ages". I stopped my aquariums after the children were born. The family, career, and house took first place in life.

When I stopped, 35 years ago they were just starting to use UGF and were talking about the nitrogen cycles. The big problem was no internet, no information, just what you found out from people at the LFS. Books, not much infor there either.

Any way the addition of CO2 to the aquarium is new to me, and I would like to know what you do, in general. Do you watch CO2 levels, have an indicator, or add CO2. I'm not sure if I just need to let it do its own thing.

I have purchased a 125 gallon, that had fish, discus, and angelfish. There was a RO system, and 75 gallon holding water tank included.
I have had it up and running since January . Lots of new technology, and theories out there now. A whole new world of fish keeping. If I had been reading this web site before I set up this aquraium, things would have been done a lot different.
The best thing is all the knowledge that is now at our finger tips.
Member
Join Date: Mar 2010
Location: USA
Posts: 10,951
Isn't that the truth Boscobear.....how things have changed since we started this hobby and with the internet...wow....lots of great information but sadly nearly just as much wrong information or a lot of old school thought...some that are still great...but some really out dated......lol....

Gosh I hope you will post pic of your tank....one species I have always wanted to keep Discus...while I do call my well water "magic water" it is liquid rock and getting R/O system is out of the question for me.....I am hoping I will be able to breed the Angelfish...I know back in the 60's I couldn't but most were wild caught back then...now they are farmed raised and more adapted to different source water...but I also read that about Discus-just not willing to find out at their price....lol....

In natural planted soil based tanks you don't need to use any injected CO2-you can-but you don't need to-plus they are a mod to low light system....The natural decomp creates natural CO2 for the system and you can also do a sessta method and turn the lights off mid day for 4 hour so that the CO2 will build back up....I don't monitor the CO2...just plant growth....as long as the plants are thriving and I have limited algae...I don't stress about it.....NPT's are designed so that you don't need any added ferts or CO2......the livestock and decomp provide that and the plants provide the filtration......
Member
Join Date: Mar 2010
Location: USA
Posts: 10,951
My new Angelfish got here last week and wow are they beautiful......these are called the Emperor Angels-named by the breeder....from this guy
http://www.aquabid.com/cgi-bin/aucti...ish&1333803513
Expertly packed in single re-breather bags and all made it to me alive and are alive and well today eating like pigs-I should have kept them in QT longer-but they looked cramped so I released them last night....here are a few pic...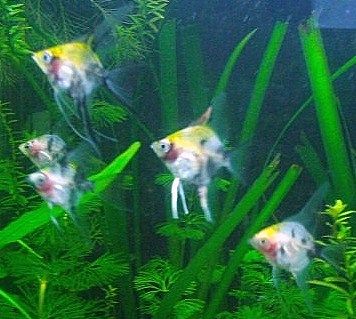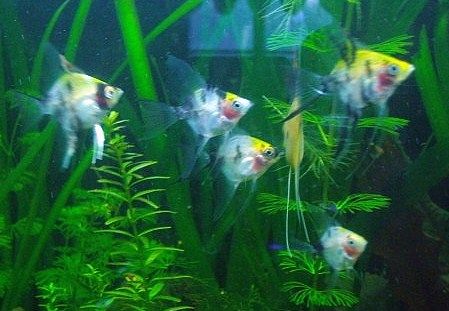 I have 5 new Angelfish to go with the one surviving Angelfish-6 total.....
Ohh wow! Those are absolutely beautiful - congratulations! I hope they continue to do well and look forward to future photos! I do very much like angelfish but doubt I could keep them myself heh. I'll stick to my single tank for now!
---
"There will come a time when three words uttered with charity and meekness shall receive a far more blessed reward than three thousand volumes written with disdainful sharpness of wit."
Those angels are real sharp,OFL. I just bought a 55 gallon tank that I am considering trying your procedure for NPT-- Now I want to put little black angelfish in it! Anyway...Yours are beauties!