Going to follow this thread! Very handsome male, I really love the pattern on his anal fin! Pandora is a beauty as well!

It's nice to see a new breeder know what they're doing instead of a lot of others who don't look before they leap. I wish you the best of luck, good sir/madam!
Your stock is beautiful. I can't wait to see how your spawn turns out. I will be following this thread. =)
---
Sequin (m), Shortcake (f), Westley (m), and Sir Righty of Walton (m).
I hope I am ready for this!
Guess what I woke up to this morning? A hairy nest! I was actually beginning to worry a little bit that all of the eggs were going to be infertile because it was the first time either of them had spawned. Seems I was in the wrong, they did a good job
. I think Kanki is a super dad or something because all of the fry are staying in the nest with zero difficulty, I think he himself has already weeded out some of the weaker fry and keeping the nest huge for the fry to stick easily.
Side note, the brine shrimp hatched in 20 hours so now I know the approximate hatching time for these grade of brine shrimp (Premium).
I will
attempt
to take photos with this Iphone but it isnt good with zoom in pictures. I hope they become free-swimming soon!
-Sincerely
That sounds great. Also like he has everything under control. Though the hard part for him isn't right when the fry hatch and some fall just a little. It becomes a REAL challenge for him when the fry are becoming free swimming and the FRY, not he, are trying to try out their new swim bladder. The fry seem to become impatient and try to swim, while their swim bladder is still developing and they need to work on it while still sinking slowly.

With my iPad, I was able to take fairly good pictures of my fry, but when you have IAL in the tank, the quality is harder since it's darker. If your male is dark (and he is) it'll be harder to take picture of him tending the nest unless you put a flashlight under the nest to see the little wrigglers.

The male in your Avatar. Who is that? Is he another male that you have? I am just curious because his color is really nice and dragons have always been a favorite of mine.
---
The results are in!
http://www.bettafish.com/showthread....74#post1194774
EVERYONE GO COMMENT AND POST YOUR RESPONSES TO IT!!
Marki's Adventure:] (STORY)
http://www.bettafish.com/showthread....245#post858245
VIEW MY AUCTIONS- MY AUCTIONS
---
Last edited by bettalover2033; 05-10-2012 at

10:42 AM

.
The little man in my avatar is Bartleby, he was the betta that got me interested into the idea of breeding. Unfortunately, he is also the reason I no longer trust my tapwater. Not only is it awful for bettas (Ph and hardness wise) there is bacteria in the water that has killed almost all of the fish I was owning at the time, including Bartleby (I woke up in the mourning and at the bottom of all the tanks was a orange dust that wasn't there when I changed the water.) He was the first betta I was going to breed because I loved his color, I now filter all my water before it goes into my aquariums.

The loss of Bartleby and many of my other fish taught me a hard lesson I will not soon forget.

-Sincerely
I managed to capture a picture of the babies with the Ipad we own which I had forgotten about until Bettalover mentioned it. They are very small and I had to crop the photo down in order to blow them up a little bit.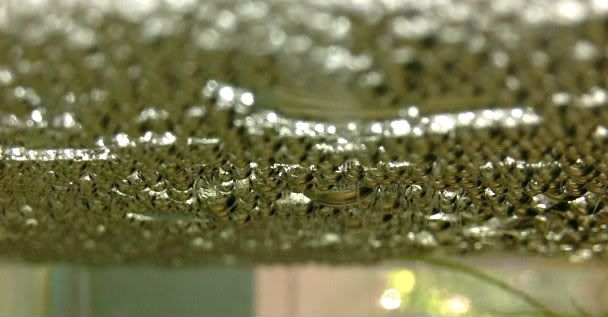 They are adorable, earlier I watched this one fry that kept spiraling down and couldn't make it back into the bubble nest even after Kanki had helped the fry a few times. When the fry began to spiral down again Kanki sucked him up and instead of blowing him back into the nest, Kanki swam around with the baby in his mouth for a minute or two, then spat the fry back out and it stuck like glue to the bubbles! Poor thing was tired, it needed a rest and dada helped him out
.
A lot of little tails! Looks like a good number if fry.
---
Member of IBC
That is definitely for sure! I know some of the forum members count or guesstimate the number of fry in a spawn. All I know is that this is not going to be a small spawn, the IPad would only focus on certain sections of the bubblenest and would blur out the rest. The fry are becoming more active now but are not completely free swimming yet, it doesnt stop them from trying out those new swimming bladders! I'm beginning to wonder what the majority of the fry coloring is going to be (I'm guessing solid blues and greens with maybe some butterfly patterns?) im hoping the spawn suprises me and I'll get a few double tails. Anyways, that's still a ways down the road and as the saying goes "don't count your chickens before they hatch."

For now lots of love, food and attention!

-Sincerely
Ever have one of those times where you have good news and bad news? Well here is one of them.

The Good News: Almost all of the fry are now free-swimming and are starting to slowly venture from the nest. Probably eating infusoria or just stretching their baby muscles.

The Bad News: My microworm culture is extremely watery for some reason so I had to dump more oatmeal into the container and make a new culture to hopefully boost the population.

More Good News? I had started another BBS culture last night and they hatched this mourning so I could feed them to the fry until the microworms stabilize along with some Golden Pearls. Will the BBS be too big for them still or do you think they will be fine? I've heard different thoughts about this, if they are too big I might just let them subsist off of the infusoria.

Similar Threads
Thread
Thread Starter
Forum
Replies
Last Post
Kotori and Pandora

fleetfish

Betta Memorials

3

03-24-2012

08:31 PM