I haven't updated in abit because ive been busy with work and school so here goes.

It's been a mess with my aquariums, my sorority has fallen apart and ive had to jar a majority of the females because they started to fight out of the blue (they have been together for months and no issues, why now?) and Numa has a
Stubborn case of fin rot in where I'm having to to put kanaplex, methylene blue, salt and maracyn to see if that kills it off (100% water changes daily) because his caudal is in tatters. Calypso came down with a fungal infection when she arrived here and that cleared up now, so I'm not sure if it's their immunities or what the two siblings have going on, everyone else is perky dandy.

The fry have been doing well and have been eating ravenously eveyday and whenever they begin to look skinny I put some more food in the tank and ive been doing 25% daily water changes which I'm hoping to increase Soon. The largest ones already have itty bitty dorsals :)

Now to the sad part of the news, I was siphoning tonight and the largest fry I had (it was huge compared to its siblings) I sucked up by accident and I felt the airline hose clog and then shoot back out fast into the bucket. I panic and look around trying to see the fry, when I find it the poor thing was spiraling pitifully at the bottom of the bucket in which it then shortly passed away. I sat staring at the bucket for the longest time waiting to see it twich or begin swimming again, it never did. I start crying over that bucket about a fry that I led to its untimely death because of the airline tubing being to small, I am getting the next size up tubing so something like this never happens again.

Now that I'm in a blue state of mind I guess it's time for some good news, I have been reconditioning Pandora and Kanki to attempt to get another spawn out of them, it's raining almost everyday down here and it's putting them in the mood.

-Sincerely
So a spawn log is worthless without pictures and I've decided to keep these ones large so you can actually see the fry. They are almost three weeks old, the largest ones are getting blue iridescence one them
Now that they have been getting larger I can take a few photos of them now and you can actually see them! I believe there to be around 40-50 fry in the tank but there could be more, they like the Christmas moss very much.
(I forgot to clean off the glass before taking this photo
)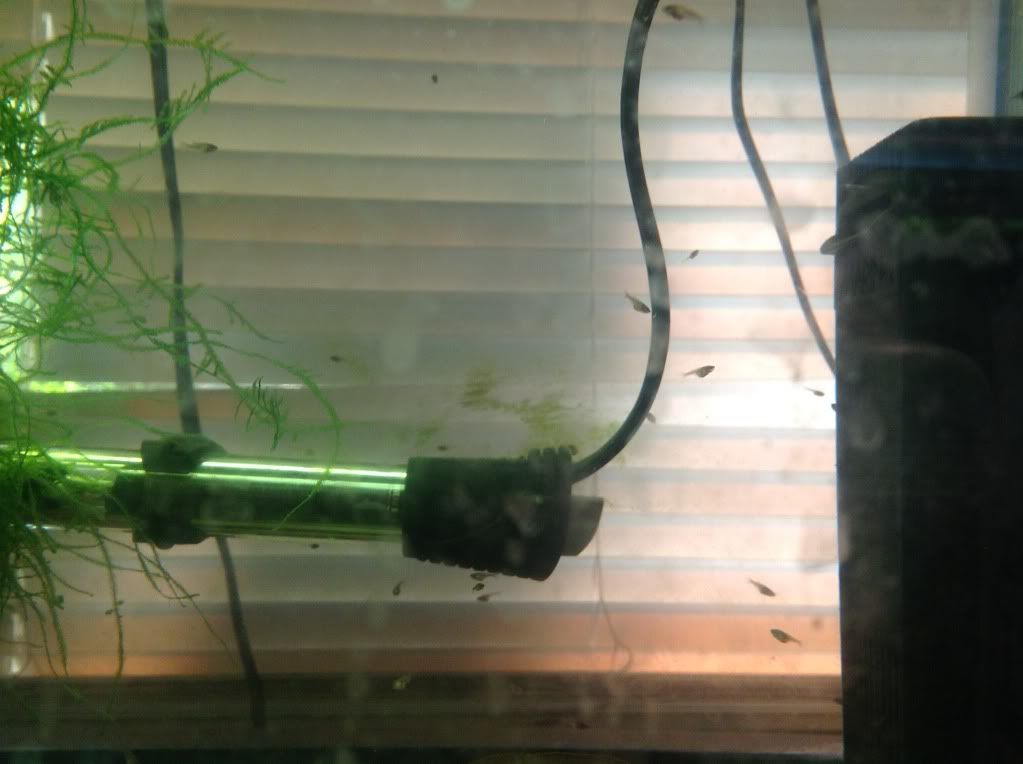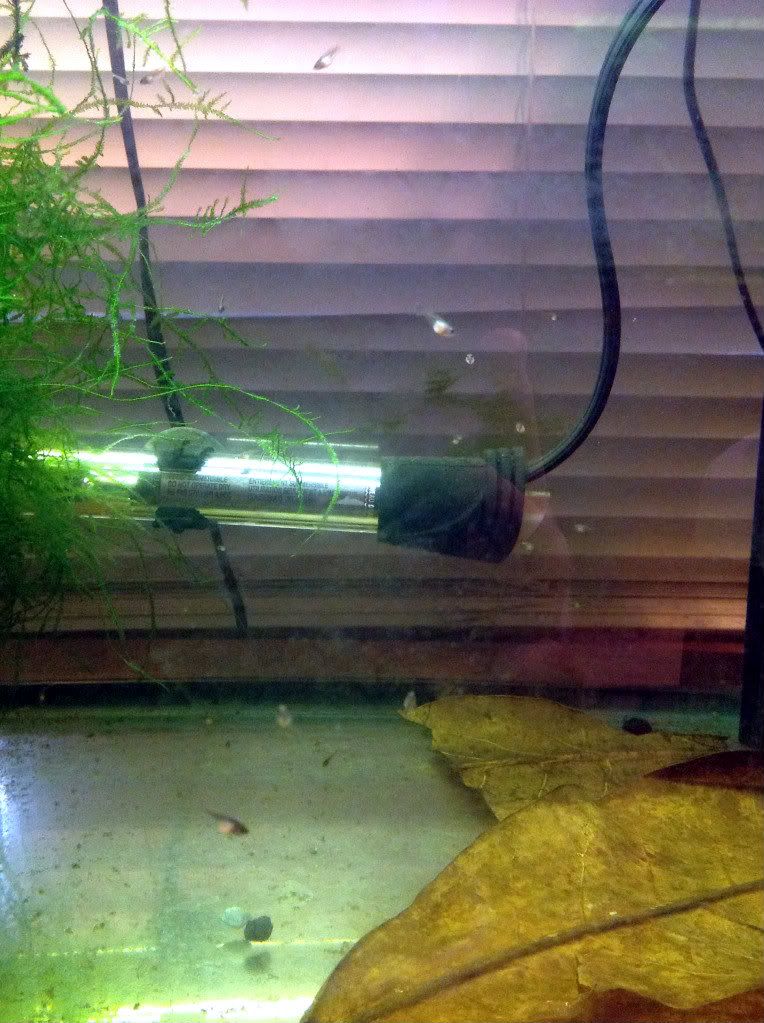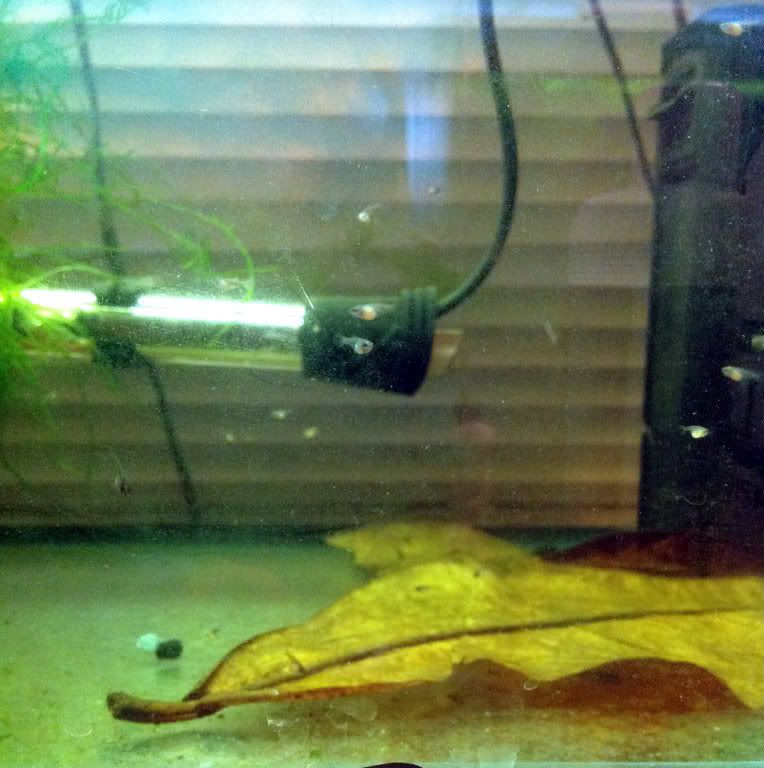 -Sincerely
They're a beautiful pair, and the fry look so cute! :) Congrats on having such a successful spawn on your first try! (I think it's your first try, yes?)

Don't let the lost fry get you down too much. Those things can and do often happen. You were simply cleaning the tank to keep your babes healthy, and this freak accident happened.
They are right on track for growth, I rechecked my dates and yes they will three weeks old on the 31st. The reason they are probably so big is that they are pretty much stuffed full of food constantly and have been getting regular water changes since they became freeswimming. I thought they were older myself but I guess not ;)

And yes Ina this is my first spawn, I'm just so excited that they are doing so well!
Three Weeks
---
So today marks it when the fry had their three week birthday
All of them are putting weight on quite rapidly, so much so that at three weeks old they made the tank into a feces factory and now get 50% daily water changes. I think they will be moved into the twenty gallon sooner than planned at this rate. I am now starting to wean them off the worms, I still leave a few in so the smaller ones have something to snack on, they are almost big enough to eat frozen daphnia and if the daphnia is in small pieces the larger fry have no qualms eating it. I am still worrying about the fry developing swim bladder issues because they eat so many BBS they almost explode, so far I haven't noticed any having issues swimming so I think we might be in the clear for that.
A side update, it seems Numa does not have fin rot of any sorts, he is just a tail biter and likes to slowly chew on his caudal (His dorsal and anal are perfect with no signs of fraying). Medication will still be issued to prevent fin rot from setting in though.
Pictures tomorrow when there is good light to take photos!
-Sincerely
Ventrals Appear
---
So I have been bad about updating with pictures, I keep getting distracted with work and school and this past week was unusually busy so I have been dead tired with no desire to post.
Well that changes tonight, and I have some very exciting news.
It seems I jumped another hurdle and the babies ventrals have begun to grow in on the larger fry and if it isn't the most cutest thing ever
They are now receiving roughly 50% water changes daily to help keep their growth going and are fed BBS in the mourning and then a mix of worms in the evening so the smaller fry have time to snack on them throughout the night. I have tried to introduce frozen daphnia but it is still a wee bit too big for their little mouths. It is amazing already seeing the difference in-between the larger fry, some have nice, broad dorsals and one the larger fry is already exhibiting secondary branching! It seems all of the caudal edges on the babies are nice and sharp so I am excited about that
I almost forgot! Not only are they getting bigger, they are also breathing air now as well!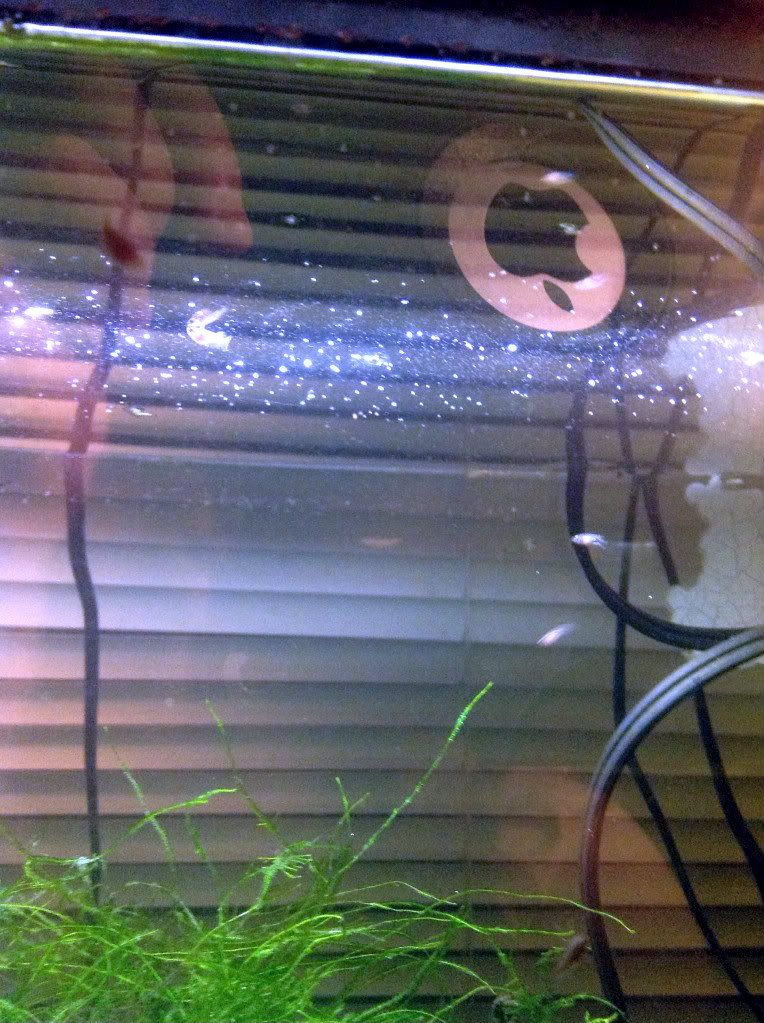 Now onto another piece of news, I have two fry that are exhibiting behavior that might call for them to be culled. The first being one of the fry has a bent spine located near its tail and so it swims along in little spurts but otherwise is very healthy, the second fry is suffering from swim bladder disorder and can swim but sinks slowly if it stops moving. My friend says if they live to be older I should adopt them out to people but I do not think that is a good idea, I will continue to observe the two fry for a while longer before making my decision. I brought them into this world so I need to be responsible if the quality of life for these two fry will be poor in the future due to their disabilities.
Anyways, I am just happy to report I have big beautiful babies that are all in very good health.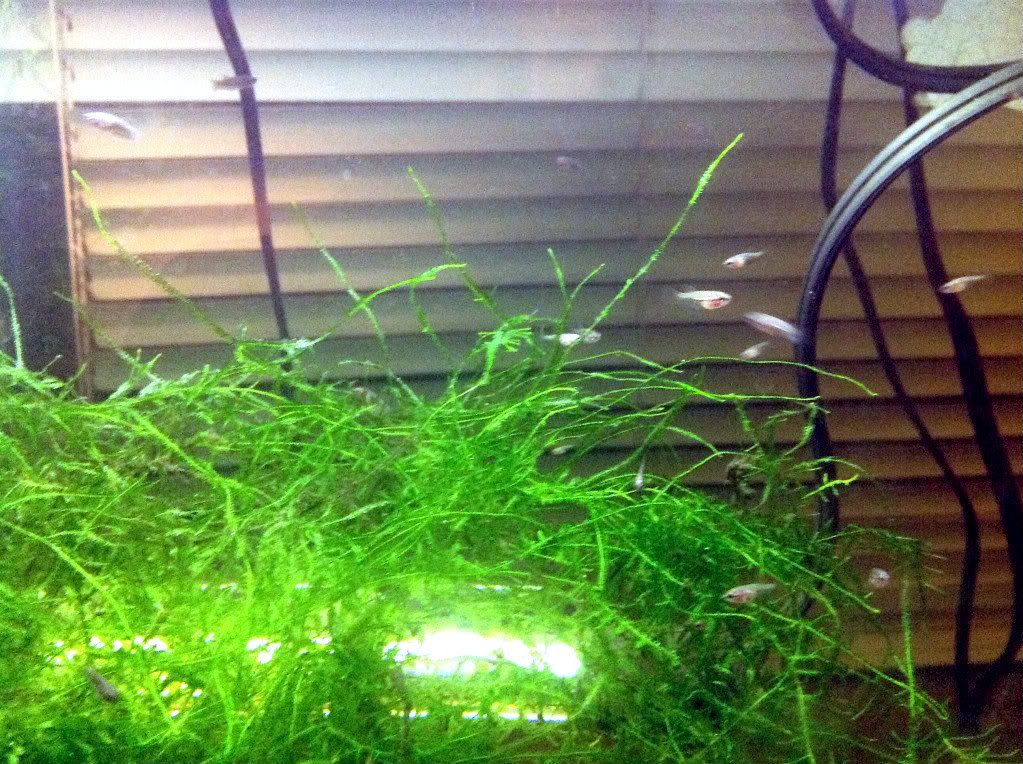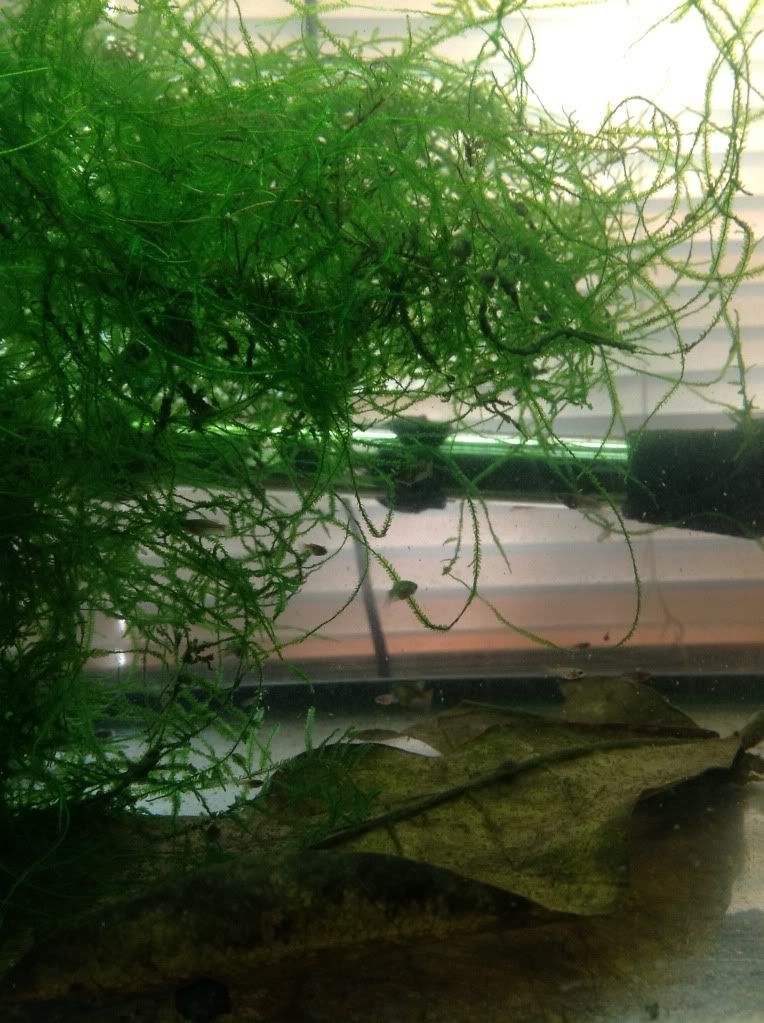 (This was the only photo I could capture some of their color on (You can see just a glimmer of it on the anal of the fry next to the Christmas moss, it is very difficult to take photos of their color on this camera.)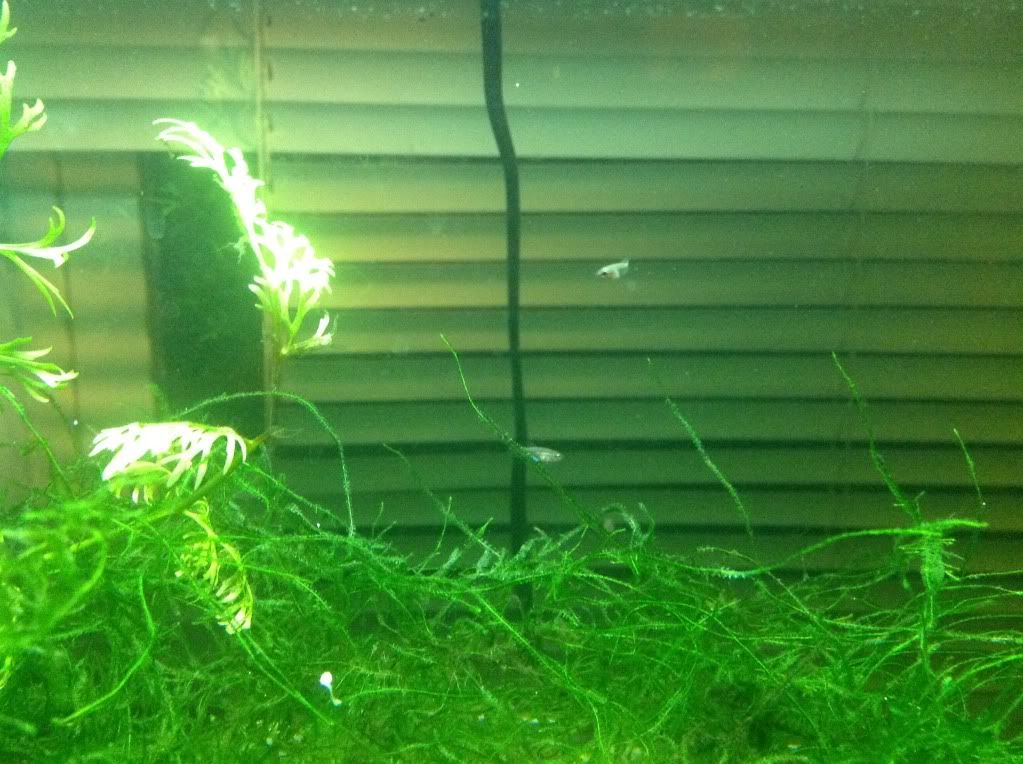 -Sincerely
They look like they are comming along beautifully. Sometimes fry that look as if they have problems will grow out of it, so I'm glad you are giving them a little more time, it might work out for them and you.
---
Member of IBC
Similar Threads
Thread
Thread Starter
Forum
Replies
Last Post
Kotori and Pandora

fleetfish

Betta Memorials

3

03-24-2012

08:31 PM