Wow I love this. You really did your homework. I am stalking this thread and I can't wait to see how this turns out!
---
He is richest who is content with the least, for content is the wealth of nature
- Socrates
Four Week Old
---
Thank you for the comments!~~~
Today marks the date when the fry have turned a month old!
A few days ago I reintroduced frozen daphnia into their diets and they gobble them up with as much enthusiasm as they do for BBS. I have also introduced Golden Pearls to them with the micron grade of 300-500 which they can eat. I have weaned them off the worms and they are getting their last few batches of BBS before they are switched to daphnia, chopped bloodworms and golden pearls.
All of the larger ones have a powdery blue sheen to them (Which can be seen in off-light. In direct light it disappears
)
Sadly, I am going to be culling two fry soon because of their bent spines which will give them a poor quality of life when they reach maturity.
It seems all of my babies have ventrals now so I have finished that hurdle! They are going through a growth spurt and seem to be sizing up quickly.
I can't wait until their colors become more solid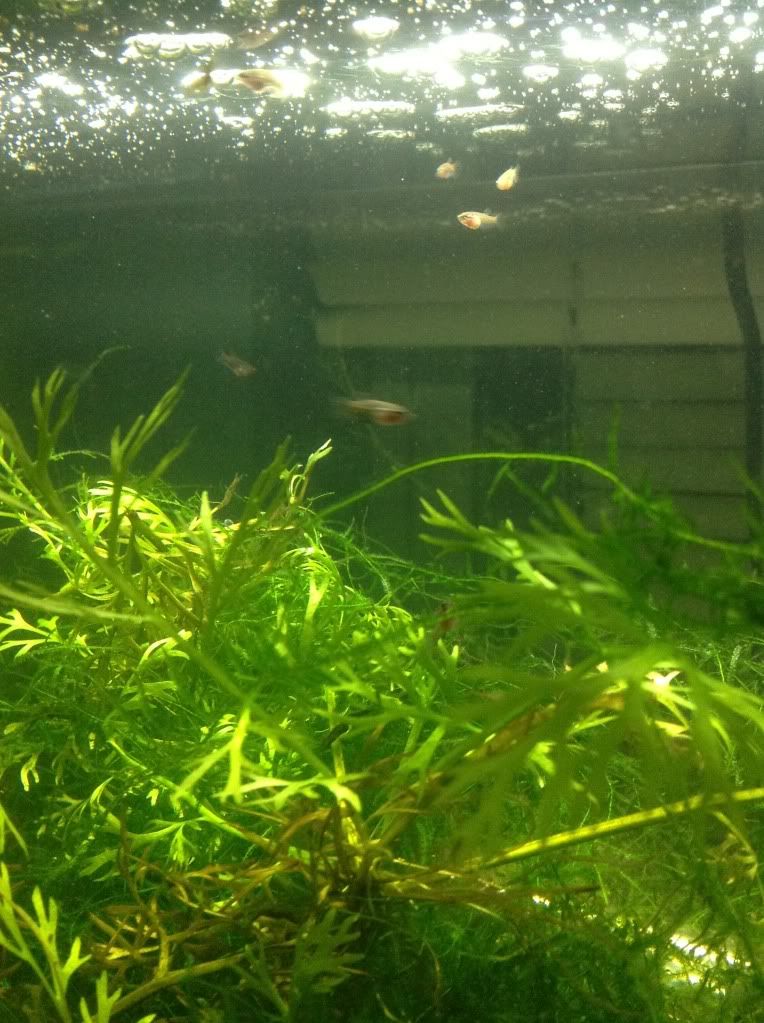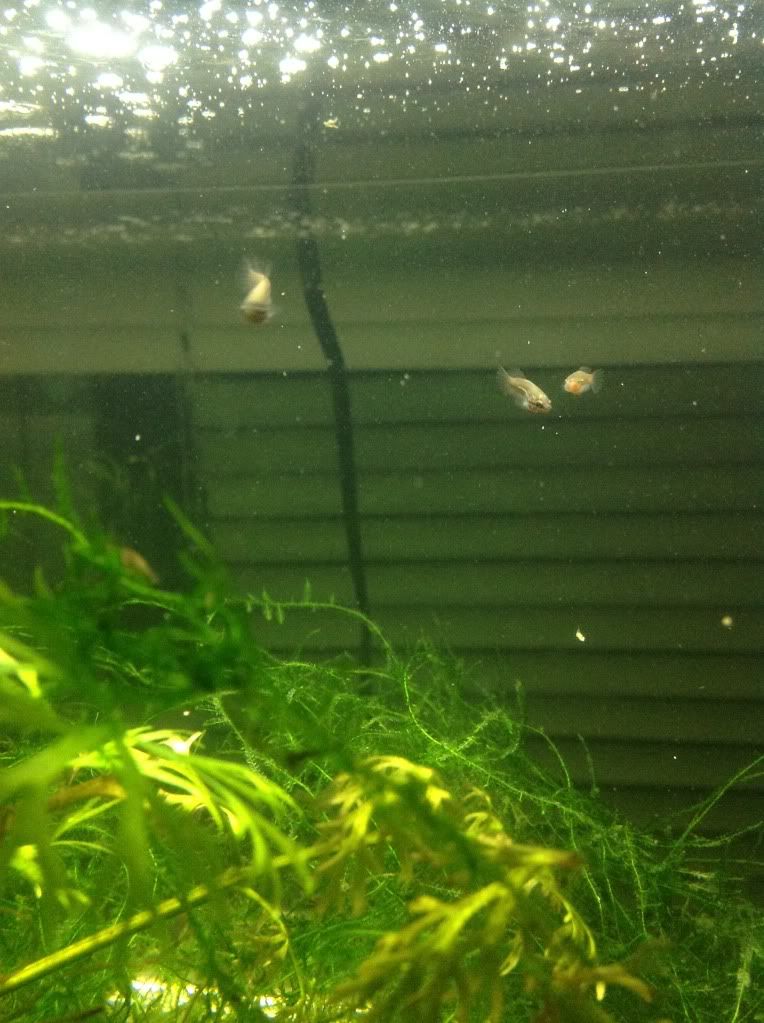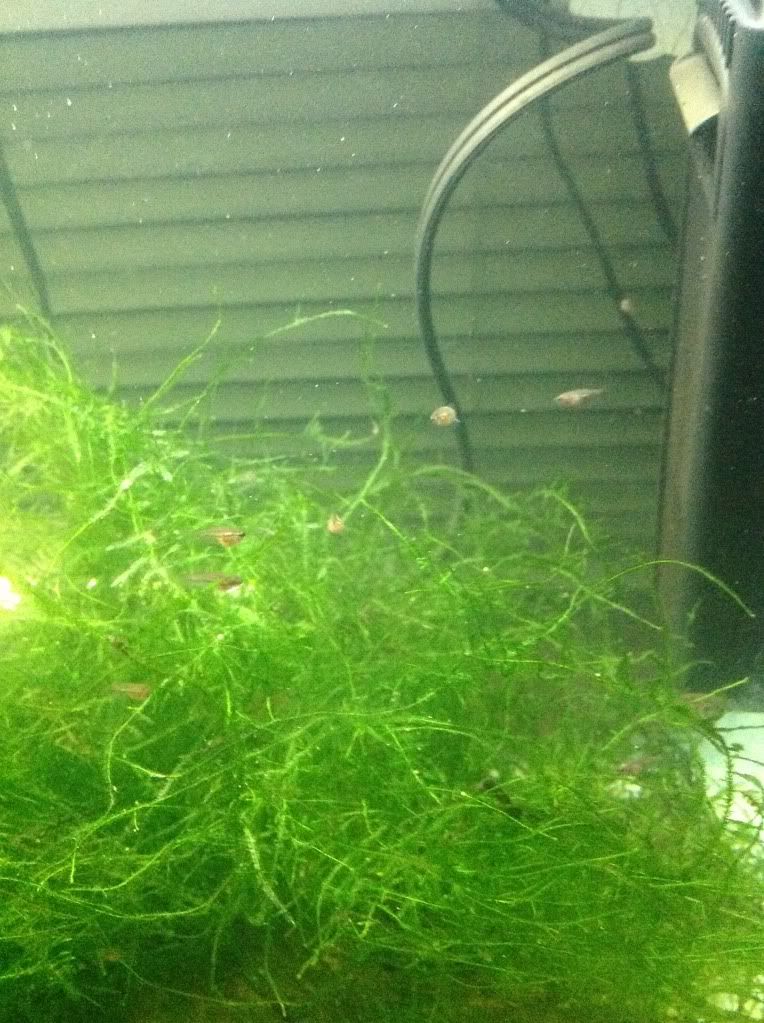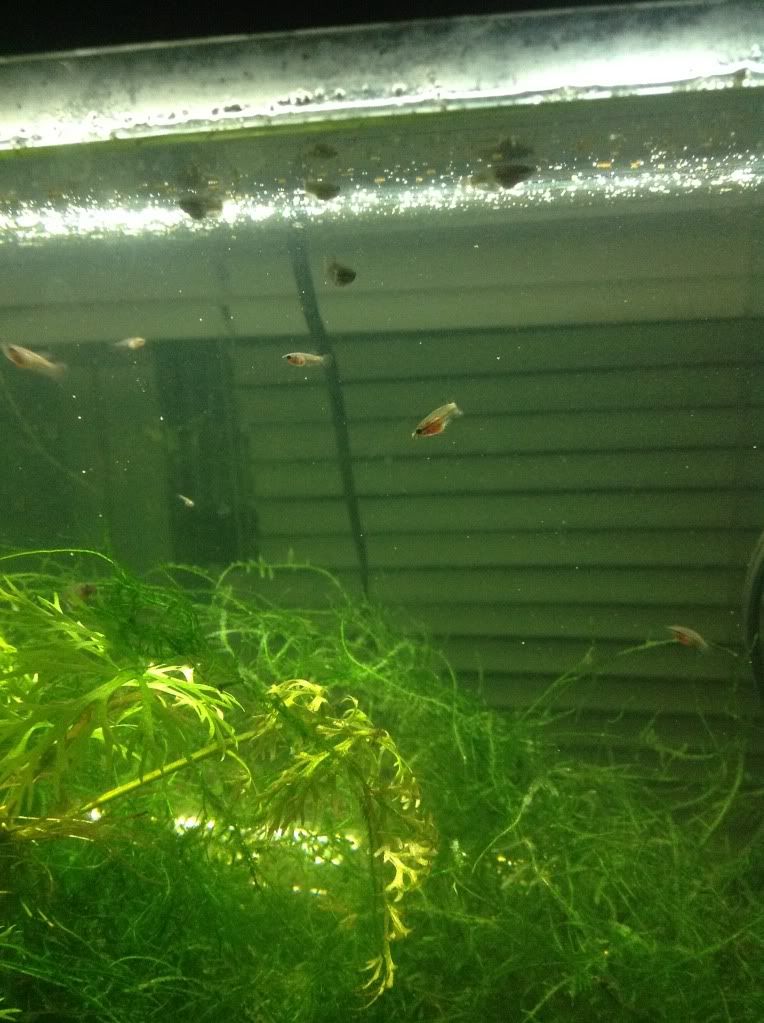 -Sincerely
stalking this thread! Love your fishies! :)
Look at those healthy babies! Wow! You really should be proud of yourself you are doing so well! And sorry to hear about the two bent spines, it's sad. On the plus side your fry look great! Missing ventrals seems to be an issue for people and yours have them! I'm excited to see how they turn out
---
He is richest who is content with the least, for content is the wealth of nature
- Socrates
Coloring Up + News
---
So this is a half and half post.
The first half: The Babies
So now their colors are starting to come in more strongly, mostly darker blue like their mommy, the ones who are not colored up yet I think are going to be more like their father. They are ravenous, whatever I throw in the tank for them is eaten shortly (Which is good, I'm glad they aren't picky eaters.)
Can you see the blue?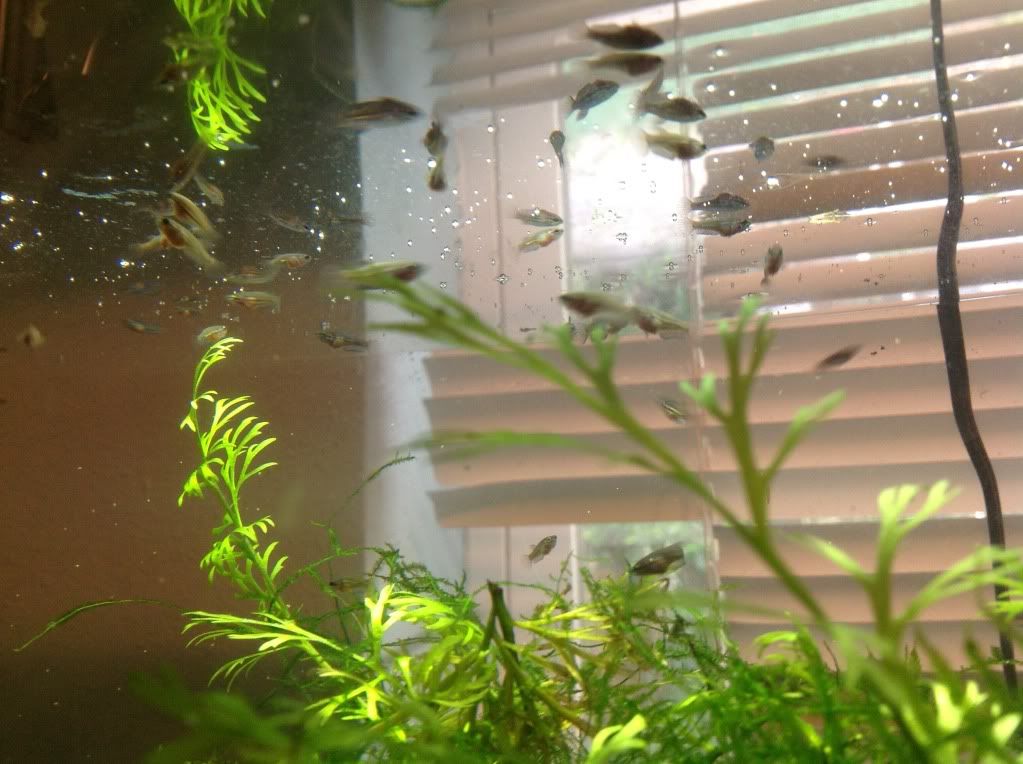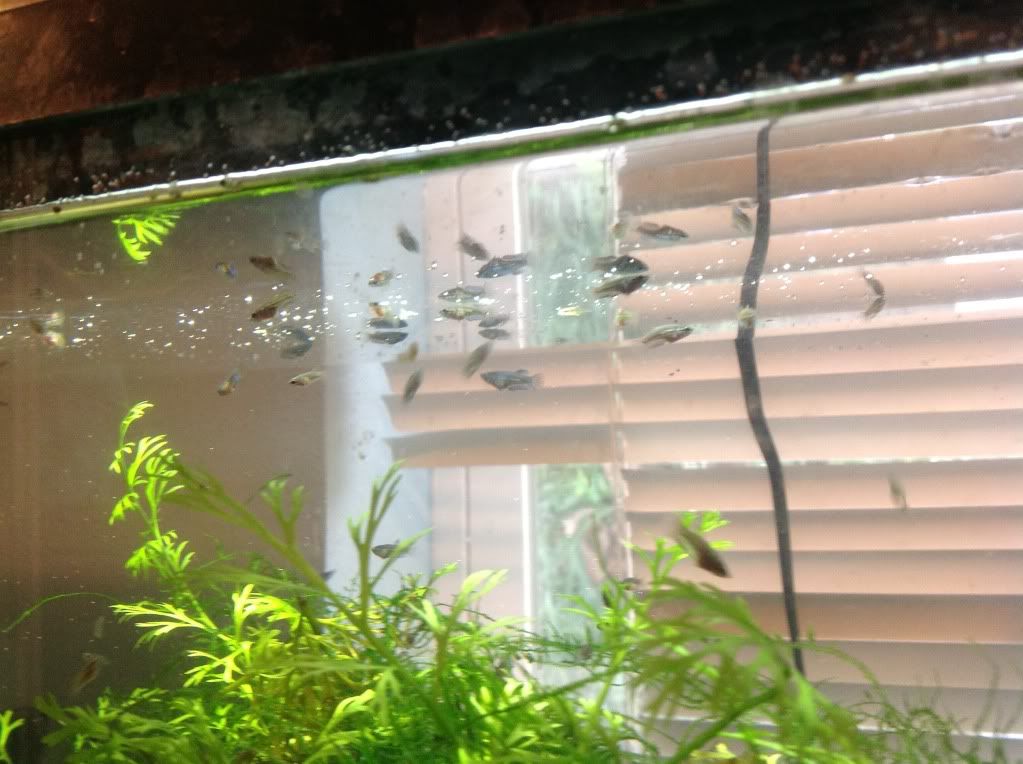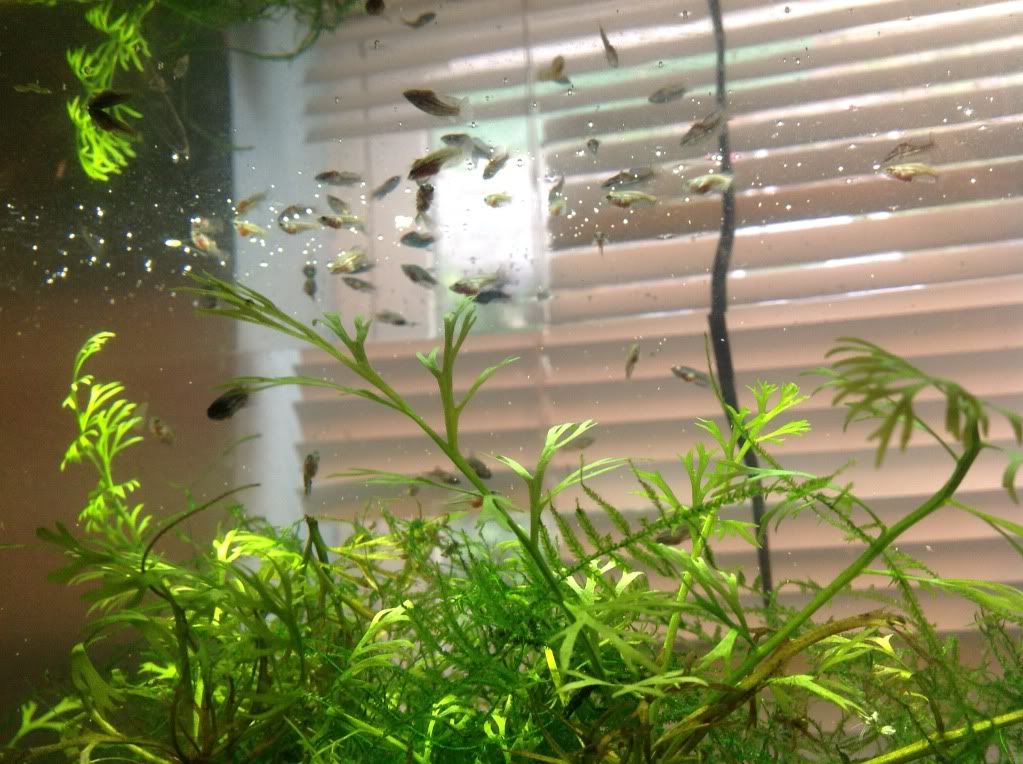 The Second Half: Imports
I didn't want to make a whole new thread for this but I will in the future if I spawn them.
Speaking of which, I don't think I ever announced what my breeding goals are!
Well, my goal with breeding Kanki and Pandora was to be able to successfully raise a spawn to maturity. With everything going well so far *Knocks on Wood* I wanted to tentatively announce my next goal:
Create a show line of betta's specializing in Blue, Turquoise and Steel. My new imports will be to help with creating this line
Here are my new imports that will be coming in this week~~~Enjoy~~~~
-Sincerely
P.S. Thank you all for your support! It helps me feel like I am raising this spawn right!
Banned
Join Date: Jul 2008
Location: Central Texas
Posts: 27,607
Your babies are looking good and your imports are gorgeous!
Wow. As of right now, your goal on breding is close to mine. I happent o be buying soem females close to and liek yours and have a male or two I plan to introduce in the line and such for one I'd like to work on. I'm so excited.
---
Bettas:
Females: Morgana (CT), Gwendolyn (CT), Amethyst (CT), Hebe (CT), Iris (HMPK), Amphitrite (HMPK), Artemis (HMPK) Dottie (?), Lulubell (CT), Mirabell (CT) & Jubilee (HMPK)
Males: Cronus (CT), Tian (OHM) & Anubis (OHM)

Dogs:
Zeeva (Siberian Husky)
Binky (Samoyed)
Sweet! If we have the around the same goal then we could collaborate if you like
When I was thinking about color it was down to blues or going to revive a color that has been disappearing from shows (This stems from my love of rare breeds in dogs.) namely pastels. I still might change to pastels but I would have to find a decent pair to start with, hoping to see some at the convention.
Oh yes! My imports will not be spawned until after the convention so I will be home to tend to them.
-Sincerely
My favorite color is blue. I want all of your spawn xD. That sibling pair on page 4 was STUNNING.
---
{
Currently Cycling
}


Kelsey | [Fish Blog]
www.thewiredlife.net
Similar Threads
Thread
Thread Starter
Forum
Replies
Last Post
Kotori and Pandora

fleetfish

Betta Memorials

3

03-24-2012

08:31 PM