Quote:
Maybe she's calmer now that she's been bred. lol
Are we still talking about fish?
Quote:
Yes I think most of them are. Some might be reflections. I found 3 dead total over 1 week.

On a different subject. I had to siphon the tank twice already because I had trouble with the food. At first I siphoned 1-3 every now and then. Luckily tpocicat told me to put a. piece of pantyhose on it. It worked great. Ty tpocicat.
You're welcome, always happy to help when I can.
3 dead in 1 week is great is a very low number. You're doing great!
---
Member of IBC
after more experimentation it turns out the brine shrimp eggs i bought from a lps was bad. i bought a diff brand from a diff lps and they are much better.

seems that feeding bbs leaves more mess on the bottom of the tank. maybe im over feeding the bbs. i will try and feed less from now on.

feeding microworms seems much neeter.

i culled some of the smaller ones. they either weren't eating or had some developmental problems. they were weak and easy to siphon up.

there appears to be more then 100 left. maybe even closer to 200. its impossible to count at this time.
I can't wait to see how they turn out! Good luck
---
Phoenix DLT Male•Dragon HMPK Male•Phantom HMPK Male•Pepsi HMPK Female•Harvest Moon DTPK Male•Dreamless HMPK Male•Randy VT Male•Turbo Zebra Nerite Snail
Quote:
Originally Posted by
RandyTheBettaFish
View Post
I can't wait to see how they turn out! Good luck
Thanks. I want to see what these grow into as well.
Banned
Join Date: Jul 2008
Location: Central Texas
Posts: 27,607
Quote:
Are we still talking about fish?
Lol who else would I be talking about?
Removed about 8 more under developed fry.
Also trying to feed more bbs instead of mws to avoid the dreaded no ventrals.
I think they actually ate a little bit of decaps this time too.
I love to see the little orange bellies.
Will try to take more pics on Friday when I don't work.
These fry are 2 1/2 weeks. I think they are a little under developed because of I was having trouble with the food at first and recently sometimes they only get fed once a day because of my work schedule.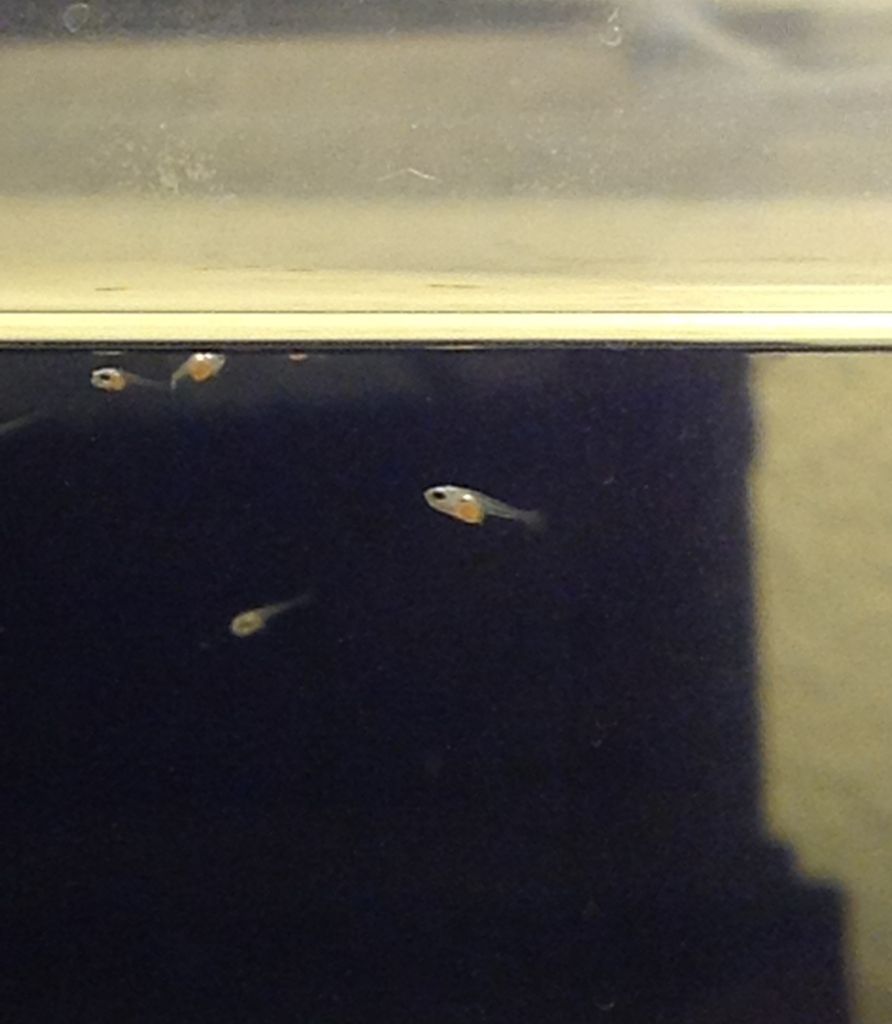 This next image is somewhat disturbing. Some fry did not develope and this one is eating another. Yuck!
Sorry for the giant pics. This iPad is unfamiliar to me.
0.0 This is the first time i heard a larger fry eating a smaller one.
---
The kindness one does for an animal may not change the world........but,it will change the world for that one animal.Stop animal cruelty!!
They have started to eat a lot. I am going to raise the water level and hope they grow faster. I also started an air stone yesterday. They don't seem to be eating much of the decaps yet.