Unfortunately, if some of the fry are big enough, they will eat their siblings. After all, to them it's still food.
---
Member of IBC
Member
Join Date: Sep 2011
Location: South Dakota
Posts: 178
I love your daddy! On a side note, how did you post the pics from your IPad? That's what I have but I'm not sure how to get the pics on.
I think I used the photobucket app. I believe if I went to photobucket directly there was no upload button. I'm at work so I can't use my ipad now.

And thanks. I like the dad too. I'm hoping that some of the spawn comes out nice enough to breed back to him to get a pastel line going. I don't like the females topline so much but she was the best I could find in Hawaii for what in trying to achieve.
---
Last edited by marktrc; 08-21-2012 at

09:36 PM

.
Member
Join Date: Sep 2011
Location: South Dakota
Posts: 178
Ok thanks I will have to try that. Oh a pastel line would be so pretty. Wow I just noticed you live in Hawaii. I am so jealous. Well she isnt too bad.
It's 3 weeks and my fish are slowly growing. By adding in decaps every time I feed bbs or mws I have been able to make most of them eat decaps. I think the smaller ones still prefer live food though.

One thing I notice is with decaps, the fish often chew and spit out part of the decaps. This leads to a lot more rubbish on the bottom of the tank. I know that they are eating the decaps because their little stomachs become orange. It just leaves a mess. This has lead to stinker water and a need to siphon and change water almost everyday. I estimate over 100 fry in my 10 gal that is 3/4s full. I will be transferring the majority of them to an outside 30gal tub at my dads that I had prepared earlier. So tmr afternoon I should have about 30 left in this tank. Then hopefully in another couple weeks I can transfer these into a 20-30 gal.
Congrats on a successful spawn. Keep up the good work.

Pictures are great - they show fry quite clearly.
Banned
Join Date: Aug 2012
Location: Hogwarts
Posts: 2,082
Thats awesome i can't wait untill i can breed bettas i'm almost ready!
thanks indjo and beautifulbetta123.
since there were too many in the 10 gal. i decided to take out the biggest and the majority of the smaller ones and transferred them to grow out tubs. the water is really green but i had guppies living happily in there so i think its fine.
i had read this interview.
http://bettysplendens.com/articles/p...source=message
it says the first big bettas aren't usually the best. i am going to try to verify this. i will keep the first 7 in a seperate tank.
i also am keeping 30 in the original spawning 10 gal tank in my apartment.
these are the majority of them after i netted.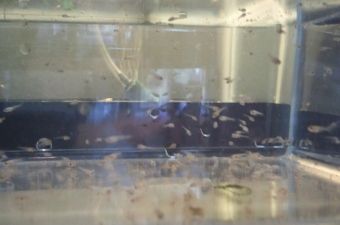 they went in this tub.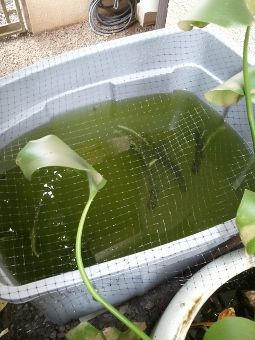 and the 7 biggest went into this 10 gal