Love the pair, especially the male! I can't wait to see how the babies turn out!!
---
One hand reaches out and pulls a lost soul from harm. While a thousand more go unspoken for, they say what good have you done? By saving just this one... It's like whispering a prayer in the fury of a storm. And I hear them saying... You'll never change things...
MoonShadow Betta Fish Rescue
Saving the world one innocent life at a time

Thanks moon shadow. I see red on some of them. I guess that's what happens when I breed pet store fish. They are growing quickly now.

I guess breeding pet store bettas is like a box of chocolates... :)
If the red is like one of my lines, the red will disappear in a few weeks. Any way, I think the box of chocolates is fun.
---
Member of IBC
The fry are steadily growing for the most part. Though some are still tiny. Doing 25% water changes almost daily and 95% once every 7-10 days. I am feeding them hikari guppy pellets, decaps and mws 2 times a day. They are very active so I am unable to take pics.
http://www.youtube.com/watch?v=jTlAs...e_gdata_player
About 7 weeks and a few days. A few of them look like their caudals are crown tailed slightly. Is this crown tail in their past or do they get a little uneven as they grow. Here are some bad pics. Both parents don't show signs of crown tail.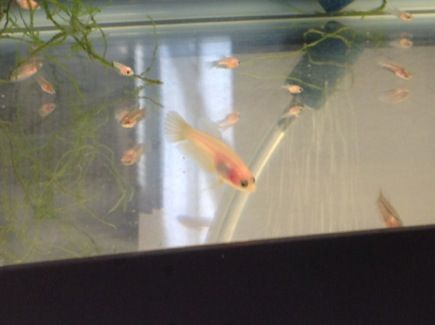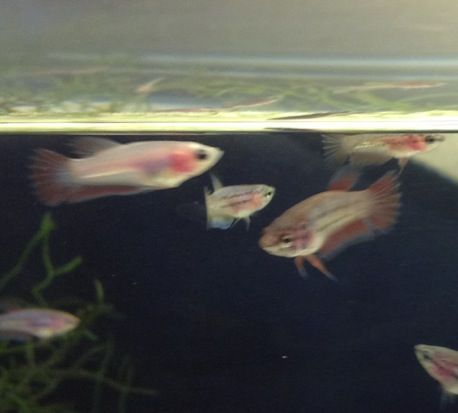 Nice mustard gas!
---
Do not dwell in the past, do not dream of the future, concentrate the mind on the present moment. - Buddha
Happiness is the only thing you can give without ever truly having. - Anon
It could simply be that the fins haven't caught up with the rays. A little more time will tell.
---
Member of IBC
Banned
Join Date: Aug 2012
Location: Hogwarts
Posts: 2,082
OMG so adorable you have a good number too! have you started jarring the males yet? If you have I would love to see pics of them!
Beautiful parents and fry!
---
LillyMae~ It's two L's not one :)