I also like the mustard gas! They are all looking wonderful! :D
Thanks for the nice comments. They are growing fast in this 10gal. I can't imagine what would happen in a 20L.

I have not jarred yet but that mustard gas is nasty. Always biting everyone. I might have to jar it.

There is a lot more red in this spawn then I thought. I hope some of it disappears. I can see some of the bad form from the mom in some of the fry. This is a good learning experience for me overall but I think next time ill be a lot pickier on the pair I breed.
Just popping in to see how the fry are doing. :) Any updates? Any jarred yet?
---
Love Always Last In The Heart Somehow :)
So cute!! How are they doing now??? Y'all are giving me breeding fever!! Can't wait for my new breeders to arrive!
---
One hand reaches out and pulls a lost soul from harm. While a thousand more go unspoken for, they say what good have you done? By saving just this one... It's like whispering a prayer in the fury of a storm. And I hear them saying... You'll never change things...
MoonShadow Betta Fish Rescue
Saving the world one innocent life at a time

The fish are doing well but out growing the 10 gal. I'm hoping to move then to a 20L in 2 weeks. Looks like the red is gonna stay. They are very lively. So hard to take pics.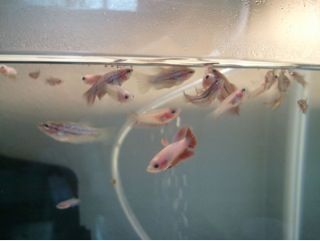 This red guy is bending his dorsal. It's bigger then it looks.
You're doing a great job!
Have you started to jar yet? It looks like the red guy & quite a few others are big enough. That would help make more space for the rest.
Those fry look great! I love seeing so many colors in a spawn. Good job.
---
Member of IBC
Such fun colors :)
---
Blog of my Betta endeavors:
http://moonshinesbubblenest.blogspot.com/
Take care of the water,
the fish will follow
Any updates? Your fry look lovely, and very healthy!
Sorry I haven't updated for awhile. I have been moving apartments and then got sick. Almost well now.

I finally moved them to a 20L tank. They look so much less Crowded. I have been feeding them hikari micro pellets and guppy pellets. Oh and ocean nutrition brine shrimp flakes. They always seem so hungry. I am unsure of how often to do water changes now but ill figure it out.

well there is bad news and bad news. Some of the fish look clamped fins. I might add salt if they still look the same tmr. I changed the water. We will see what happens.

Other bad news is the form looks worse as they are growing. Skinny dorsals, long anal fins, bad topline. My fault for not starting with better fish and unknown genes. Will definately be more picky on parents of next spawn. Luckily the people who wanted fish, just want them as pets for their inlaws etc.

Colors continue to come in. All kinds of red. I thought there would be no red as I didn't see it on the parents. Will post pics or video in a few days. In the mean time..trying to get a melano gene male from a local breeder. That will most likely be my next spawn log in Nov.
---
Last edited by marktrc; 10-16-2012 at

12:42 PM

.