hm female and double tail male
---
i got these 2 fish from my local pet store. the owner goes too thailand to get his fish. i was hoping for better quality but this is what i got. i was planning to breed the male to a diff white hm female but she didnt egg up like this female. eventually id like to have a pastel line and a melano line. im wondering if with alot of work i can get that from these two eventually.
more on this later depending on what other fish i am able to get and what this spawn produces.
i put them together in a 10 gal with about 4 gals of water some fake plants and half styrofoam cup. the first day was just alot of chasing and the second day they spawned during the day. i watched her eat alot of the eggs but had to leave on some errands. i was a little down because i feared she would eat them all or maybe they were eating them because of a problem with the eggs.
the female is named Catelyn. she was slightly yellow and black with a turquoise iridescence. After conditioning she became more black.
the male is name Gilbert. (my gf names my fish)
when i came home i was unable to tell if there were any eggs in the nest or if they had eatten them all. she was skinny so i took her out. his nest was huge. it came out of the cup and filled about 20% of the tank. he was constantly under the nest so i had hope.
Good luck!
---
The kindness one does for an animal may not change the world........but,it will change the world for that one animal.Stop animal cruelty!!
thanks Fabian =)
then 2 days later i saw tails. i tried to take pics but my phone cam is not good enough.
mistake #1. i had 2 large fake plants in there but decided that it would be too hard to clean the tank. i wanted to switch them out for smaller ones. so i reached in and slowly pulled out the plants. this was a problem because even being extra careful it moved the nest. the surface of the water is somehow connected almost like a film on it. i think its cause of his bubble nest spit or something lol. anyway the whole nest spread out. luckily Gilbert was a great dad and did not panic. he calmly added to his bubble nest under the cup and slowly gathered all of the fry and hung them back under the nest. phew.
mistake #2 i decided to start bbs early. since my gf has a cat, i had to place the bbs bottles on the top of the fridge. we have a small apartment with little space. they did not hatch after 2 days. i decided to get another bottle of eggs from a different source. the first 24 hours showed no signs of hatching. i moved everything to a diff area that was warmer. bam.. hatched.
im not sure if it is the eggs or the heat or what. i will figure i out after i do a few more experimental batches.
in the mean time i tried frozen bbs. they hardly ate any of it. i tried some decaps. no dice. luckily i was able to get a microworm culture. they began eating that and i threw in some java moss from a diff tank so hopefully there was some infusoria that came with it.
and now im up to date.
here they are eating mw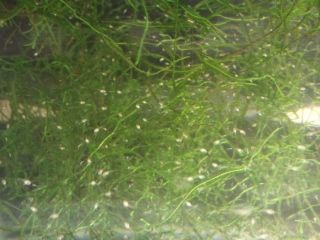 Good number.
---
The kindness one does for an animal may not change the world........but,it will change the world for that one animal.Stop animal cruelty!!
Those little white dots are the fry?!
---
We were two ships in the night
Hell bent on trying to survive and
Capsized

Yes I think most of them are. Some might be reflections. I found 3 dead total over 1 week.

On a different subject. I had to siphon the tank twice already because I had trouble with the food. At first I siphoned 1-3 every now and then. Luckily tpocicat told me to put a. piece of pantyhose on it. It worked great. Ty tpocicat.
Banned
Join Date: Jul 2008
Location: Central Texas
Posts: 27,607
Your male and female are beautiful.
Quote:
Your male and female are beautiful.
Thanks dramaqueen. I like them. The female is bossy. I put her in a sorority and she's the only one that caused trouble. Now shes a little calmer but at first she was bad.
The male is the king of bubble nest. He's a good daddy.
Banned
Join Date: Jul 2008
Location: Central Texas
Posts: 27,607
Maybe she's calmer now that she's been bred. lol