For breeding purposes, I think they are both very good. Now to find females that will complement them.
---
Member of IBC
Quote:
For breeding purposes, I think they are both very good. Now to find females that will complement them.
Thank you tpocicat. My friend loan her female for me. I will give her some fries later.
Here is the new female. What do you think? Thank you.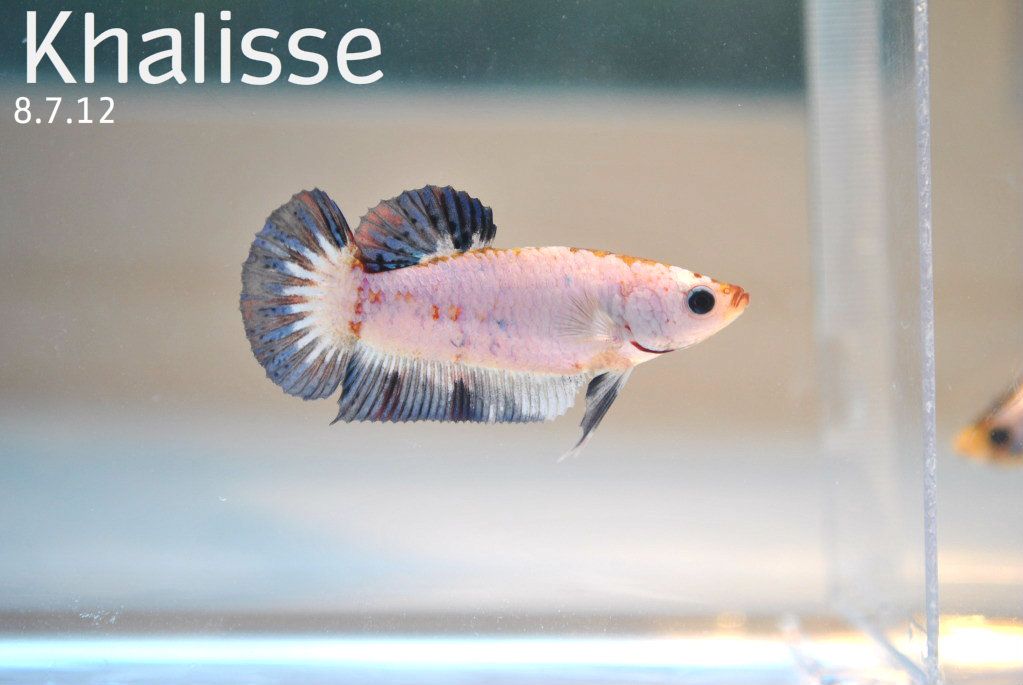 Is she plakat or HM? (I think plakat) She looks really nice, I really love her dorsal.
---
Member of IBC
She looks pk. She has only two rays but an awesome dorsal! Nice and broad
---
Do not dwell in the past, do not dream of the future, concentrate the mind on the present moment. - Buddha
Happiness is the only thing you can give without ever truly having. - Anon
The breeder says she is HMPK. I want to breed her with my Red, White, and blue fancy HMPK. Thank you VictorP and tpocicat.
Quote:
Originally Posted by
bettalover2033
View Post
So you might not get PERFECT fish like you are wishing for. Unless you go with Karen't fish of course.
loove this comment!
She's very nice, Tan. You've done well in deciding to refine your fish selection. It's a good start.
I'm excited to have you spawn my female, I think thy will produce some pretty babies :)
---
Just because I'm in a cup, does not mean to pass me up, all day long I sit and stare wishing you would take me there. To your home to set me free, in a tank would mean worlds to me. I'll be your friend and loving pet, buying me wont bring regret. I'm just a Betta can't you see, all I ask is you could too love me - CandiceMM
A cold cup was not my destiny-Heart Breaker
To be honest, I had some crappy fish to start, but learned that I was wasting my time with them because they were just not even close to nice and I was spending just as much money as it takes to raise nice quality fish.
(((THESE AREN'T CRAPPY FISH TO START A LINE WITH!)))
So what I did was research and (REALLY READ) the betta territory site for form and finnage and leaned to get better fish from nice breeders here in the states. Also I did start with acceptable fish and got some really nice results.
The pair you have is wonderful and will produce pretty good fry. Start with them and PERFECT one line at a time. Remember rule of thumbs and take any advice or tips you can get on spawn methods.
I see you like HMPK over halfmoon. Correct me if I'm wrong. I prefer HMPK of course and don't like to work with HMs much. I've never had luck with them. Anyway my advice to you is to study the HMPK form and finnage and you will be set because you'll be able to evaluate the fish yourself instead of waiting for responses.
Unfortunately Karen Mac Auley only has HMs available, but I can guarantee that she won't disappoint because as much as I LOVE HMPKs, just seeing her pictures makes me want to get a pair of her HMs and spawn them. I refuse to get any others unless they are true quality.
Basically my point is... Take The chance and spawn this pair. Then work on perfecting it and line breed. Do your research (MORE IN DEPTH) about line breeding and HMPK form and finnage...you'll be all set!
I hope my little lecture has helped at all. Lol
---
The results are in!
http://www.bettafish.com/showthread....74#post1194774
EVERYONE GO COMMENT AND POST YOUR RESPONSES TO IT!!
Marki's Adventure:] (STORY)
http://www.bettafish.com/showthread....245#post858245
VIEW MY AUCTIONS- MY AUCTIONS
---
Last edited by bettalover2033; 08-21-2012 at

11:50 PM

.
Banned
Join Date: Jul 2008
Location: Central Texas
Posts: 27,607
Quote:
My New Fancy
Both are beautiful! Is the top one a marble?