Oh ok, well I still have to do small changes since I always have to clean up after feeding. No matter what I always seem to over feed a little.. At least it seems that way. :)
---
Love Always Last In The Heart Somehow :)
Wednesday August 29, 2012
I spy with my little eye.......... a little fry! Can you see him too? :)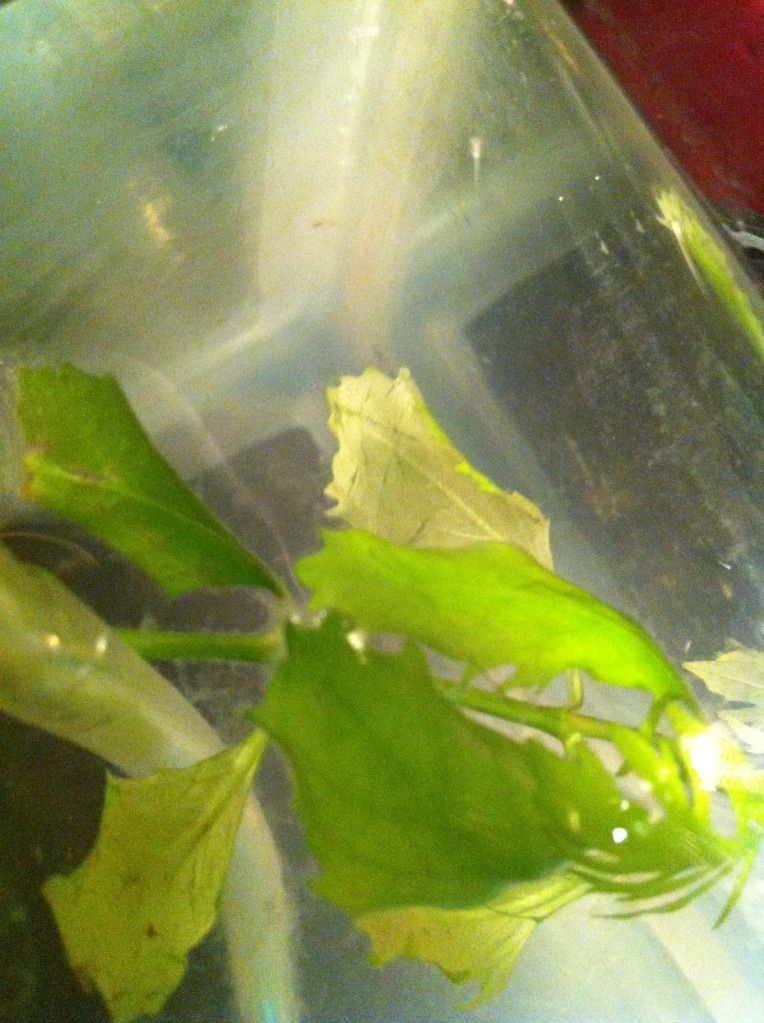 Ok so they arent the best photos.. but it was the best I could do considering I had my mother in the back ground yelling "not closer!! You'll drop my phone in the water!" Which I wont lie was possible.. I had part of my finger in the water trying to get the phone as close as possible to get the photo. Sadly I couldnt get the biggest either, because monster has decided he really likes staying at the bottom because he knows theres food there lol.
we are half way to two weeks old! Saturday night will be the fry's 2 week birthday! I'm baking cookies to celebrate (ok so im using them as an excuse to :P)
I am thinking about divding a ten gallon and moving pewe over and putting some of the smaller fry in pewe's tank.. its not that big but there are only 3 smaller ones. So question of the day... How do I get the itty bitty fry into pewes tank when ready? Or would it be best to just leave them in the ten gallon with everyone else?
---
Love Always Last In The Heart Somehow :)
IMO, two weeks is too little and fragile to move. Others may have different opinions.
---
Member of IBC
I don't move them by age but by size. I usually move fry after they're 5mm, either net or cup them. But if I have to move 3mm fry, I cup them - trap them in a net then cup them out.
Tpocicat I agree at 2 weeks they do seem to fragile..

I wouldnt be ready to move them for another 2 weeks or so(depends on when I can get all the algae off my divider or buy a new one).. So hopefully they would be an ok size then?
---
Love Always Last In The Heart Somehow :)
When they are a month old, they should be OK to move.
---
Member of IBC
i see them! cant wait to see pics or yours as they grow.
Err thinking about moving them is making me nervous now..

marktrc I cant wait either! Well the waiting for them to grow up part. I'm thinking they will all be grizzles since daddy was a grizzle HM and mommy was a pastel cellophane hm.
---
Love Always Last In The Heart Somehow :)
Friday August 31, 2012
So just a small update, the fry are doing fantastic!They have cute little round bellies and some are getting big enough to spot with no problems now! We still have one that is itty bitty like a newly hatched fry. So I'm keeping a close eye on that one. If it continues that way I will move the little one into a different tank or float it in a big cup so he has a chance to catch up.
So because I am to lazy to actually measure how big of a water change I am doing.. I took a picture of the markers I have on the tank showing how much lol.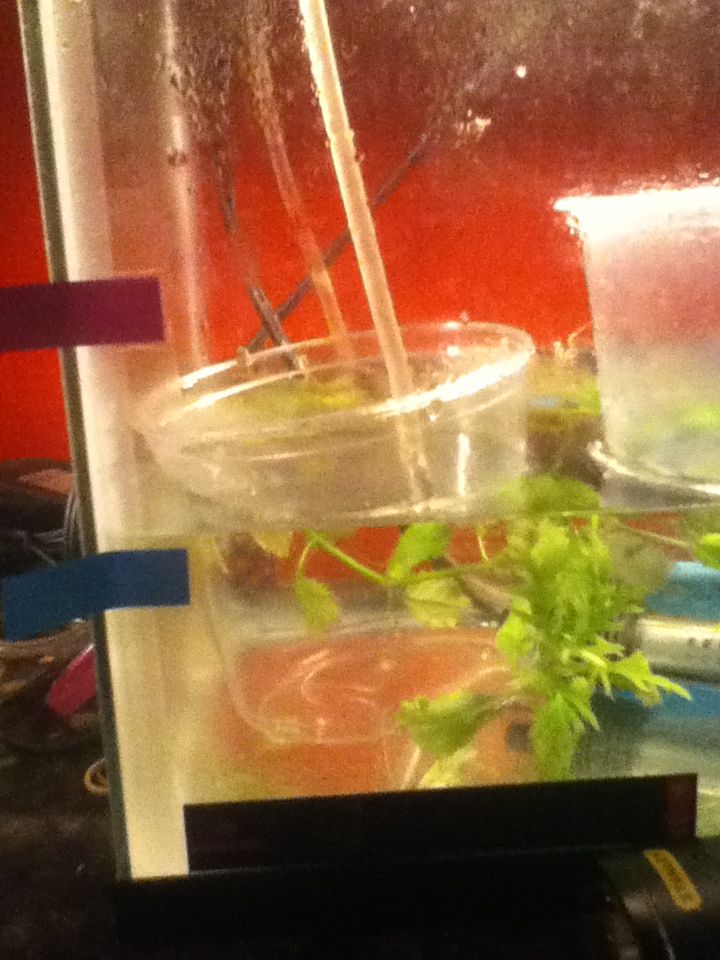 Then a picture of part of the tank while I filled the floating cups with new water.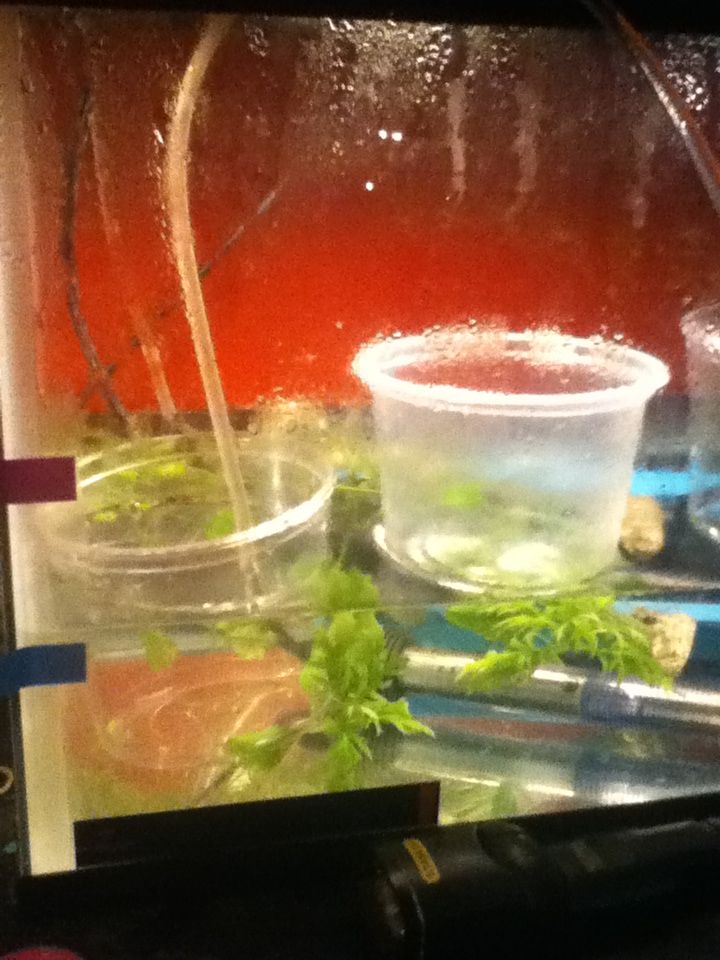 I know the cups take a long time.. but I want to make sure the water temp is the same when I actually add it into the tank. So I have about 5 floating cups in there at one time and I use my fry safe siphon to slowly add the water into the cups without overflowing into the tank.
Cute thing happened today! So I was harvesting all the worms today and starting new cultures.. and by mistake added the one with waaaaay to many worms for my fry.. so long story short I over fed. To fix the problem I was doing small water changes all day long and as I did there was a single fry that would charge at the turkey baster every time he saw it! It was like he was saying "stop taking meh food!!!"
So that was the cute story of the day :)
---
Love Always Last In The Heart Somehow :)
September 1, 2012

Happy birthday to fry! Happy birthday to fry! Happy birrrrrthdaaaay to frrry! Happy birthday to fry!

So my fry are now two weeks old and for their 2 week birthday they got a tank cleaning because grandma (me) was going crazy over the slime build up that was on everything and junking up the tank.... SO I took out the bubble wand and put in a bubble stone then took the heater out for maybe a minute and cleaned it off then put it back.

Now I have my itty bitty fry that is still the same size as a couple days after hatching... He is floating in the cup and will probably stay there until he catches up a bit.. Will probably give him a couple water changes per day since it's only him and its way to easy to over feed 1 fry..

I think there is still one other the same size but every time I spot that one he gets away.. all the rest are close to the same size. So regardless everyone is doing great! Everyone caught up to monster! Now I cant tell the difference.. so much for naming them so soon lol.

Sadly still not big enough for my camera to capture yet.. I think the day it finally is able to I'm probably going to pic spam this log... lol :)
---
Love Always Last In The Heart Somehow :)