So tiny!!! d'aww
---
5 bettas:
Шостакович
Shostakovich
, Dimitri, Blood, Fancy Pants & Miss Priss;
1 cat:
Rajah
UPDATE: More photos!
One of the larger fry at 6 days old: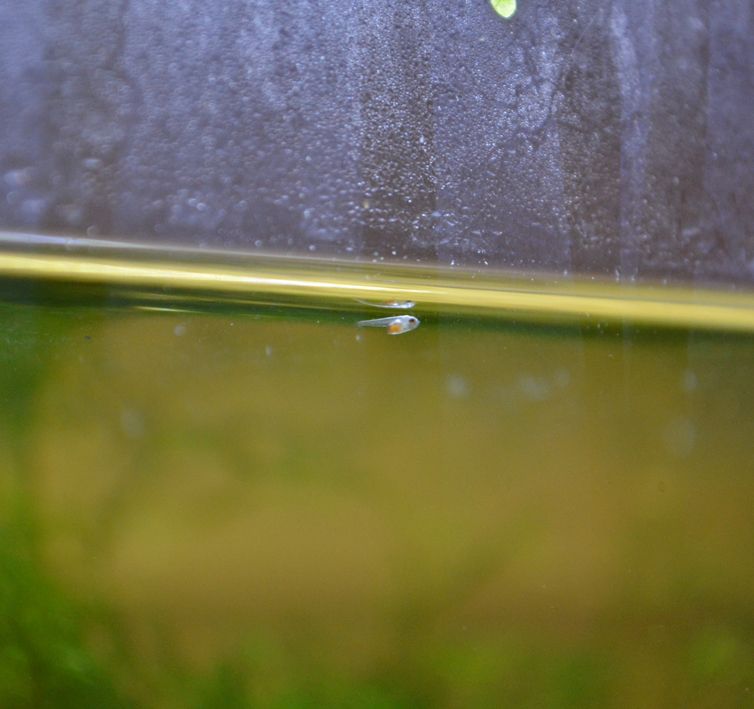 Cute! How many is there?
---
10 Gallon Tank:
~Countless Pond Snails~1 Espe's Rasbora~1 Harlequin Rasbora~
5 and 5.5 Gallon Tanks:
~empty~
Avatar by Fenghuang
Many of my scaly friends from my original tank from 2011 have passed, except for two! I am in the process of re-doing my tank. :)
I have lots of moss in the tank that they like to hide in, so I really have no idea. :) Not going to worry about getting a solid count until they are older.
Nice full stomachs. You are feeding them well, they look really healthy, at least the one we can see LOL
---
Member of IBC
I would LOVE to buy one when you begin selling them!
---
RIP to all of my past Bettas.

Franklin - Twintail Halfmoon Male
What are you feeding them and how often?
---
RIP to all of my past Bettas.

Franklin - Twintail Halfmoon Male
OMG they are beautiful! I cant wait to see how they grow! If its not too expensive id love to buy
---

"We are all a little weird and life's a little weird, and when we find someone whose weirdness is compatible with ours, we join up with them and fall in mutual weirdness and call it love."
― Dr. Seuss