Awww, that sucks. Sorry to hear. One of my females doesn't have ventrals either! But they still are cute! :P
---
Betta:KaidaSasukeKataraPonyo
I have seen some ventral-less bettas sold on aquabid...and sold fast, too.
Whatmakes them not grow? I heard microworms can do it at some stages during development of fry, but, it seems a bit vague. Does anyone more about missing ventral fins?
It can be either genetic or due to bacteria. I have heard feeding micro-worms exclusively can do it, but I don't really know about that one.
---
Betta:KaidaSasukeKataraPonyo
That just sucks Maddybelle! Probably shouldn't breed orange daddy, Quasar, again since it most likely came from his genetics since I have bred your female's cousin and sister with no issues. Of course it could have been just the roll of the dice...both your bettas could have recessive copies of these genes, with result that only breeding with each other could this trait have occured and been expressed.
I am sorry, Maddy, but you're right: they will still be gorgeous with those colorings and they can still be bred...
sorry about the ventrals. :(
what were you feeding and how often? what was your cleaning schedule like? how big is your tank and with how many fry?

personally i wouldnt give up on daddy as a breeder so fast. id give it one more try esp if you suspect it might be due to cleaning or food.
It was definitely due to my cleaning schedule. Things around my house have been really crazy lately, and I haven't had time to clean out the fry tank nearly as often as I should. That's probably why they're a bit small, as well. I use walter worms instead of microworms, that's what they ate for the first 2 weeks. It isn't the worms themselves that cause missing ventrals, its the fact that they sink to the bottom. The fry hang out on the bottom of the tank, where bacteria grow, and that causes their ventrals not to develop. I don't think I'll breed dad again, not because of this issue, but because I'm seeing an unusually high occurrence of spinal deformities in this spawn, and I know it isn't coming from mom.
---
Solstice - cellophane HM female

Well thought out, so you probably have that nailed. Maybe there is an orange boy in this spawn that you could breed to mom...might reduce spinal deformity genes.
I hope all your general "craziness" settles down for you!
I know how it is though...I lost the better part of 3 spawns this fall leaving cleaning and feeding of them to my mom per her request. 3 small spawns totaled about 100fry...I taught her how to feed the live foods and to stick with banana worms and vinegar eels since those cultures were doing the best. A couple of weeks later, she asked me where she could get some more banana worms once that culture was gone. So, I looked at culture which had lots of worms on sides but seemed less, so I watched her "feed" ...she dipped her finger in the oatmeal food part! She said that explained a lot since there seemed so many less fry...down to about 25 fry....though they all had ventrals grow in...then we lost 5 more to swim bladder issues since she told me after the fact :(...she was getting lazy, in her words, and was only feeding golden pearls...this was about time I was learning from you that golden pearls caused swim bladder issues if fed too often...well, at the time, I thought mom was doing what I suggested, and only feeding them maybe 3x/week. So, I totally understand crazy life at home!
Holy crow, Ravenwinds! I'm glad I'm home pretty much all the time, so I get to take care of my fry. My mom's eyes glaze over when I start talking about fish stuff.

Anywho, I'm sorry I haven't been updating like I should, the holidays kinda got in the way. =) Babies are now 10 weeks old, mom and guppies are still chillin in the fry tank. Doing my 2nd cull tomorrow. I hate doing it, but I know its for the best. Several of the babies with ventrals are looking very nice, so I may have some show fish after all! I'm keeping my eye on 2 nice orange males (neither have ventrals, but they are the biggest and have the most color) that may be my future breeders, if I do an F2. I'm seeing several that look to be marble, of all things! Yet another surprise from daddy's Petco genes. Even though mom is cello, there isn't any marble in her recent pedigree that I'm aware of.

Hey Ravenwinds, do you have any pics of my female's relatives? I know I probably asked that, but its almost 4:30am here, and my memory is shot.
---
Solstice - cellophane HM female

Who wants baby pictures?!? I cupped 13 fry today, plus my little Petco baby I got today. All of the cupped fry from this spawn are numbered, so far 1-13. When I'm more sure of their genders, their designation will include either (M) for male, or (F) for female. So, for example, #1 will be 1(M), #12 will be 12(M), #3 will be 3(F).
#1, the largest cupped male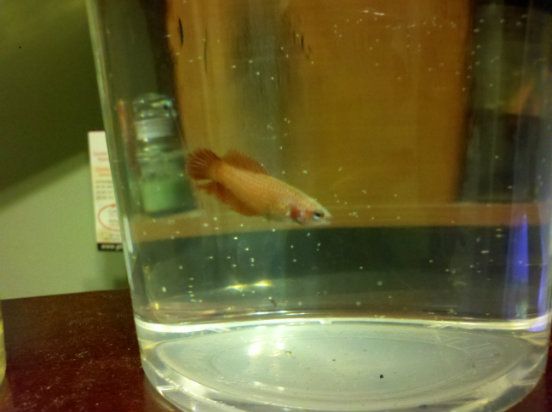 #1 next to the Petco baby

#13,
a cute light orange

#12, I'm hoping his swimming problems are just a temporary case of swim bladder, he's a personable little fella

#7, yellow cutie


#3, cambo girl w/ventrals

#2, orange male. His tail is growing back, someone thought he was a snack.

---
Solstice - cellophane HM female

Oh, they are so cute! I think my favorite so far is Lucky #13...(my lucky # anyway!) And also #2...looks like he's gonna have one heck of a color!
Oh, and from my experience with my orange dalmation spawn, if they have such colorful, strong ventrals now...good chance it'll be a boy....speaking of Cambodian(girl) w/ventrals...that one might surprise you :)
Similar Threads
Thread
Thread Starter
Forum
Replies
Last Post
Got my cellophane boy <3

fleetfish

Betta Chat

6

12-21-2010

11:51 PM