I'm cupping mine early because I can keep the water quality up to snuff in the cups, but I'm struggling with the 16gal. I'm going to have to rehome my guppies and red ramshorns, they're just far too prolific and poop far too much. I'll uncup them when I get the 20 set up. That will be tomorrow's project. Gotta clean out the 10 that was previously home to my blind goldfish, set up my frog in that, clean out the 20, and set that up. Long day tomorrow!
---
Solstice - cellophane HM female

So, I never did get around to setting up the 20 gal as a growout. I'll definitely get it up and running for my next spawn. =) Mom is still coexisting peacefully with the fry still in the tub, and well as an ever increasing number of guppies. I did find a new way of controlling the guppy population, though! My VT boys love guppy fry, apparently, and hunting something so fast is a great way to get them some exercise.

Babies will be 12 weeks tomorrow. #1, a pretty red boy, flared last night! I need to do another large-ish cull, mostly runts not doing well in the growout and deformed/weak jarred fry that aren't going to have a good quality of life. This spawn is still looking to be mostly male. If there isn't a nice female that I could breed somewhere in there, I'll be looking for a (hopefully related) girl, preferably yellow, to breed with one of these boys in about 2 months.
---
Solstice - cellophane HM female

Yay! You don't have to cull too hard, a lot of people will take not perfect and even sickish fish. Not to bad for your first spawn!
Rawr. Had to toss out my whiteworm culture. It went all sour and moldy. =( Luckily, my babies are perfectly happy eating their flakes and GP.

On a more positive note, #1 flared fro the first time a few nights ago. And, I've got several more gorgeous babies in the growout that need to be jarred. One is what I *think* may be a girl, that is a carbon copy of its mother!
---
Solstice - cellophane HM female

That's great news about the growing babies...especially the possible female carbon copy of mom :)

I am having the same kind rotting issue with banana worms lately...my 2nd culture from a different person and it seems to be headed down same path as the last:(
I'm having great luck with my walter worms. I got my starter from Bug Pantry. Just divided my culture in half two days ago, and I'm already feeding from them. I can send you a starter, if you want. =)
---
Solstice - cellophane HM female

That would be great! Just let me know how much,$$ to ship it to Merlin Oregon 97532.
Thank you!
Happy to see that the spawn is working out okay! Power to you for getting all of this done while in high school! I bet it's tough.
---
~ Fireheart ~ Spikefin ~ Male Bettas ~ Dalihla ~ Lizzy ~ Female Guppies ~ Sir ~ Boss ~ G6 ~ Prayer ~ Male Guppies ~ Squirt ~ Male Dwarf Gourami ~ Reginaldo ~ Regilina ~ Strange ~ Stranger ~ George ~ Mystery Snails ~ Zeus ~ Poseidon ~ Hades ~ Hermes ~ Apollo ~ Serpae Tetras ~ Bristol ~ London ~ Beverly ~ Female Platies
Ravenwinds - Sorry I haven't gotten back to you! LOL, I've been really busy the last few days. I ship Priority flat rate, so shipping is $6. Would you mind a little vinegar eels add on to help fill up the box? I'm not real fond of them, and never really did use them, but they seem to be thriving.

Crowntaillove3 - Luckily I'm homeschooling this year, so I'm home all the time to keep an eye on my "kids"! Its still a challenge to fit everything into one day; fish, school, my jewelry/craft business (currently kinda on hold since the street festival/craft show season ended), volunteering at the local humane society, and taking care of my other pets. But, being involved with so many things gives me so many opportunities to meet some really awesome people!
---
Solstice - cellophane HM female

I just went back and read through some of the earlier posts on here, and its hard to believe that its been almost 14 weeks since these guys were born! They've gone from eggs, to tiny wigglers, to ravenous eating machines that actually look like bettas!
I've got a female on special order from my LPS to mate with my turquoise HM boy, Rory. His finnage isn't as heavy or "fluffy" as Quasar's, but he's still a very nice fish. Hoping to get a girl that will even out his anal, add more branching to the caudal, and fix his slight spoonhead. He's still young, so I'm hoping his caudal will grow out some more.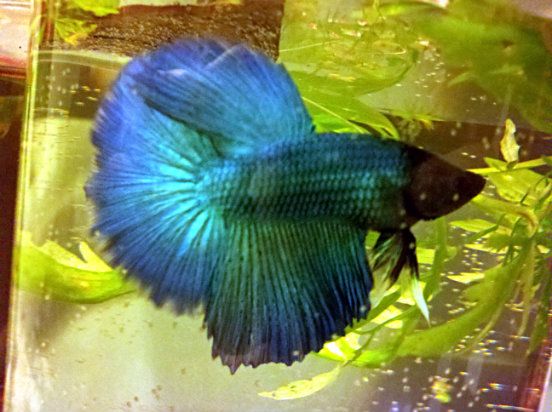 ---
Solstice - cellophane HM female

Similar Threads
Thread
Thread Starter
Forum
Replies
Last Post
Got my cellophane boy <3

fleetfish

Betta Chat

6

12-21-2010

11:51 PM