Nice color pattern reminds me of a Orange Creamsicle lol, Hope all goes well
---
The fry are now free swimming! I got a little panicky when I couldn't see any babies, but I found them hiding in the GOBS of floating plants I've got in there.
It was really sad to see that amazing bubblenest collapse when Quasar was done with it. Just glad I got some pictures! =)
Quasar is still being the model dad. Depending on how this spawn works out, I might to a respawn with this pair. Also depending on how the fry turn out, I'm planning on sending a few to the IBC shows next season. Actually, Id probably go, too, if I can find one close enough! ;)
Going off of the IBC standards (current as of 2008, have they changed at all?) Quasar would be classified as metalic orange. The standard says he should look like an orange crayon. Well, that's my boy! And Solstice is just a cellophane with too much irridescence, but her form makes up for it. I wish she would hold still for a photo! She's gotten bigger, and her fins have grown out beautifully. She has great balance.
Viva - My newest betta looks just like the one in your pic, except he has turqouise instead of copper!
---
Last edited by Maddybelle; 10-27-2012 at

10:49 AM

.
The babies had their first feeding of walter worms today - I was worried that the worms would be too big, but the fry went nuts! Dad even caught himself a few. I've also got vinegar eels for some variety. =) Just waiting for those to reproduce some more.
I have pics of fry! These guys are now 5 days old
Sorry for the blurry pics, my phone is having a hard time focussing on something so small and wiggly! =)
Happy Halloween! Sorry to be posting so much, but I thought I'd just show y'all the female's father, and outline my plans for creating my orange HM line. So, here's Gramps: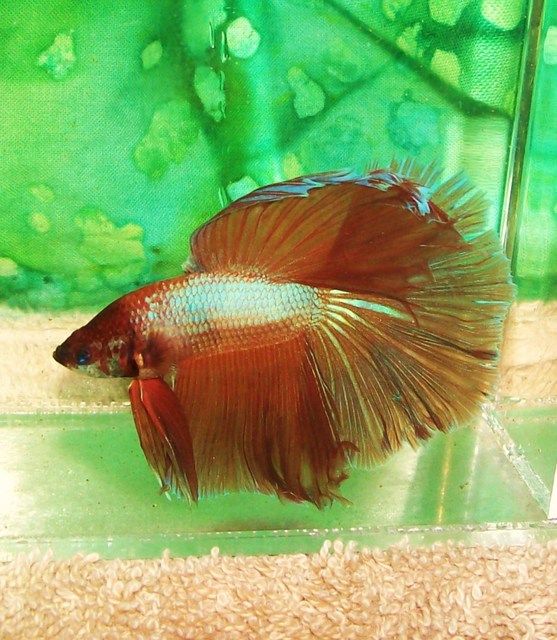 I'm planning on seeing how much iridescence these fry end up with, and probably inbreeding those with the best form, color, and least irid for 2-3 generations, then outcrossing to a DT to improve dorsal base. I'd die of excitement if I could get one of Karen Macauley's reds to put some really great fins on my fish, but thats probably just a daydream, LOL.
Little did I know when I saw that little orange "delta" at petco, that I would be embarking on such a journey!
BTW, dad is still in with the fry, and doing an awesome job.
Seems you have long road ahead of you!
Congrats on the fry! Now is when the work, worrying, and fun actually begin.
To our disspointment, Karen is not breeding reds :( I wanted to grab one from her when she did that spawn over a year ago but she only got a few out of them and has moved on since.
If you're lucky enough to get anything from Karen, shoot for a female. Hers have very strong characteristics that show very well on the fry. Unfortunately, we'll have to wait until next year for that.
Watch you ammonia very closely. The plants will help but that makes a big difference between weak and strong fry.
Best of luck!!
I have Soltice's sister...and brother...and cousin from previous spawn. I have spawned the cousin, a pretty yellow platinum (you see a lot of mom's dragon scale covering about half of her pale yellow) with a turqoise blue HM from Thailand....they are 2weeks old at present and growing every day! I hope you and your babies the best of luck!
Awesome ravenwinds! Do you have pics of her sister and brother? The pics Angela put on their AB listings were when they were relly young, so it was hard seeing their form well. I'm glad I got her, she was the last one left! As she's gotten bigger, her tail and anal have grown out: her branching is now better, and her anal has stayed nice and even.
I have some pics of cousin, but haven't taken any of brother and sister yet. I know it was difficult to see what they would be with the young pics Angela had. It was easier after I had cousin, then I knew what I was getting :)
I'll try to get pics up of all of them soon
Similar Threads
Thread
Thread Starter
Forum
Replies
Last Post
Got my cellophane boy <3

fleetfish

Betta Chat

6

12-21-2010

11:51 PM