Haha, Quasar gave me quite a scare today. He's been doing great with his fry, which are now 1 week old and growing fast. I went in to check on everybody, and I didn't see any fry! I thought that the little stinker had gobbled up Junior, but turns out they were cruising around the bottom, noming on walter worms. Whew!
On a slightly related note, I'm going to order Golden Pearls for these babies. I need to know what size to get: something that they can eat now, but that won't be too tiny next week. I'd hate most of a 1/4 lb bag to go to waste. Do these things even have a shelf life? I don't plan on spawning again for another 4-5 months, and I'd hate for them to spoil.
---
Solstice - cellophane HM female

I get golden pearls from sam8ps ( I think that's correct) off of aquabid...go for the size that isn't powdered...you can always put some in another bag and rolling pin it to powder! This seller doesn't have much in the way of pellets but ALL my fish go nuts for his blend which is very powdery in its own right so it coat betta pellets in it so they can go nuts, too!
I don't know if they have a shelf life, but they are as reasonably priced as all his other foods and so everyone gets a treat of golden pearls...seems to really pick the girls up after spawning. My blue and gold gouramis which are approximately 6mos old really Hoover up all the little powdery bits of food which was kinda a surprise since they are so large...smallest being about 2.5inches of pure fish ( not much in the way of flowing fins like their beloved cousins).
Hope that helps a bit, maddybelle. Turquoise, the papa of your babies cousins, gave me the same scare...thought they disappeared into his belly when really they had about doubled in size and were surfing the top in between clusters of dwarf water lettuce...most were so white they blended in with the fuzz on the plants and the very light green roots! And Turquoise is just hanging out looking at me like "you were thinking bad things about me, weren't you!"
LOL, poor Quasar just looked so offended when I accused him of eating his kids (yeah, I talk to my fish). He has gotten so BRIGHT living in the fry tank. I guess lots of really good food, 83* water, gobs of live plants, IAL, and 9 gallons of swimming space (mostly horizontal) really do make for a happy betta!
Do you think that the 200-300 micron size would work?
---
Solstice - cellophane HM female

Probably would.

Don't worry, I talk to my fish too...and I have 14 adult bettas! Not to mention the community tanks of gouramis, Cory cats, guppies, mollies, tetras, and other assorted aquatic life. So far, only the bettas and 4 gouramis (original trio of my blue/gold/opaline gouramis + 1 poor dwarf fire gourami) "talk" back...LOL

Yeah, I see that too...like a carry over from getting so BRIGHT to attract a female...if they don't eat their babies, they just get happier, I think...I am sure all the extras of food and space help, but I also think of it as the reverse maternity/new mother glow (if that makes any sense).
I think that "daddy depression", when the male gets mopey after he's removed, is a definite sign theat we're doing something wrong. My1 week old babies are easily as big as some of the 3 week olds I've seen. I think having Dad there to weed out the weeker ones leaves more food and room for the stronger fry. That, and there's just something magical about watching Quasar and the fry swimming around in the naturalistic tub. I tried to get it as close to a miniature pond as I could. Lots of live plants, IAL, and snails to clean up extra food and the rare dead fry.
---
Solstice - cellophane HM female

Warning - massive pic spam!
---
The babies are now 1.5 weeks old. Finally got some half-decent pics of the little guys!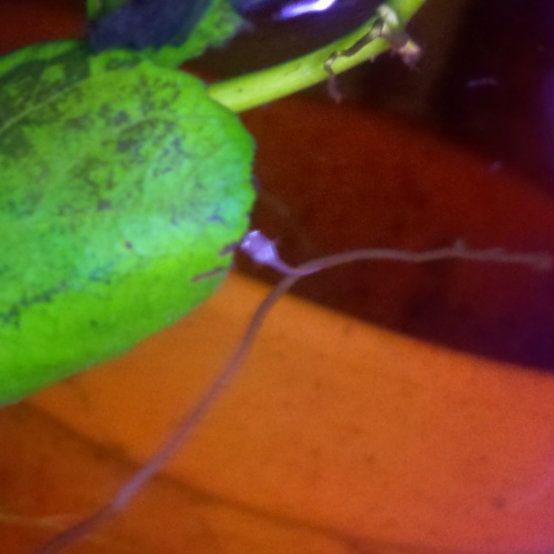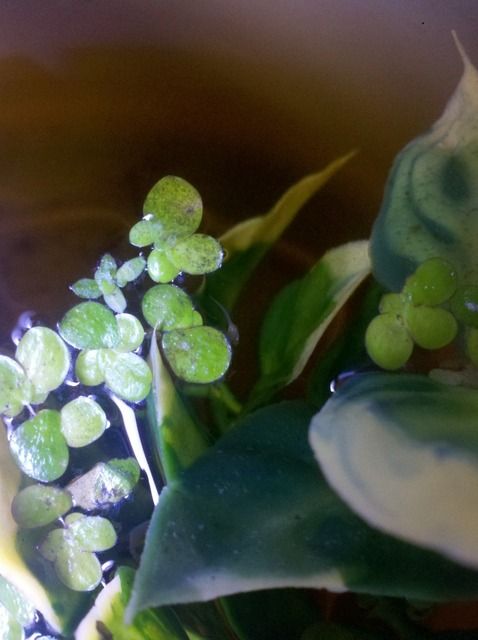 ---
Solstice - cellophane HM female

My instant brine shrimp and Golden Pearls should arrive in the next day or two. Yippee! I think they'll appreciate some variety.
---
Solstice - cellophane HM female

Haha, I know! I sat in front of the tub for 2 hours one night, just watching them. They're 11 days old today, and they're starting to get playful. Its so cute watching them chase each other around, and then dad comes swimming through and they scatter, like "we weren't horsing around! honest!"

Unfortunately, I've contracted ramshorns. A very annoying PTD (plant transmitted disease) I'm squishing the little buggers left and right! Luckily, the juvie apple snails I've get in the fry tub LOVE squished ramshorn for breakfast!

Quick question to anyone who's done this before - about how big are they supposed to be at 11 days?
---
Solstice - cellophane HM female

---
Last edited by Maddybelle; 11-05-2012 at

10:30 PM

.
Those pics are great! Darling little guys! I hate ramshorns as well but all my planted tanks have them...Old Fish Lady says they are good for ecosystem of the Natural Planted Tank, NPT, which are what all, except 2 of my tanks, are...she also like pond snails, I just can't reconcile that pond snails ( and my ramshorns) eat my plants! Rams aren't supposed to eat them but I always find the babies and juvies on my stem plants and crypts and the next thing I know, there are holes in the leaves...not to mention rams make those thick and hard egg sacs....they don't look like pond snail spit and they don't look like they would let enough light through them to the plant leaves and, if left alone will practically encase each leaf in their egg sacs....can't imagine much photosynthesis takes place!
Sorry for the rant :)
Even though I have bred before, I don't know how big the fry should be at eleven days, I just know they double in size within a few days and keep growing....think I don't want to put living organisms into "they should be..." boxes...I am just concerned that they keep growing and that radical differences in sizes don't occur since this would indicate that one or a few were excreting to much of the "don't grow!" hormone and that I wasn't on top of keeping it diluted enough (or out completely).
Similar Threads
Thread
Thread Starter
Forum
Replies
Last Post
Got my cellophane boy <3

fleetfish

Betta Chat

6

12-21-2010

11:51 PM