Prepare to be inundated with pictures of adorable fishy babies!! These were taken at 24 days old.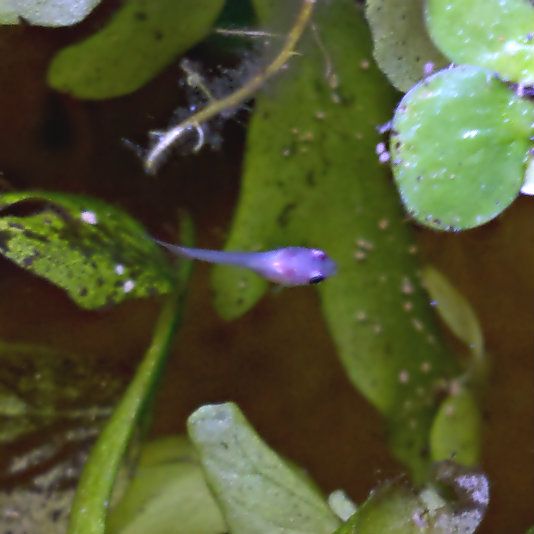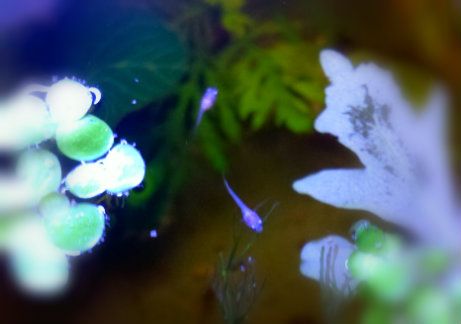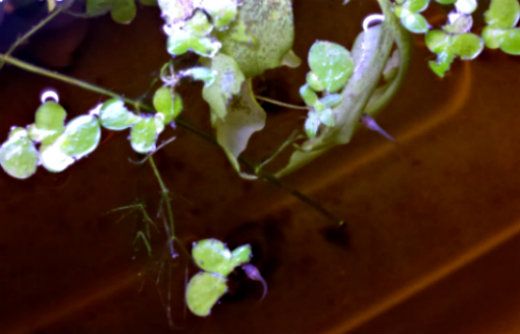 ---
Solstice - cellophane HM female

Daphnia I find lives without my help. A tank with live plants and low filtration (maybe a bubbler), give the warm water, and they swarm! My babies had daphnia and infusoria for the first bit.

Cute babies!
---
Breed for the breed, not for the money; the words any REAL breeder would understand.

You must know nothing in order to know all, for all is nothing and nothing is for all.
26 days - Staccato Mamba is showing some red/orange color! Tiny is still the smallest fry by far, but is growing slowly but surely. I found the most adorable fry with 1 eye: his name is now Stormageddon. I had to cull a fry with a spinal deformity and swim bladder issues. He just couldn't swim or catch food, and I knew the shrimp would eat him eventually. I'm feeding the fry a little bit 5-6 times a day, switching it up between my numerous foods. I'm having to give my walter worm culture a rest to recuperation. I'm feeding very sparingly from my whiteworms until their population is more substantial. And I STILL haven't gotten the hang of harvesting the vinegar eels.
---
Solstice - cellophane HM female

One eye? That's interesting! Wish that little fella luck - and you too of course!
---
Breed for the breed, not for the money; the words any REAL breeder would understand.

You must know nothing in order to know all, for all is nothing and nothing is for all.
It is always hard to cull fry but when you know they are in pain or can't live regularly or for long (the only time I cull because you can usually find someone to take the "unique" or "special" ones) it makes it easier to know you are being humane...

I have never seen frozen Cyclops available locally, of course we have just the basics.

I just found a 4-5mos old Mollie fry with only one eye...strange because I just found him 3days ago! On a related note: my 20g Mollie tank is shared 4-5 adult green/bronze Cory cats....well 5weeks ago, they spawned on front glass of tank...about 15days ago, the last of eggs disappeared so I kept watch and have been finding new Cory fry everyday...count is up to 9 fry about 1/2inch right now....and, last night, I found that cories have spawned again!....they have eggs on every wall and in every corner of tank :)

Those pics are darling! Did you find that more of your fry were that light, almost pure white w/regular eyes (not red/pink)? Most of my spawn by Lemon (cousin of your mama) and Turquoise are very light, color of skim milk...my orange Dalmatian fry were a light grey.

All my tanks/bowls are full now, and likewise I am low on $ so a Daphnia tank will have to wait. And I don't have a planted tank without a filter yet as all my NPT still in newer stage requiring some kind of filtration...oh, well, maybe soon :)
I've found several "unique" fry in this spawn. Also, I've started having problems with swim bladder, so I've had to cut back on feeding the GP. High protein foods like GP can mess with they're swim bladder, so I've been told. These guys still seem able to swim, just a little bit differently. They can certainly compete with the "normal" fry at feeding time!

And yes, most of my fry are that milky white color, some with black eyes like dad, and some with iridescent eyes like mom. Some are more transparent, and I can see that I'm going to have some very nice vibrant reds. Most fry only have color on their fins at this point.
---
Solstice - cellophane HM female

About half mine have black eyes and the other half will have the iridescent eyes. It s funny that when my orange dalmations showed iridescence, then the pale orange and a,couple were turning into cellophanes but body colours came first ...then fins began to darken; became a darker and more substantial but still pale orange. The darker red-orange colors showed up last; red fins on cambodian then the red-orange spots were last!

I didn't know that about GP , but I only feed them GP about 3 times a week. Vinegar eels are easy: put funnel in a clean jar or glass (i use a solo plastic cup from a cold drink at espresso stand:). Put a coffee filter inside funnel. Take vinegar eels and pour about a cup into cup (without funnel) then pour cup back into eel's home. Put funnel w/filter in glass, then pour mildly mixed (from the cup pouring) into filter in funnel, to the top. Let fluid empty into glass, then put fluid back in eel home. The eels are now on filter. I rinse cup w/water and fill it about 1/2 to 3/4 and put vinegar eel filter in cup and swish around. Then pour water w/vinegar eels in it into grow-out tank.
32 days old - these guys are getting big! The ones that have the swim bladder issues are slowly improving - hopefully I caught it in time. They're starting to chase each other and nip. Nothing major, and I don't think its really anything out of the ordinary. I got some new fish food today -at Omega One Freshwater Flakes. I wanted to get the adults some flakes to add more variety, and to try giving to the babies. The fry love it! It was on sale at petsmart, and the first 6 ingredients are whole salmon, halibut, black cod, whole herring, whole shrimp, and whole krill.
---
Solstice - cellophane HM female

That's really good food for store bought. I feed them that, New Life, and the very fresh feasts prepared by sam8ps....and of course the very very fresh foods: frozen bloodworms and brine shrimp, and Live worms, and in summer, mosquito larvae.
So these guys turned 5 weeks on Wednesday. I really need to start doing more water changes - the biggest fry are 1 inch already, and the smallest are about 0.5 inches. Anywho, picture time!!!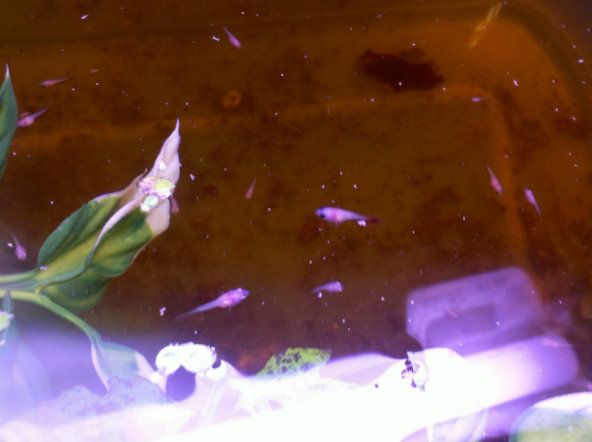 Please excuse the specs on the surface of the water, I had just fed them their evening flakes.
---
Solstice - cellophane HM female

Similar Threads
Thread
Thread Starter
Forum
Replies
Last Post
Got my cellophane boy <3

fleetfish

Betta Chat

6

12-21-2010

11:51 PM