Orange OHM x Cellophane HM
---
Figured it was about time to start my spawn log: the pair has been in the spawn tank since Saturday. I was really worried that they wouldn't spawn. But, sometime in the wee hours of the morning, the female jumped out of the glass tube. Let the bubble blowing commence! She's a very good mom so far; helping dad build the bubble nest, and she's collecting the eggs without eating ANY! So far the bubble nest is very small, yet somehow holding the eggs.
Anyway, here's the proud parents: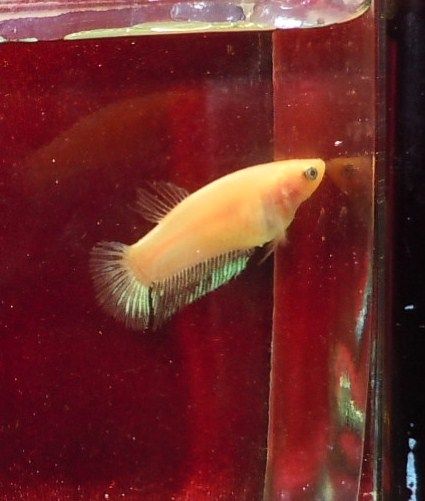 Great! I can't wait to see how the fry turn out.
---
"Do you wish me a good morning, or mean that it is a good morning whether I want it or not; or that you feel good this morning; or that it is a morning to be good on?"
- Gandalf,
The Hobbit
http://oakdenrp.forumotion.me
Very nice couple Maddybelle. You will have to post some pics of the fry. I have a female HM that looks like your girls sister.
---
Proud IBC member
Thanks guys! I'll be posting updates regularly. I'm really happy with this pair. The male is from petco, and the female is from a breeder in Florida. They both have very good caudals, toplines, and decent dorsals. I love the male's color, and the female's father was very similar to him. (Her mom was a white dragon) The only real problem with this pairing is the iridescence on the female. The male also has some, but its much more noticable on her.
I'm expecting orange, yellow, cellophane, and maybe some reds from this spawn.
Banned
Join Date: Jul 2008
Location: Central Texas
Posts: 27,607
Very nice pair. Good luck with the spawn.
Hope all goes well. Good luck raising the fry . . . the real fun begins!
I has fry!! They are so tiny! Poor Quasar is going crazy trying to keep everybody in the now HUGE nest. I used one of those big cups that iced tea comes in at McDonalds: the nest has now expanded out of the cup, and is preceding to conquer the rest of the tank. He even has a small "just for fun" nest on the other side of the tank. I'm so happy this pair has worked out well so far. =)
Some fry are already starting to swim on their own. Quasar's bubble nest now takes up almost 1/3 of the 16 gal spawn tub. 0_o
Here's my tub:
Its a 16 gal rubbermaid bin that I used to breed snails in. It has a sponge filter (waiting to turn it on until fry are free swimming), a heater set to 83*-84*, lots of plants, both live and silk. I'm planning to leave dad with the fry as long as possible, I'm basically just playing it by ear.
Here are some pics of Quasar's supernest - its gotten even bigger since I took these:
Just for reference, the cup is a large iced tea cup from McDonalds.
Sorry for the sucktacular quality. My phone is being stubborn, LOL.
Similar Threads
Thread
Thread Starter
Forum
Replies
Last Post
Got my cellophane boy <3

fleetfish

Betta Chat

6

12-21-2010

11:51 PM