Member
Join Date: Nov 2012
Location: Ohio
Posts: 185
Oh - sorry. I messed up. For some reason, I thought titolatino started this thread! He's got siblings of these guys (or something like that), and I have some of their fry. Which are beautiful, BTW.

Sleep deprivation is apparently scrambling my brain. My apologies.

Good luck! You have some beautiful stock!
why yes beth those are your fish cousins and yes evilvog i learned to ship lol
Member
Join Date: Nov 2012
Location: Ohio
Posts: 185
Yeah, you did a good job shipping! All the fish in one peice, all happy and growing along now.

Is it creepy that I could totally tell that these fish were related? Those brothers look incredibly alike to my untrained eye. Can't wait to see how my fishes' cousins develop!

On a sort of related note, I'd be interested to see how these fry interact with each other, Evilvog. My 14 or so fry are the most peaceful bunch, with basically no agression at 11-12 weeks. There is the occasional flaring and chasing, but nothing serious. I was expecting to have to jar these babies right away. Since they are cousins, it'd be cool to see if yours act like mine, if it runs in the family.
I was hoping for at least a little variation in appearance... guess i will need an outcross next.

At almost a month old these fry have been having tiny territorial battles for at least a week now.
Updating... leaving for vacation tomorrow :X
12/9 The dark ones are starting to separate into a couple different amounts of darkness,
only 2 being the really dark, and are also the 2 that show the most color. One of the white
ones is starting to show red in it's tail. Today's water change involved an increase to
full. Still got one or two with SBD issues.
12/10 ONE MONTH OLD! measurement is 1.5-2cm
12/13 Couple of the fry seem to have a "bald spot", not sure if it's a birthmark or
something. strange patch on thier heads or something.
12/15 Briefed the kid across the street on hatching BBS and cleaning the tanks. Hope he can handle it... one week to go. Fry showing alot more color today.
12/17 Fry survived the weekend, looked a little thin but i think they're about to hit a growth spurt. not much bigger in length than last week but much bigger in general. A couple of the medium color ones are just getting huge. Finally got them eating solid foods. Flakes, micro pellets and smashed NLS pellets.
12/21 Last day before vacation. Hope my sitter can handle it. Moved 75 of the bigger fry to the 30 gallon tub, leaving over 20 in the 10 gallon. Ten gallon also got a 75% water change. The Lighter dark ones are really looking good. calling the bigger ones 3cm.
couple videos, right before i moved tanks and cleaned them. The short one is of one of my favorites.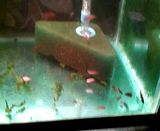 the 30 gallon tub your useing is it the round rope style or the square sterlite kind
Rectangle... sterlite kind i guess? Got it at Lowe's or Home Depot.

Update:
1/4 Got back from vacation yesterday and there was some disaster while i was gone. Lost both parents, no idea why. The Female wasn't a big deal but losing this male was huge. Was planning on Spawning him again this month. Also the grandfather of this spawn got himself stuck in a decoration and injured himself pretty good. Got him in QT with some Myracyn 2, but I don't think he'll survive this. Fry look good, starting to show more color variation than thier aunts and uncles, Size is regulating as most are around the same size now. 3-3 1/4 cm. Starting to see some differences in sex. I see one one that looks like it has an ovipostor and a few with pointy anal fins. Small tank had it's filter hose come off so it was pretty thick with algae, it got an 80/90% WC, the tub was low so it got a 25% WC with a 25% raise in water level.

1/7 Two months old today? Feeding is going pretty well, had to step up the bbs a bit. Got to start getting them into solid food more. Have given them some and they seem to be doing good with it. For sure now i have a few i can tell the sex of. They are fighting some, got a torn fin here and there and one with a little bit of tail missing. If these are like thier parents they will heal up fast. Grandpa is doing well i have him in QT with daily changes with some stress coat and Maracyn II. He still has a big fuzzy spot on his back but he's now active and eating again.
So sorry to hear about the parents....that sucks. Who was taking care of your stock while you were away??

I'm actually more surprised that the fry all survived and the parents (and grandparent) didn't do so well.
Lets see some updated pics soon! :)

These babies are gorgeous! Are you going to sell any?
---
10 HM, 3 HMPK, 5 HMPK fry
8 German Blue Ram, 5 Green Dragon BNP, 4 Albino BNP, 4 Calico BNP, 6 Red BNP, 5 Kuhli Loaches, 2 ADF, 7 Peppered Cories, & 6 Tiger Endlers + Fry
12 full time tanks, 4 NPT, 6 QT/Breeders
Member IBC
So sorry about the parents :( At least the kids can carry the torch!